Serina Murphy
UX/UI Designer | Digital Artist
SensoryVille
The pocket Occupational Therapy solution
for children with sensory needs.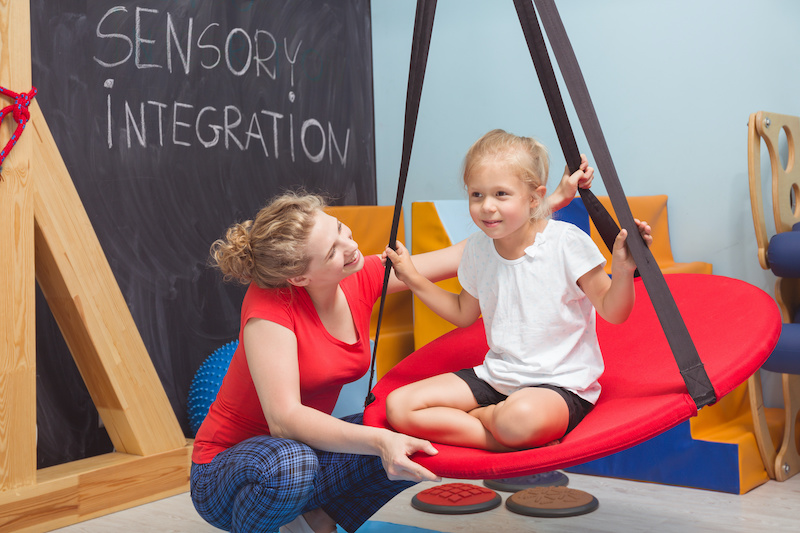 Overview
SensoryVille is a mobile application designed to provide an avenue for occupational therapists and related professions to extend sensory integration treatments at home in a fun and engaging way. Due to the lack of in-person treatment during a pandemic or financial means, SensoryVille facilitates continual evidence-based sensory strategy activities appropriate with sensory system needs that combines a personalized and interactive approach to help children unlock their highest potential by understanding their needs and how to handle the sensory input from their environment more effectively.
Sensory integration is a function of the brain that organizes and processes all the sensations we receive from stimuli both outside and inside our bodies so that we can use our bodies effectively and efficiently within our environment. While this function occurs automatically and without effort for most, for some the process is inefficient. Extensive effort and attention are required in these individuals for sensory integration to occur, without a guarantee of it being accomplished. When this happens, goals are not easily completed, resulting in what we now know as sensory processing disorder (SPD). It's estimated that up to 95% of individuals with developmental disabilities have significant difficulties with sensory functions (Baranek, David, Poe, Stone, & Watson, 2006; Tomchek & Dunn, 2007; Watling, Deitz, & White, 2001). Moreover, the following are estimations in which sensory processing difficulties are expected to occur:
5% to 14% of kindergartners (Ahn, Miller, Milberger, & McIntosh, 2004);

16% of elementary school–aged children (Ben-Sasson et al., 2009);

10% to 12% of individuals in the general population who have no identified diagnostic condition (McIntosh, Miller, Shyu, & Hagerman, 1999).
The focus of this app is to target children with sensory processing needs aged 3-12 to reduce the difficulties they have with processing sensory input and improve daily function by providing vestibular, proprioceptive, and auditory inputs that help organize the sensory system.
Role: User Experience Designer (Including: Research, Wireframing, UI, Prototyping, and Testing)
Type: Mobile application
Industry: Health
Timeline: 6 weeks
Tools: Sketch, InVision Studio, Marvelapp, Miro, Otter
2. Research:
Understanding the Problem
Secondary Research
This project focused on a topic that was prompted by my experience as an Occupational Therapist. I've noticed throughout my career and as a mom of two children, that some sort of sensory processing related issue or sensitivity is relatively common in most children and eludes diagnosis. A probable instigator of the commonality could be due to the more sedentary we become in American culture. I've noticed with my own children they seem to be more sensitive to certain stimuli that I don't remember being as sensitive to as a child. Coming from an Occupational Therapy profession, I know that there are certain evidence-based strategies that can help individuals better take in information and organize their brain. In order to grasp a better understanding of Sensory Integration and the hurdles experienced by parents of children and children living with SPD, Autism, and/or ADD/ADHD, the research portion of my project was a crucial step in making sure my solutions were heading in the right direction.
I started my project by conducting an initial round of Secondary Research, sourcing background information about Sensory Integration from AOTA, Sensory Trainings I've taken via Vital Links and H.O.P.E. Method, Autism.org, SPDStar.org, and systematic reviews of evidence-based studies on the reduction of sensory processing disorder. I also took some time to research more about how other pediatric Occupational Therapists treat their patients and the needs of parents who are currently taking their children to therapy treatments for some kind of sensory processing difficulty in order to set up a powerful case about the impact of my solution.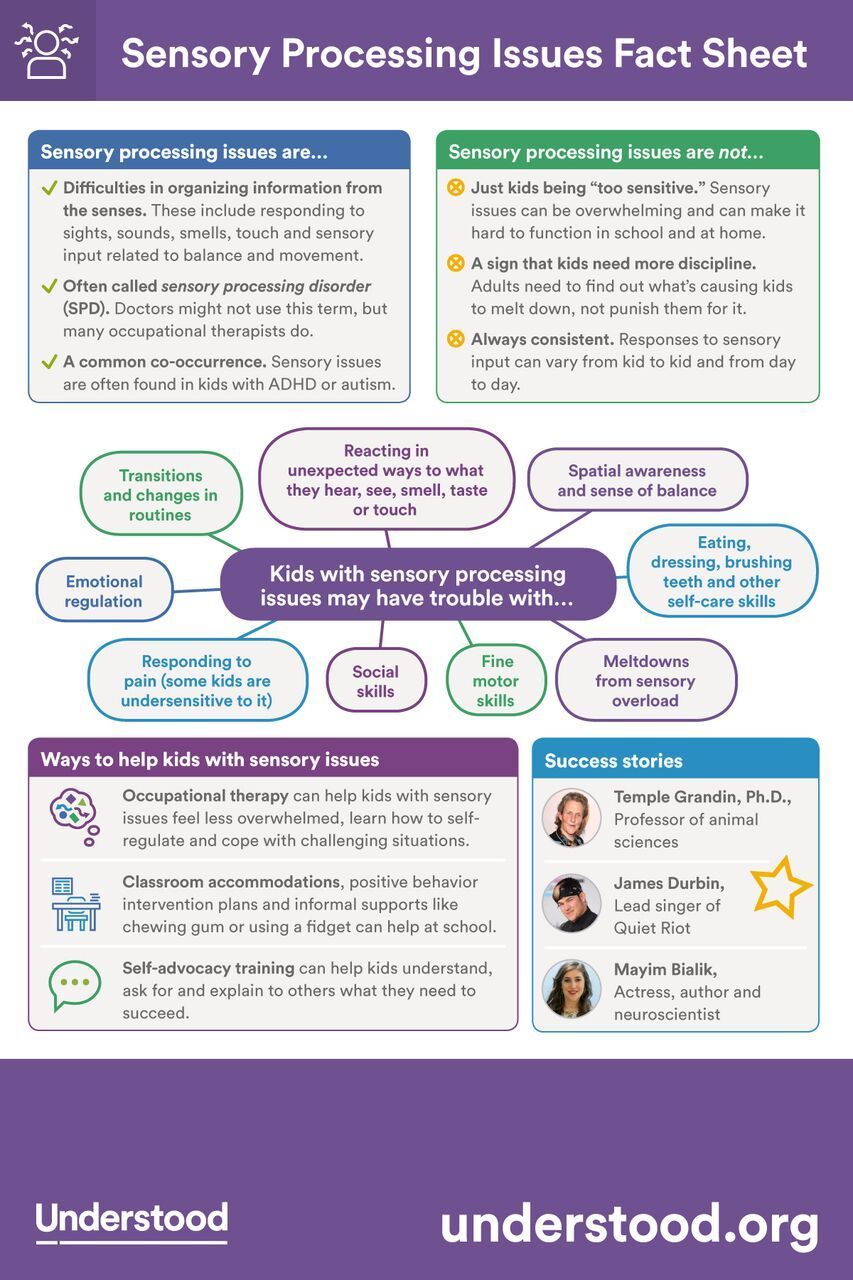 Key Facts
Over 80 percent of the nervous system is involved in processing or organizing sensory input, and thus the brain is primarily a sensory processing machine (Kranowitz, 2005).
According to AOTA, children who are most frequently referred for intervention include those ages birth through adolescence who are struggling academically but who do not have a clear diagnosis, as well as those children with specific diagnoses such as autism spectrum disorder, learning disability, nonverbal learning disability, developmental delay, attention deficit hyperactivity disorder, regulatory disorder, and developmental coordination disorder. The DSM-V (American Psychiatric Association, 2013) diagnostic criteria include sensory reactivity for some of these diagnoses.
Some key facts about sensory processing disorder according to AOTA is that:
It's estimated that up to 95% of individuals with developmental disabilities have significant difficulties with sensory functions.
Moreover, the following are estimations in which sensory processing difficulties are expected to occur:
5% to 14% of kindergartners

16% of elementary school–aged children

10% to 12% of individuals in the general population who have no identified diagnostic condition
In the SPD kids, they found abnormal tracts in their white matter, a part of the brain that's essential for perceiving, thinking, and learning. These tracts connect the auditory, visual, and tactile systems involved in sensory processing. "The data was so clear. Kids with sensory processing differences just have different degrees of connection efficiency, particularly in the back part of the brain" (Goodman & Conway, 2018).
Just like cars, our brains need Gas and Electricity to move information through the central nervous system and to access neuroplasticity (ability of the brain to change).
Gas:
Neurochemicals:

Nutrition/Digestion

Healthy diet free of simple sugars and simple carbs

Sleep
Electricity:
Movement (Vestibular Stimulation)

Wakes up the body & orchestrates organization

Sets up the baseline firing rate of the brain
Gaps in current Occupational Therapy via telehealth:
3 major issues with OT and Telehealth:
Reimbursement for OT services;

Limited resources in the home for kids to use;

Parents are skeptical that teletherapy sessions will be therapeutic.
Other considerations:
Access to the internet, computer, phone, iPad, etc.

Technological difficulties (e.g., internet connectivity, software issues)
Pros:
Fewer missed sessions due to flexibility;

A decrease in financial burdens on families and providers, and;

Better continuity of care.
Competitive Analysis
I analyzed 3 competitors within the health industry to identify gaps in the market. I learned that there are other Occupational Therapists trying to make headway in mobile, but it is very slim and the reviews stated that the activities were not practical, nor was the equipment needed for each activity. Other companies are trying to promote movement for school-based children especially during virtual school, but there seems to be a gap around personalization, daily motivation and engagement, and no real social component.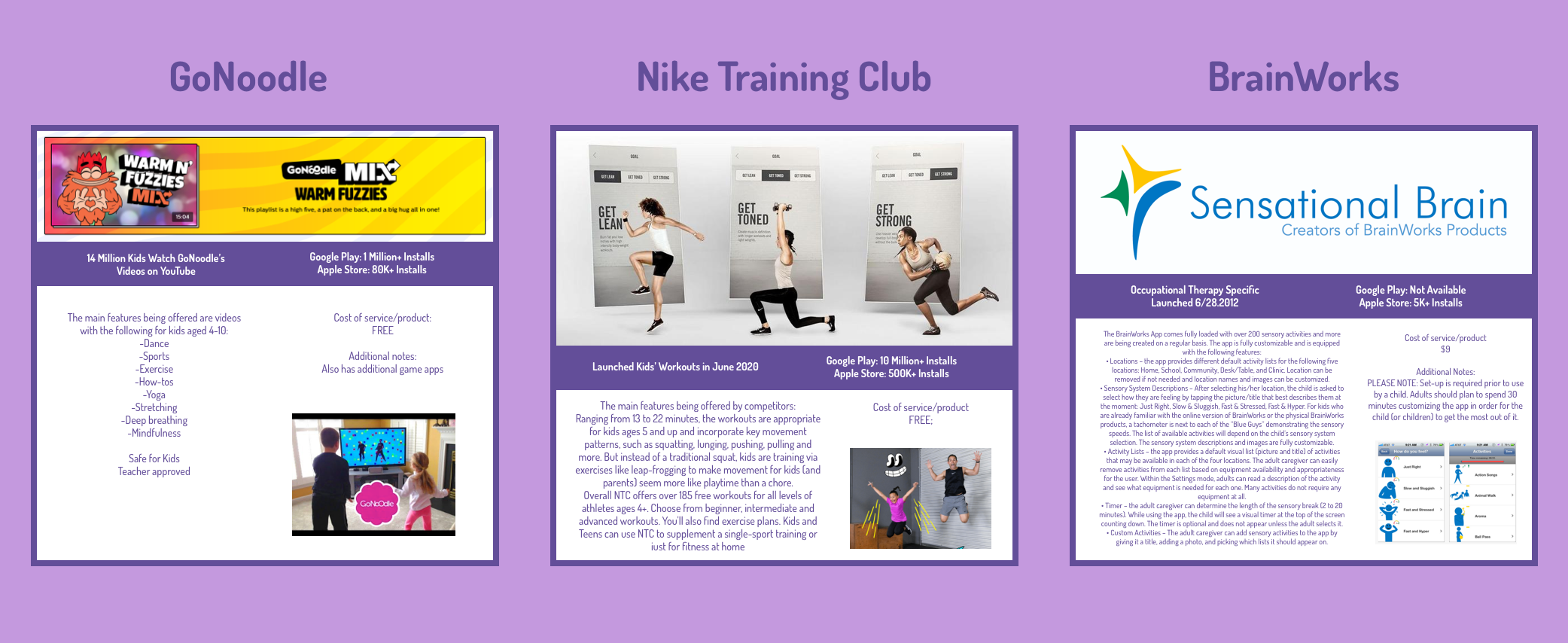 Key Insights
1. Play is important for healthy brain development. Synapses or neural connections in the brain are added or pruned based on life experiences & children explore their world through play.
2. Estimations in which sensory processing difficulties are expected to occur: 5% to 14% of kindergartners, 16% of elementary school–aged children, 10% to 12% of individuals in the general population who have no identified diagnostic condition.
If we apply that to the entire U.S. (Kidsdata.org, 2020), then:
Kindergarteners: 8,048,030 (5-6 year olds) could be expected to experience sensory processing difficulties

School-agedKids: 16,195,446 (7-10 year olds) could be expected to experience sensory processing difficulties

General Population: 8,745,351 (17 and under) could be expected to experience sensory processing difficulties - that's 1 in 8 kids in the U.S.!
3. Parents are skeptical that teletherapy sessions will be therapeutic.
4. In the SPD kids, they found abnormal tracts in their white matter, a part of the brain that's essential for perceiving, thinking, and learning. These tracts connect the auditory, visual, and tactile systems involved in sensory processing.
This data gave me essential information to narrow down the demographic to interview in my next research steps. Due to this, I was able to easily find parents of age groups to talk to; however, I realized quickly that I needed to narrow down my scope as the interests between each age group varies and it would be hard to fulfill all needs. My research also allowed me to focus on the kinds of activities that should be focused on when it came to developing a solution.
Primary Research
Since my earlier research determined who I needed to talk to, I then needed to develop a plan to reach parents to may have children experiencing sensory processing issues and dig into the solution of how to deliver quality continuous Occupational Therapy care in the home environment that is easy, enjoyable, engaging, and meaningful for the entire family.
The research tactics I implemented included:
Online Survey - sent to 32 participants via social media to recruit potential interviewees and gather quantitative data about children's activity levels and problem areas.

Remote Interviews - 60-minute remote interview sessions with at least 4 key users who match the demographic requirements. The interviews would be audio-recorded.

Synthesis - organized and sorted research insights using Affinity and Empathy mapping to highlight key opportunities.
The initial online survey asked 6 simple questions focusing on age of children, interest level of sensory based activities, fair to poor confidence in the quality of virtual therapy/education and willingness to be contacted for further information.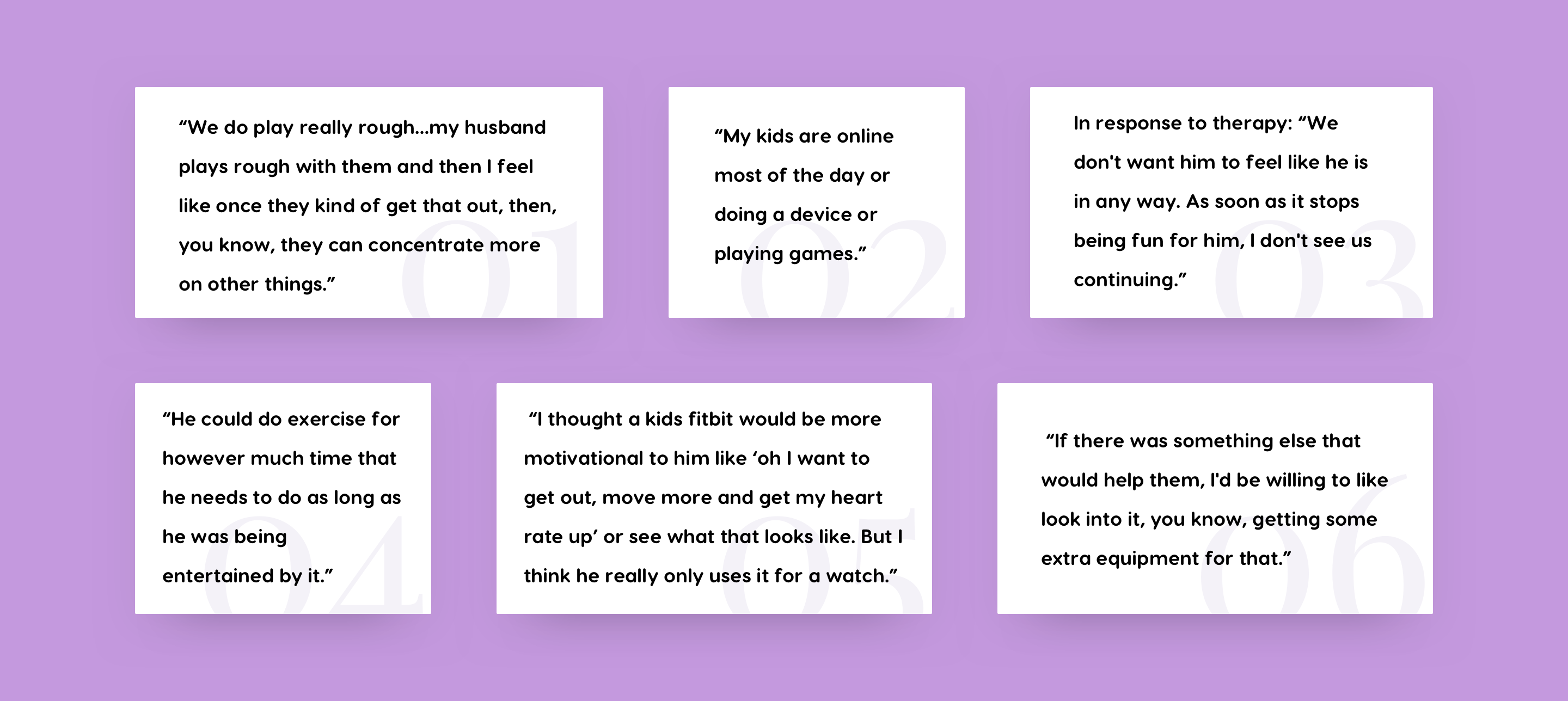 Interviews
At the discovery phase of my project, I conducted user interviews in order to get a better understanding of the problem. I interviewed parents of children who have experienced sensory processing difficulties that disrupt daily functioning in order to gain some insight on the kids of obstacles faced. Since Kindergarteners and school-aged children make up the majority of expected sensory processing disorder estimations, I limited my search to parents of children aged 3-12. I interviewed 4 moms that this this description and had little to no knowledge about sensory integration, had a high interest in learning about sensory activities for their kids, and felt that virtual therapy had fair to excellent quality.
Product Vision & Goal
A heart-centered solution should:
Deliver an easy and fun way for children to improve sensory processing.
Create an affordable and engaging environment that allows parents to be involved, but also trust that the child is establishing healthy strategies on their own.
Incorporate activities that are occupational therapist approved and evidence-based where users are motivated daily by personalized interaction and noticeable results.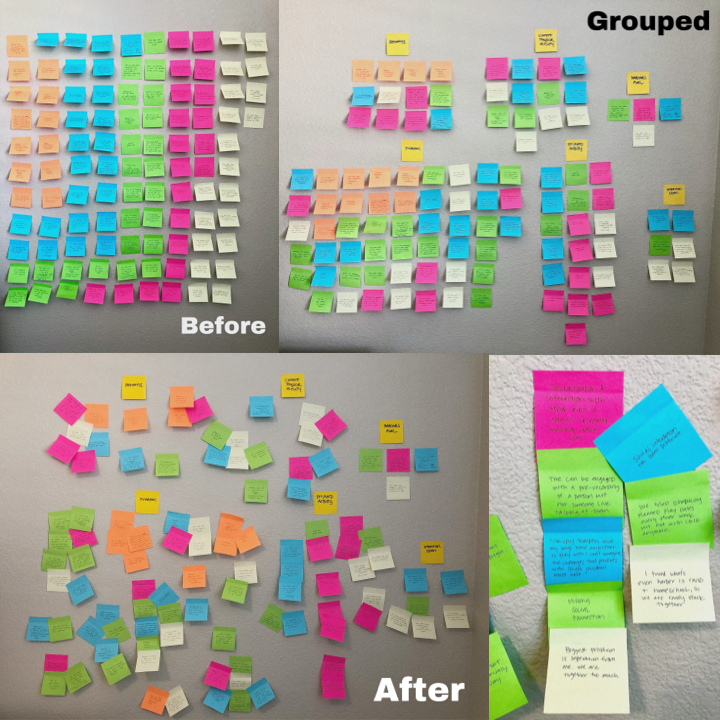 Research Synthesis
After talking to each participant and reviewing the recorded interviews, I was able to pull a significant amount of insights and quotes from our discussions. In order to make sense of it all and see some common trends, I decided to organize them with an affinity map. This map grouped similar insights together and some prominent trends started to emerge.
Key Findings:
Although socialization & connection was the top problem for parents about what their kids are missing during this time, still feelings of concern around social anxiety were still prevalent for children.

A big benefit of our current situation is parents and other family members (where possible) being more present, aware, & engaged with their children.

Kids really enjoy activities around singing, dancing, and overall moments of silliness.

Current physical activity happens in the form of jumping or bouncing around the house or yard.

Most kids are able to engage online for 20-45 min (depending on age) if the content is continuously entertaining and relevant to them.

Sound seems to be a common sensitivity for kids.

Most parents have hand weights, yoga balls, resistance bands, and some sort of electronic device around the house, but are also open to other equipment if proven effective.
Overall, these interviews helped me to understand the problem parents and children are facing today when it comes to managing sensory processing needs and to think through some potential solutions that not only help solve the problem for parents and kids who would benefit from occupational therapy services but also to achieve the goals of Occupational Therapists in increase physical activity and rewire the brain.
Personas
In addition to organizing the insights by similarity, I also organized them using Empathy Mapping so that I could identify each unique type of user. These Empathy Maps factor in what the users Think, Say, Feel, and Do in order to understand the complete picture of our users.
I was able to identify three unique types of users from these Empathy Maps: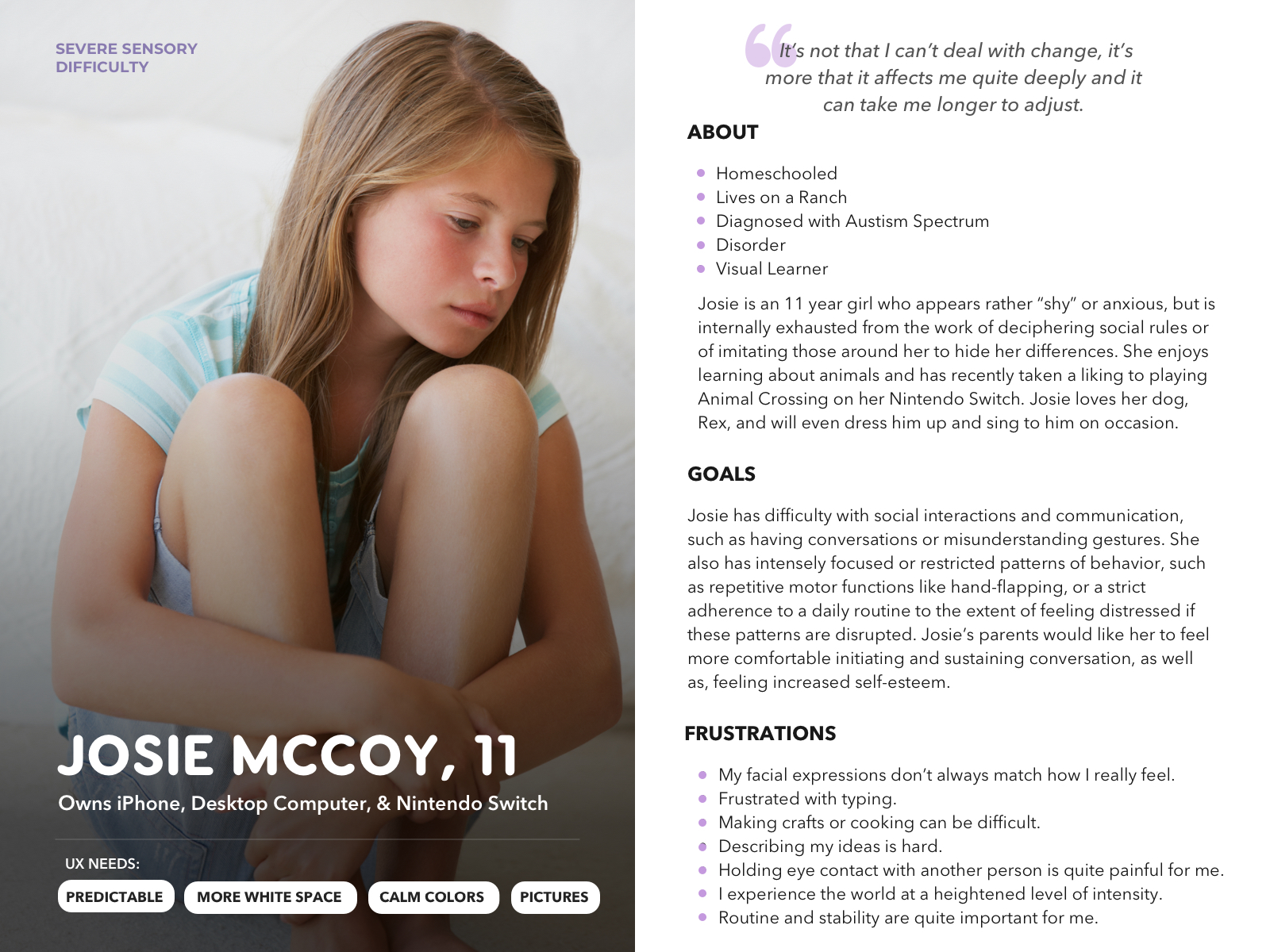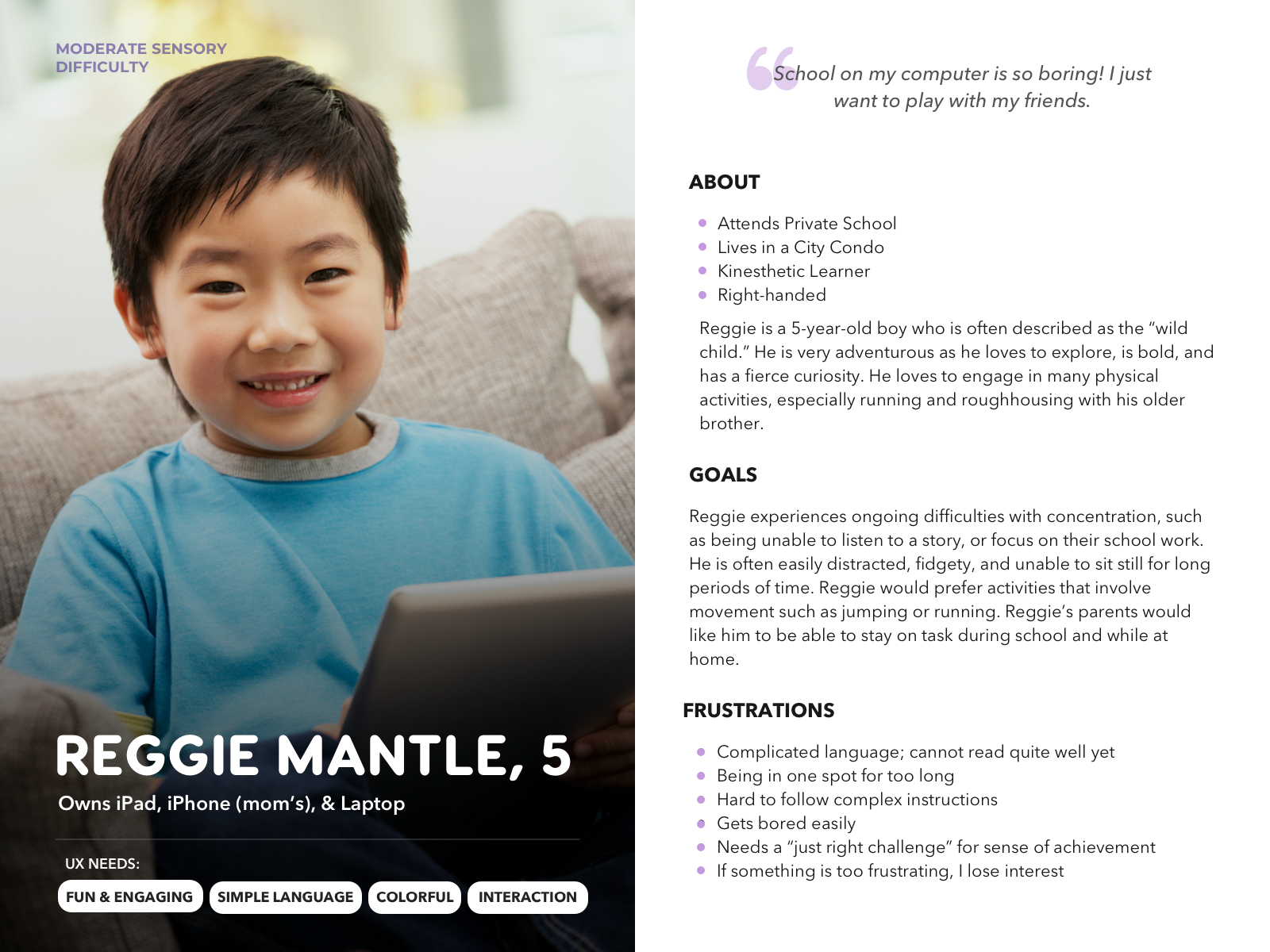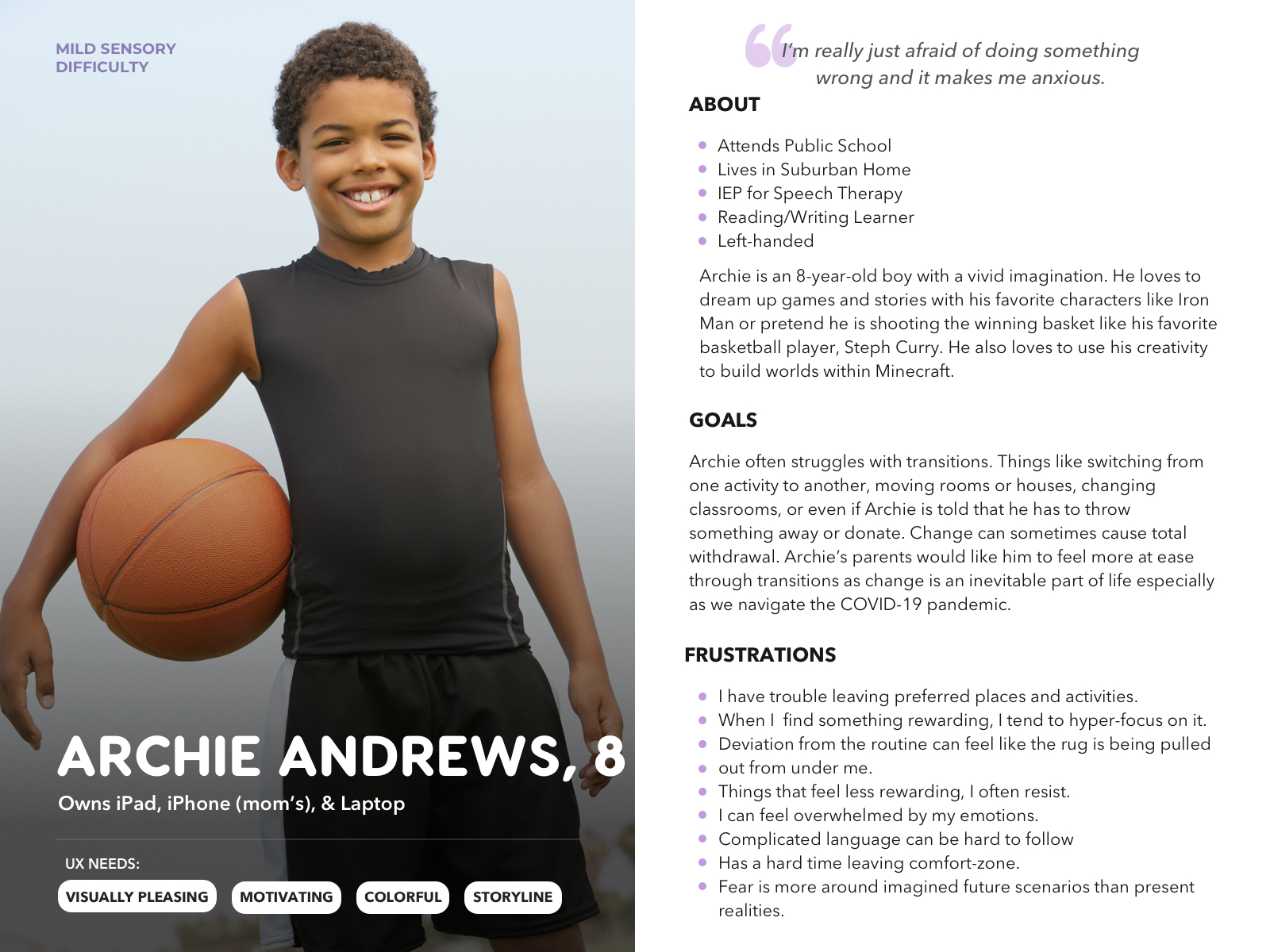 How Might We
Based on the interviews, I went back to review common problems and goals. Occupational Therapy can be used both for treating diagnoses and for preventative intervention. As such, I wanted to think of solutions that not only took my personas into consideration, but also thinking of the 1 in 8 children who could develop a sensory processing disorder.
With this in mind, I used the "How Might We" method to identify opportunities. By framing the challenge as a How Might We question, I was able to set myself up for an innovative solution specific to solving the needs of parents, Occupational Therapists, and potential users.
How Might We Help Children with Sensory Processing Issues...
...receive quality continuous care through virtual therapy?"
...with safe and comfortable social interaction?"
...be motivated to be safely physically active within the home environment?"
...understand how to better self-regulate their emotions and behaviors?"
...troubleshoot sensory overload or sensory under responsiveness with strategies to help thrive in the home, school, or community ?"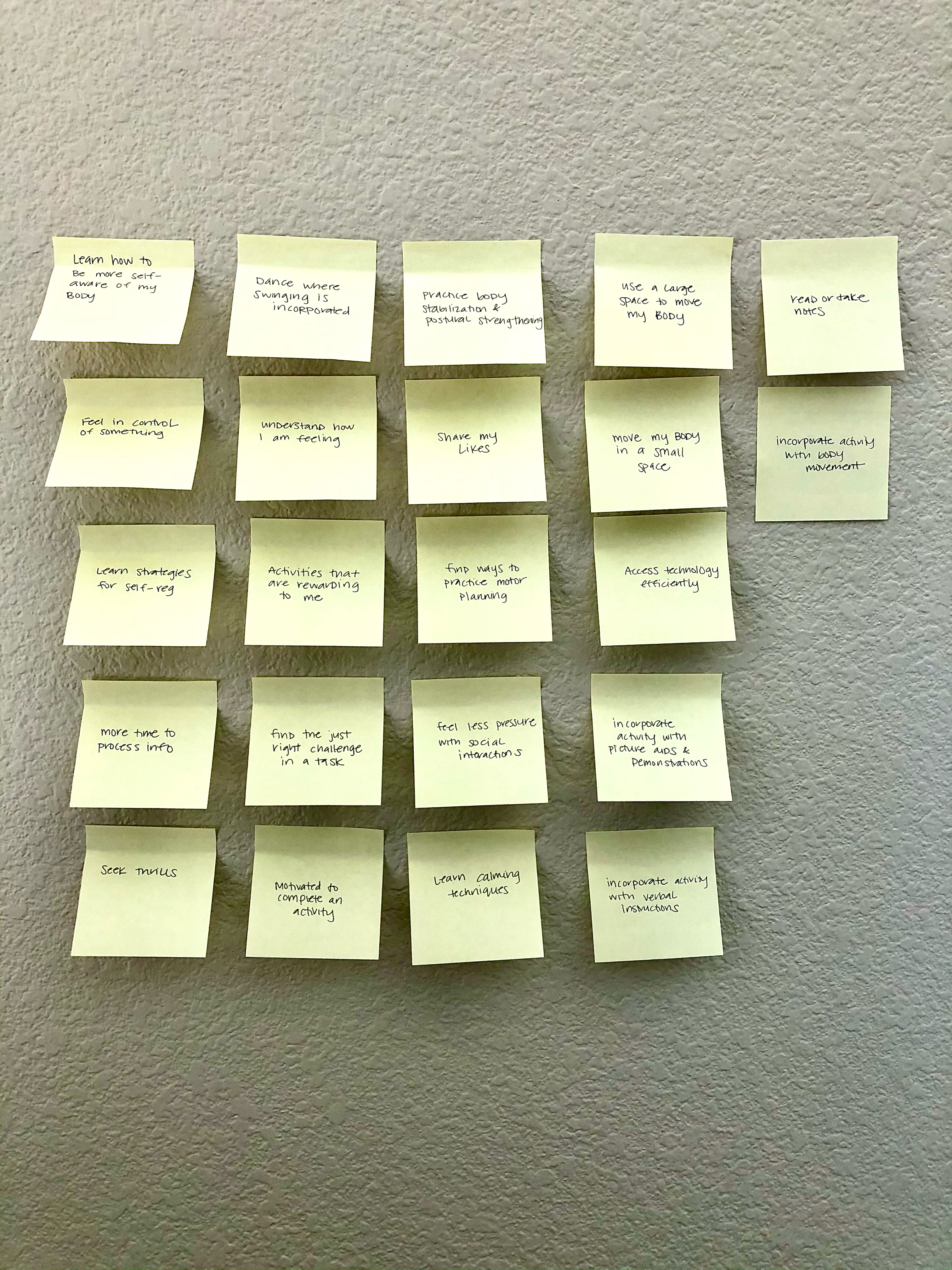 User Stories
The goal of this exercise was to use my HMW's, interview quotes and personas to frame a brainstorming session to come up with activity user stories. These stories each describe a goal of the user including what they want to achieve and why they want to so that I can understand in more depth some goals to address in the designs.
Exercise rules: 45-minute total time limit with the goal to create 20 user stories.
After exceeding the goal and creating 22 user stories in the 45 minute exercise, it was important to organize them with affinity mapping according to similarities and priority. This process helped show which user goals are highest priority to focus on and also what smaller goals fall within the main ones.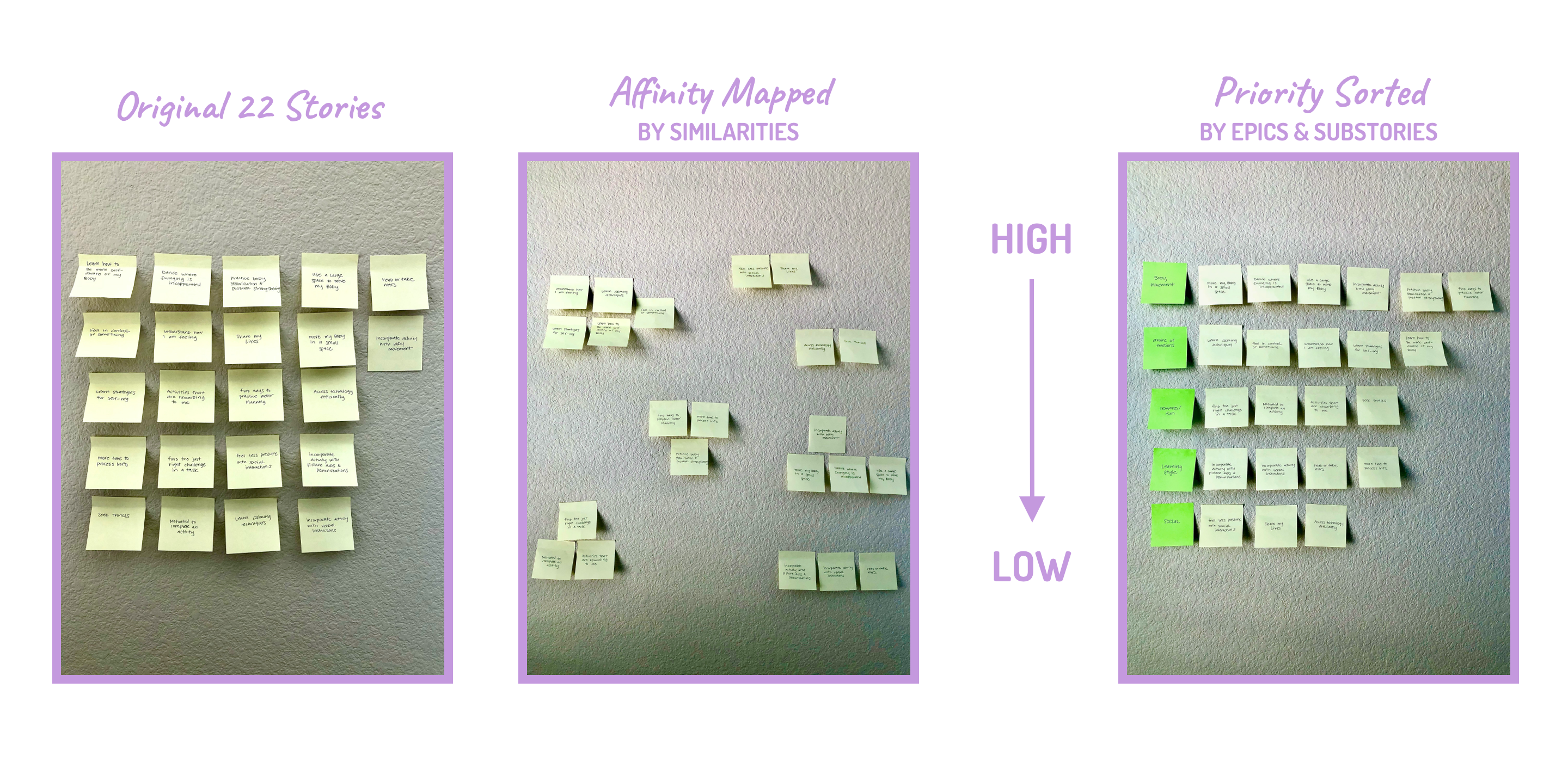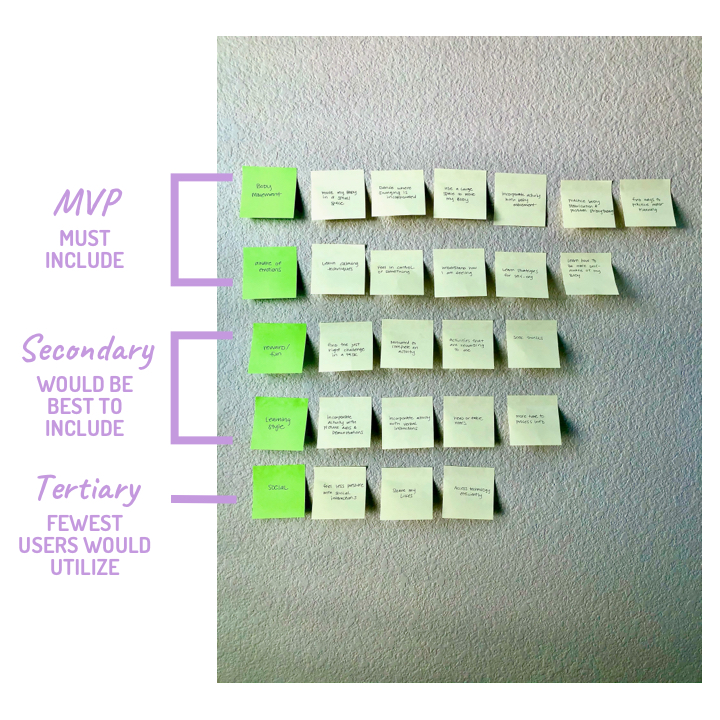 MVPs
The final list epics and sub-stories created my MVPs and directed the design decisions based on what goals are most important to the users. I split these goals into MVPs, Secondary and Tertiary goals, which identified the primary focus as well as optional goals that would be nice to achieve but not necessary to the core solution.
Results:
MVP (must include): Body Movement & Aware of Emotions
Secondary (would be best to include): Reward/Fun Factor & Learning Style
Tertiary (fewest users would utilize): Social piece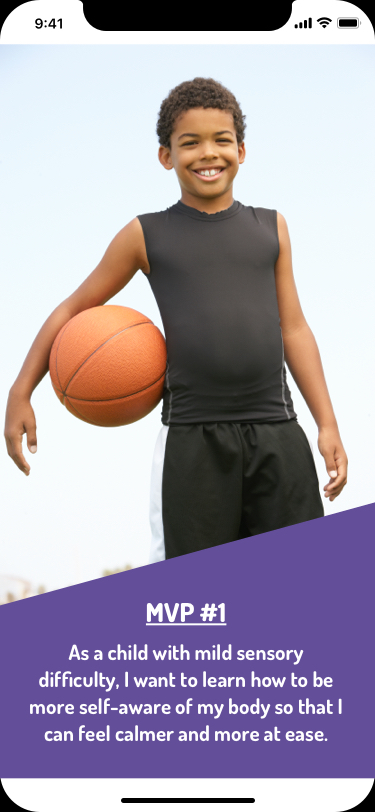 MVP #1
As a child with mild sensory difficulty, I want to learn how to be more self-aware of my body so that I can feel calmer and more at ease.
Sub-Goals Include:
- Move my body to promote vestibular and proprioceptive inputs.
- Learn calming strategies.
- Understand my feelings and emotions.
- Improve stabilization and postural strength to better engage in daily tasks.
- Become comfortable with transitions and change.
- Feel adequately challenged for motivation.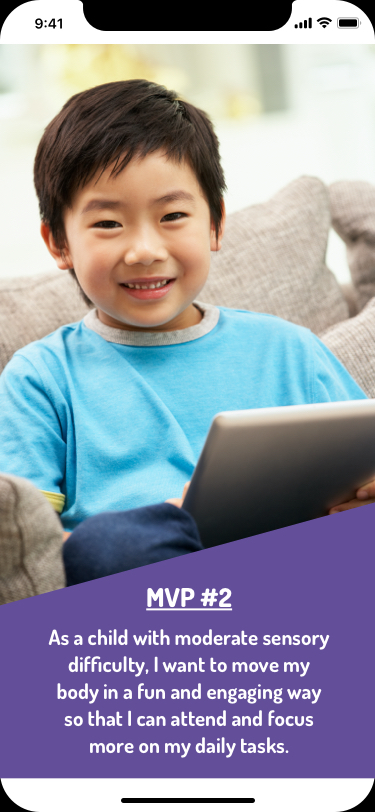 MVP #2
As a child with moderate sensory difficulty, I want to move my body in a fun and engaging way so that I can attend and focus more on my daily tasks.
Sub-Goals Include:
- Move my body to promote vestibular and proprioceptive inputs.
- Learn calming strategies.
- Understand my feelings and emotions.
- Feel a sense of achievement.
- Improve stabilization and postural strength to better engage in daily tasks.
- Become comfortable with transitions and change.
- Feel adequately challenged for motivation.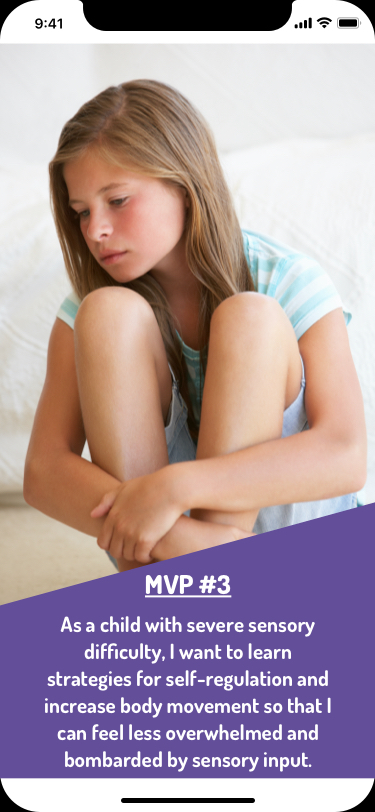 MVP #3
As a child with severe sensory difficulty, I want to learn strategies for self-regulation and increase body movement so that I can feel less overwhelmed and bombarded by sensory input.
Sub-Goals Include:
- Move my body to promote vestibular and proprioceptive inputs.
- Learn calming strategies.
- Understand my feelings and emotions.
- Feel a sense of achievement.
- Improve stabilization and postural strength to better engage in daily tasks.
- Become comfortable with transitions and change.
- Feel adequately challenged for motivation.
- Feel in control of my world through imagination play or creation.
Research Conclusion
Through interviewing and surveying parents about their experiences with their children, observing many children with sensory processing disorder myself, and synthesizing the information gathered I was able to identify who I am designing for and what their biggest issues with sensory processing challenges are.
These Insights and HMWs gathered brought up a great thinking strategy when it comes to considering children with different levels of severity of sensory organization. While most children need an overlap of certain techniques, it was interesting to think about how each would benefit more or less from certain activities and why which will help provide excellent structure for solution development.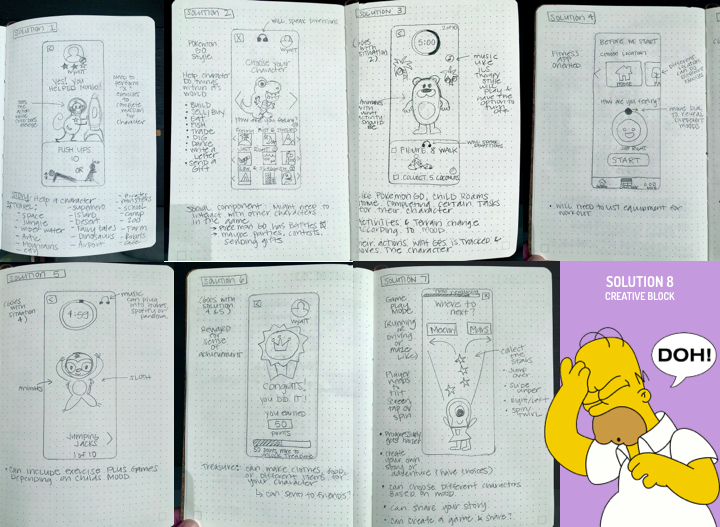 Crazy 8 Sketches
For this exercise, I decided to use the Crazy 8's method to quickly sketch out a lot of different ideas for the SensoryVille app on possible solutions to the discovered problems and gaps. The goal was to generate as many ideas as possible in a short period of time, without worrying about the quality of the sketch or whether it's a good or bad idea. I took out my bullet journal and drew 8 boxes. I then used my phone as a timer on repeat for 1 min, and got sketching. I unfortunately hit a roadblock on my last design and was only able to come up with 7 viable solutions.
Initial Concepts:
Storyline Gamification App - What you do, your character mimics the actions for some sort of goal within the game.

Pokemon Go Style App - Augmented reality with social component.

Fitness App Oriented - Sort of like the Sweat App or Nike Training Club App, user follows the characters moves for exercising.

Reward System for continuous active days.

Music Component that incorporates Therapeutic Listening.

Choose Your Adventure Gamification - User able to create their own story of the game.

Mood Dictates List of Activities to Perform.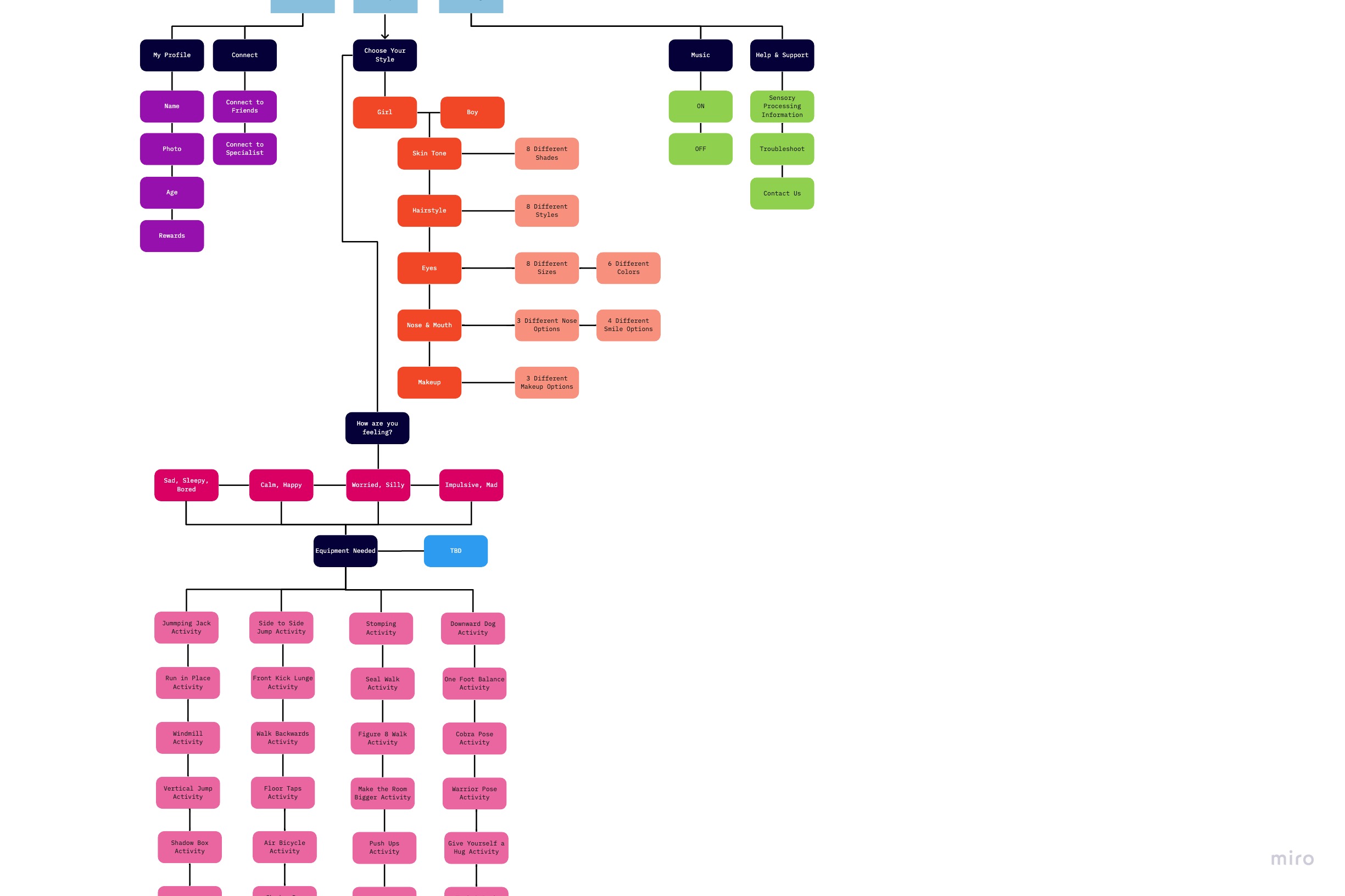 Site Mapping
After determining potential features and concepts to solve the user's needs I wanted to understand how I could potentially lay out my content and how it could be structured and presented to a user when they are interacting with my design.
This site map also explored the navigation steps and how users would find specific information, such as building a personalized character and choosing an activity.
Early Iterations & Wireframes
After brainstorming new ideas and organizing the structure of the app, I decided to take a few ideas from my Crazy 8's and expand on the ideas with sketches. These early iteration sketches help flesh out ideas quickly allowing me to explore screen layouts for each stage of the user's experience. I also thought about Red Routes or those critical paths that a user must follow for them to complete their task and for my product to be successful. These red routes are the actions a user will take nearly every time they visit your site or app. These initial concepts included testing different user game flows including creating a personalized character, layout of gameplay and tutorials, and the reward system. These screens were how the user would get to the most beneficial activities for body movement in response to the users' mood and awareness, which is the highest priority goal, so it was crucial to explore this in depth.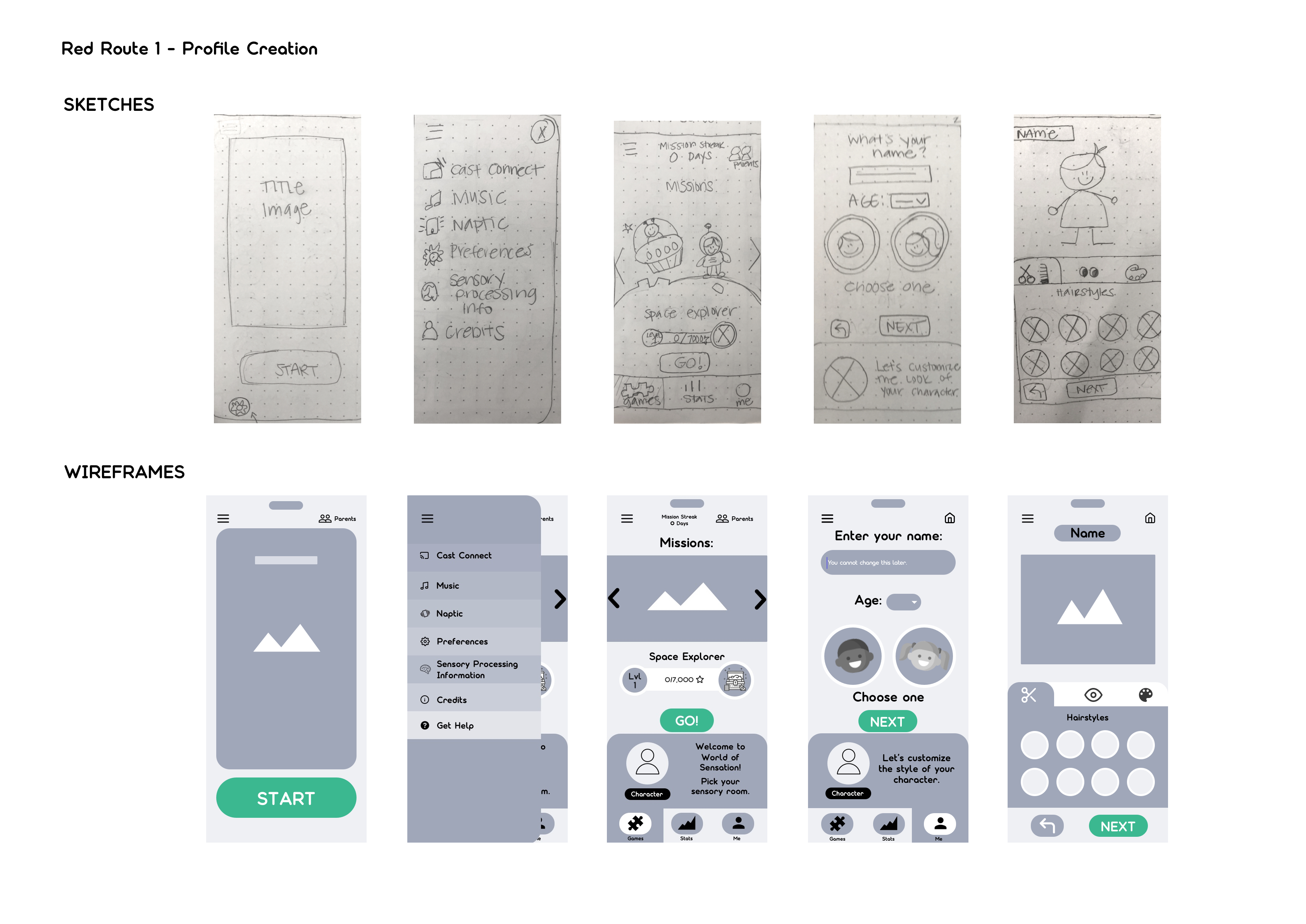 Red Route 1 - Profile Creation
Here the user will prompted to a create a character for the gameplay which will be referred to throughout the game. The user can win items for their character that essentially levels them up and unlocks different gameplay scenarios.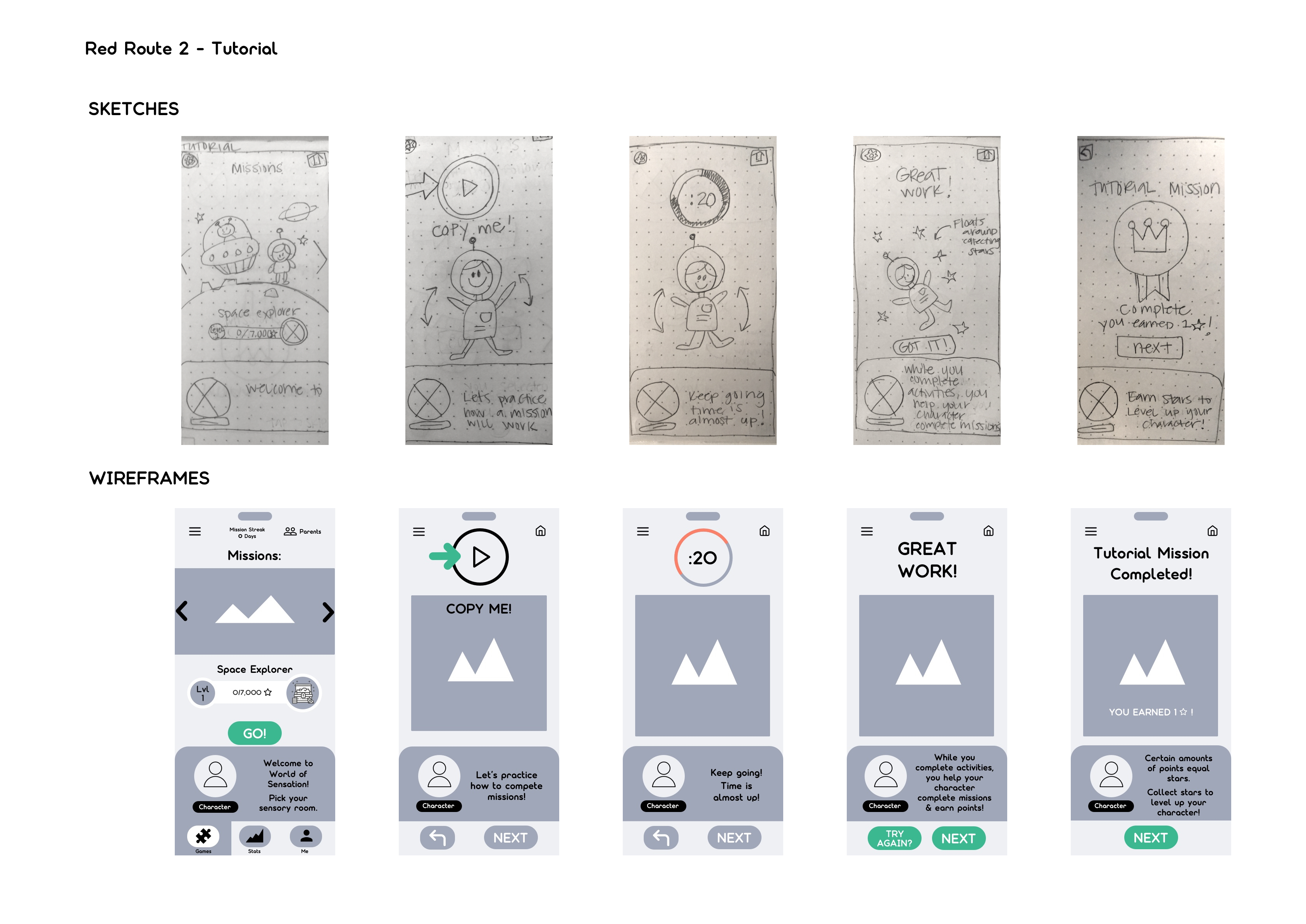 Red Route 2 - Tutorial
In this route, a user is guided on how to complete the activities. In order to get good vestibular or proprioceptive input, the user will need to do big body movements or use the phone tilt and movement sensory to perform spins, jumps, and turns for their character to complete certain missions.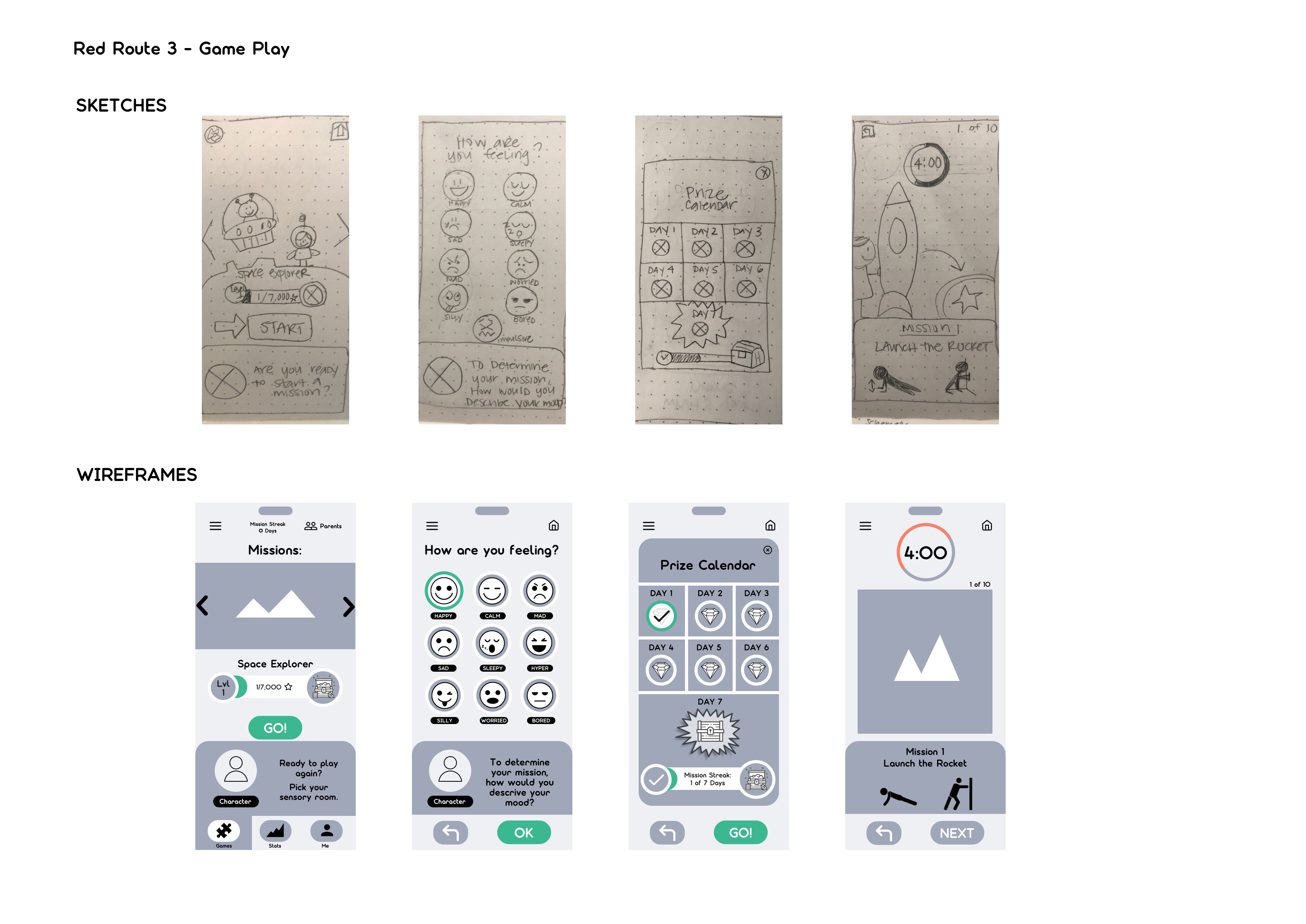 Red Route 3 - Game Play
In this route, a user will always need to decide on their mood before gameplay in order to be matched with the most appropriate activities. This also empowers users to understand their body and emotions more regularly which is a common difficulty in persons with sensory processing disorder.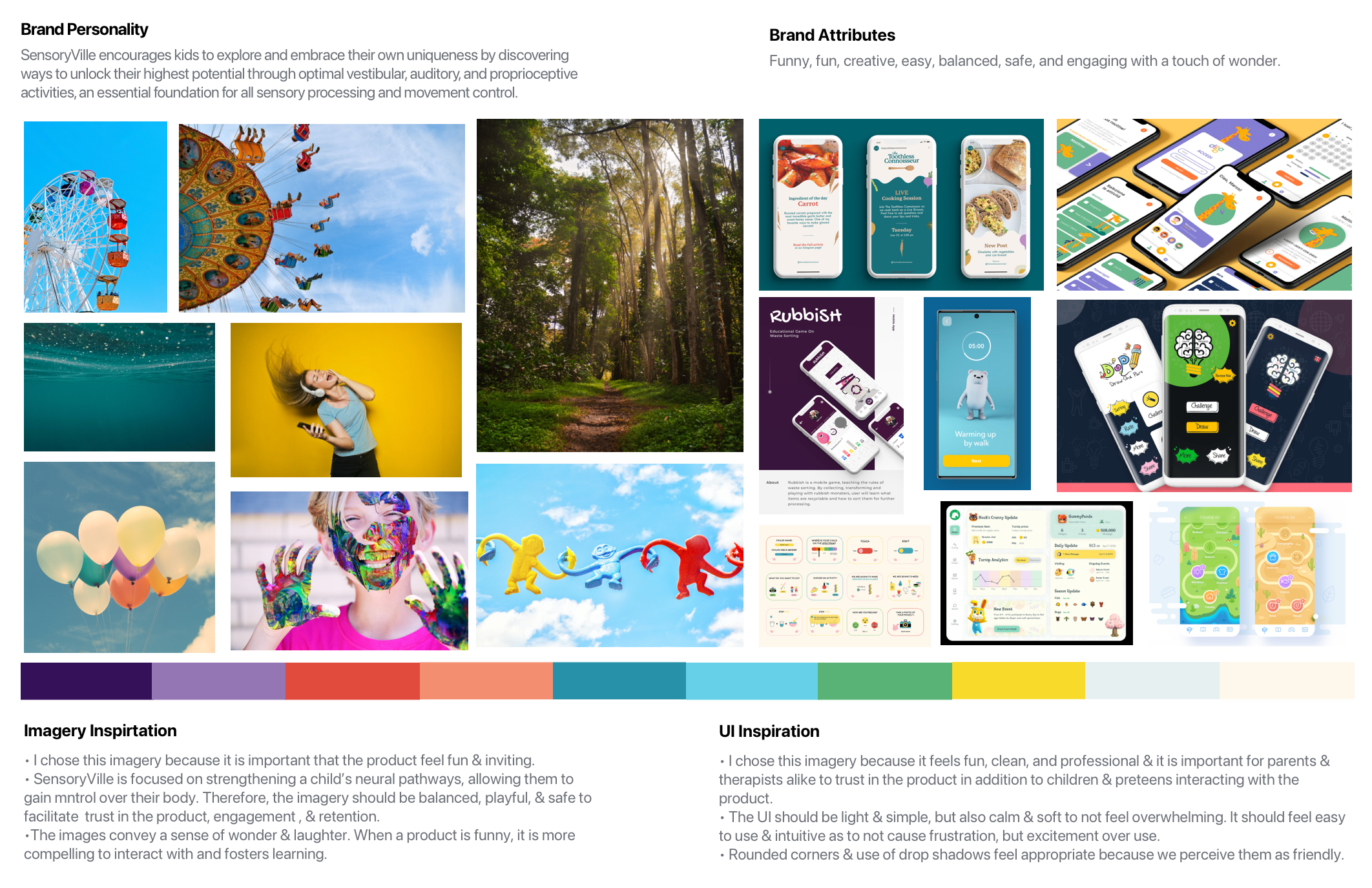 Mood Board
Now that the app structure and flow is organized it was time to consider the final style and UI design of the app. To help visualize what the end goal was I created a mood board that included color swatches, typography, and examples of other apps that achieved a similar style that I was striving for. This mood board helped guide the design decisions that shaped the final UI.
The main influence on the style that I chose was the color palette. These colors were drawn from amusement parks and also nature. I wanted to make sure that the app felt fun, friendly, and welcoming, but also soothing and safe. I made sure to keep the colors bright with some pastel to give the app a modern and clean look while keeping it soft and calming to match the more regulated emotions that users can feel when they are ready to attend and focus due to organized sensory processing.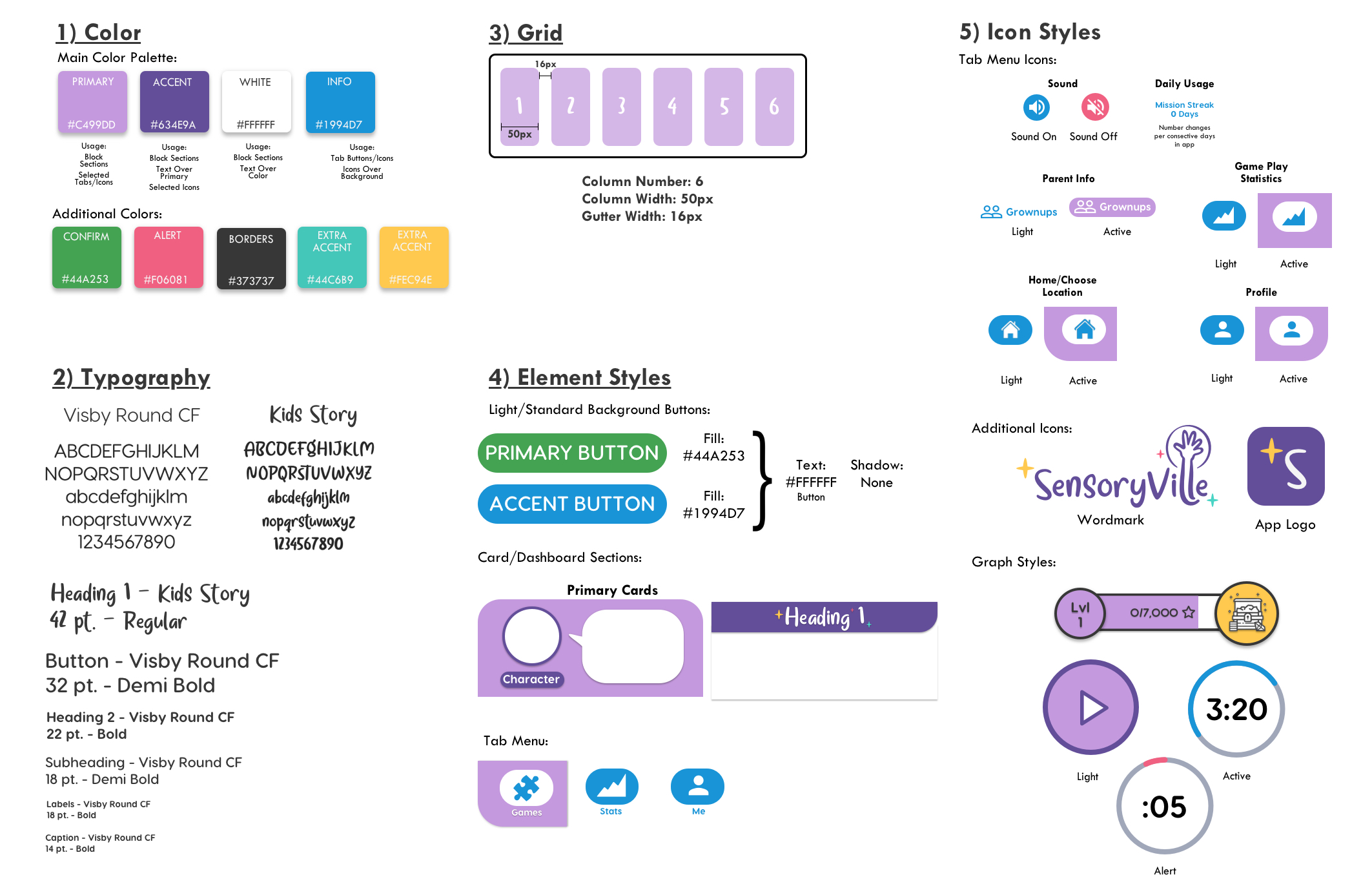 Style Guide
Drawing inspiration from my mood board, I started to create a style guide for the UI design. This guide would have all elements of the app defined so that in the instance multiple designers or a team were working on the app, everything would stay consistent between them. This also helps me make sure that as I move forward in refining the design that I keep elements cohesive. This style guide evolved over the course of testing to make sure it was updated to the latest design style.
Using the colors and typography from my mood board, I expanded them into specific elements for the app like the bottom tab menu, buttons and icons. It was important for these buttons and icons to match the simple, fun, and dream-like emotion that I was trying to create. To make it feel more friendly, I chose to make most elements rounded to eliminate any sharp corners. I also made sure to add in white space, so the game didn't feel too cluttered and overwhelming. I wanted everything to feel like there was a rhyme and reason to it and therefore eliminated the majority of the shadows to give clear contrast.
UI Design Iterations
This UI design was really exciting because the screens start to come to life with color and graphics. Using the style guide and mood board, I went through some initial iterations to finalize the layout and style of these screens. I wanted to make sure that the screens felt fun and engaging, but also offered calming touch. These variations explored grouping different elements together and accenting them with colors, as well as utilizing white space to make them clean, intuitive, and easy to read.
Through this phase I decided to add a bottom menu tab that allows the user to easily switch between the main functions of the app. Play missions or games, stats on character level, and profile creation are the three actions I anticipate users to use more frequently, so having them big, bold and prominent at the bottom of the screen so they can focus on purpose of game play was the primary choice for me. Additionally, I wanted to think of way to approach monetization and for parents to be involved. I thought that setting up a special section where they could possibly access a companion app and set up any pertinent information for the could be involved with gameplay for younger children. I moved this to the top of the screen so that it provided easy access. This feature was inspired by other children apps that prompt set up and in-app purchases.
This first round of UI Design iterations developed the screens needed to create a prototype and test the results with rounds of Usability Testing. I eventually updated all the images a little more for user testing.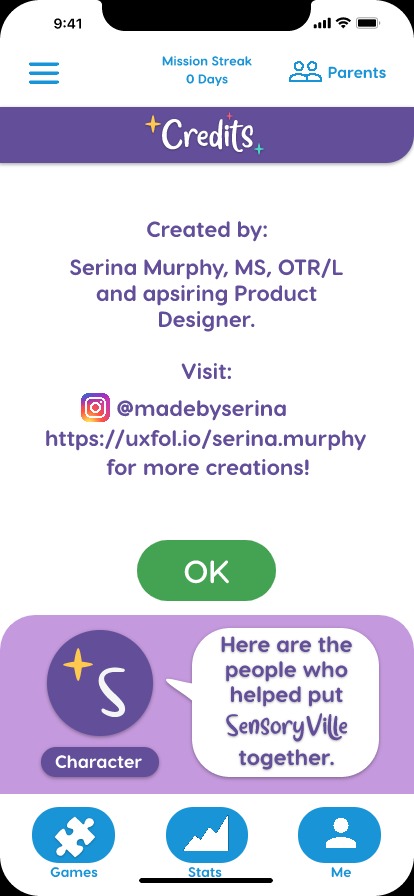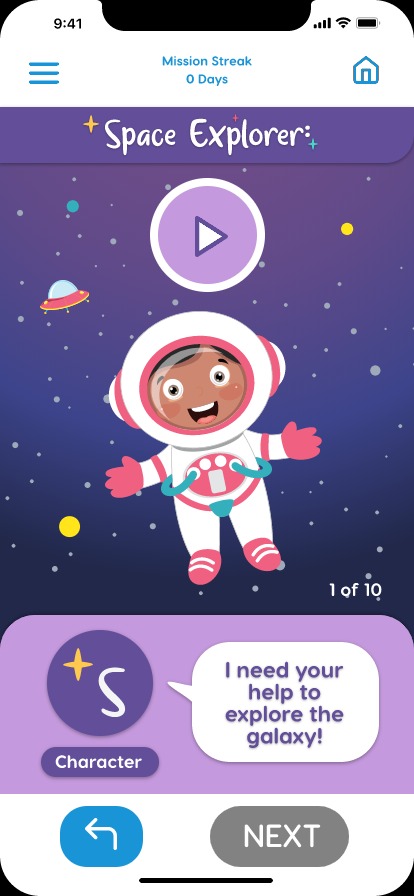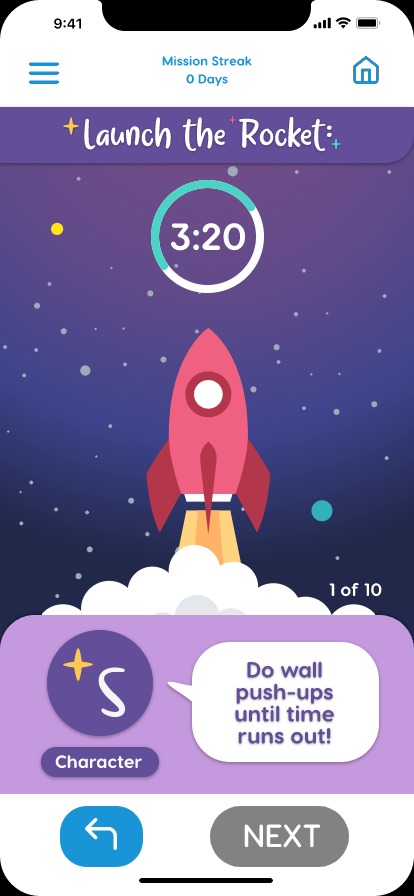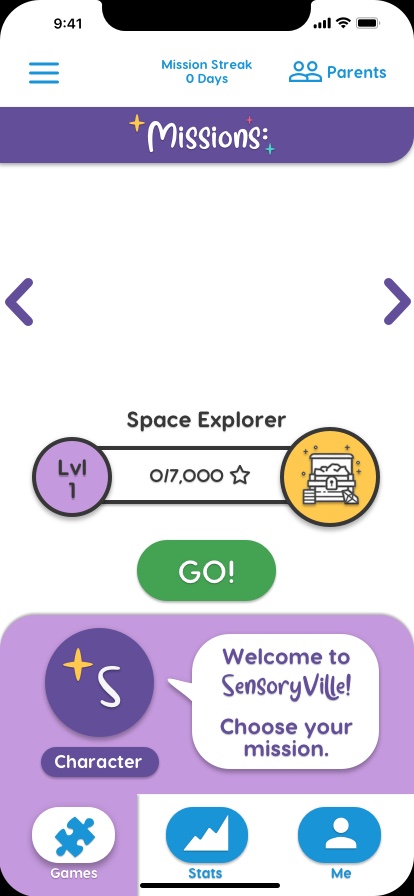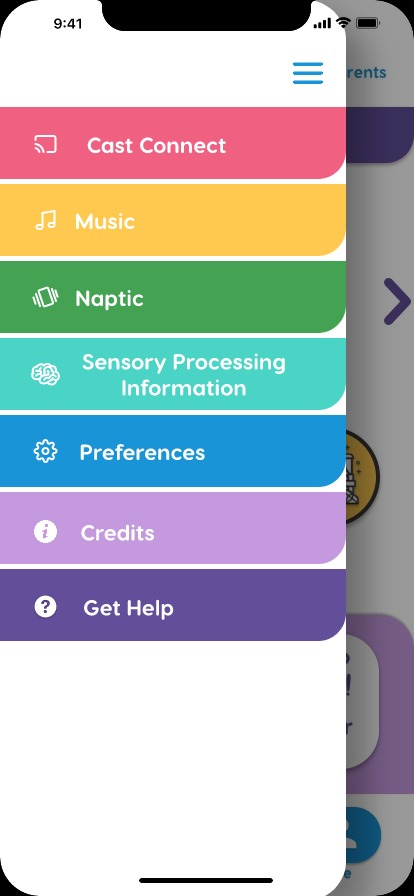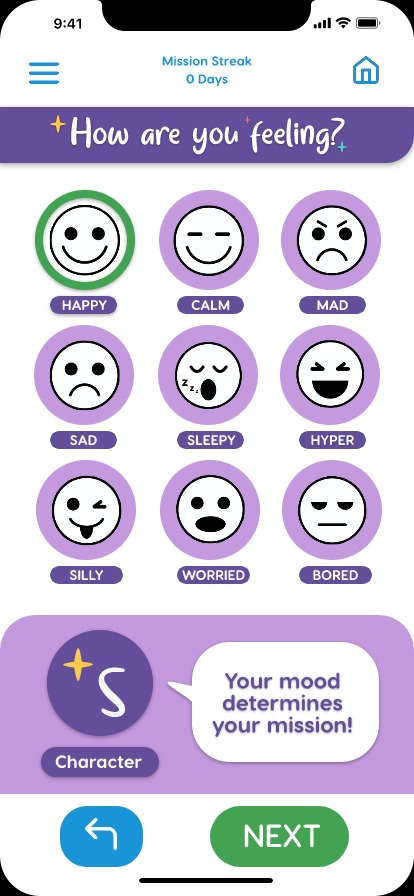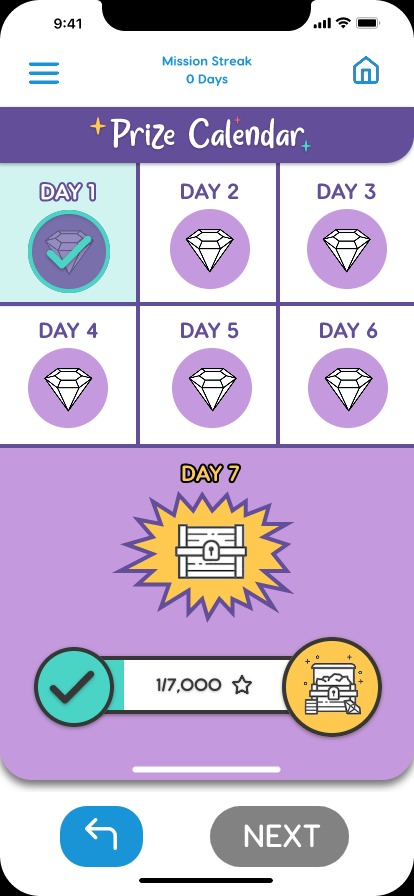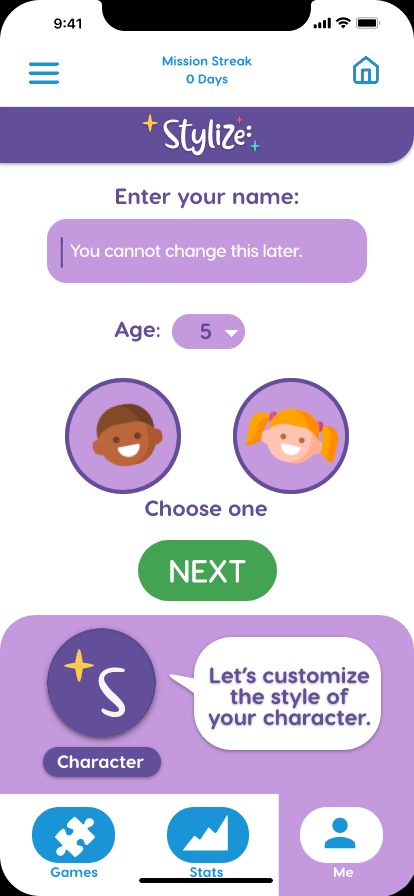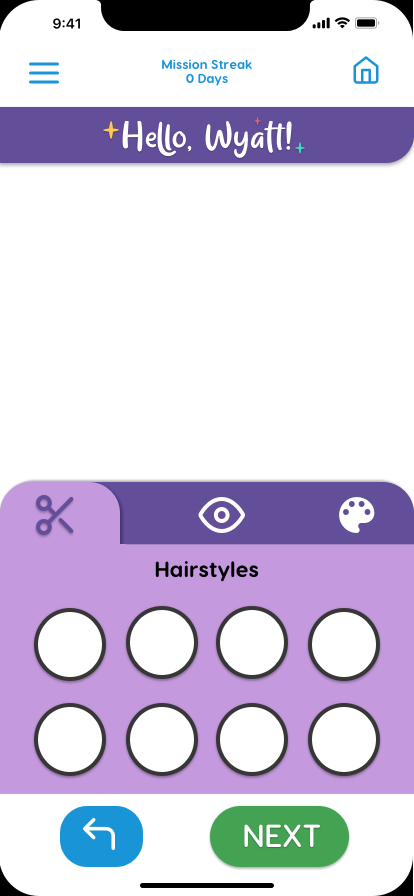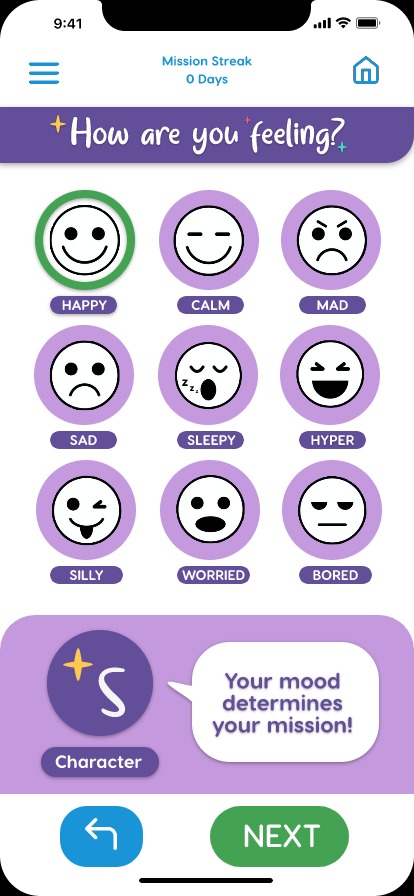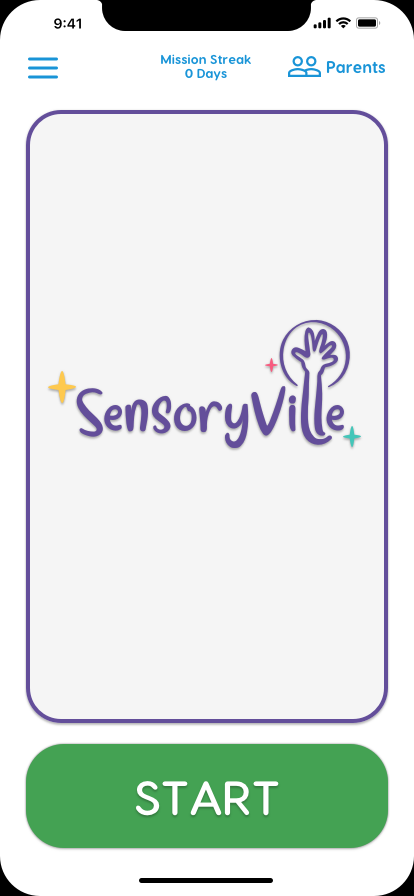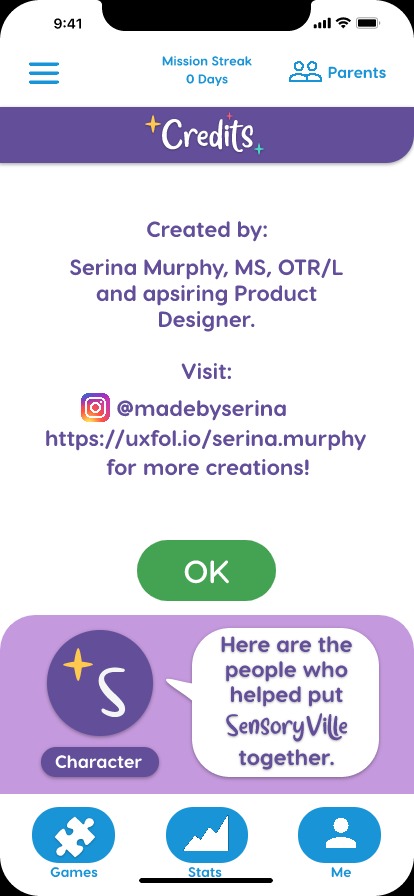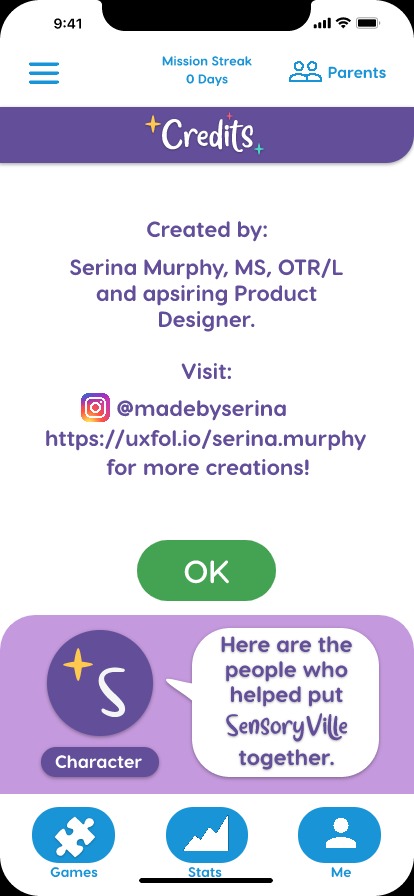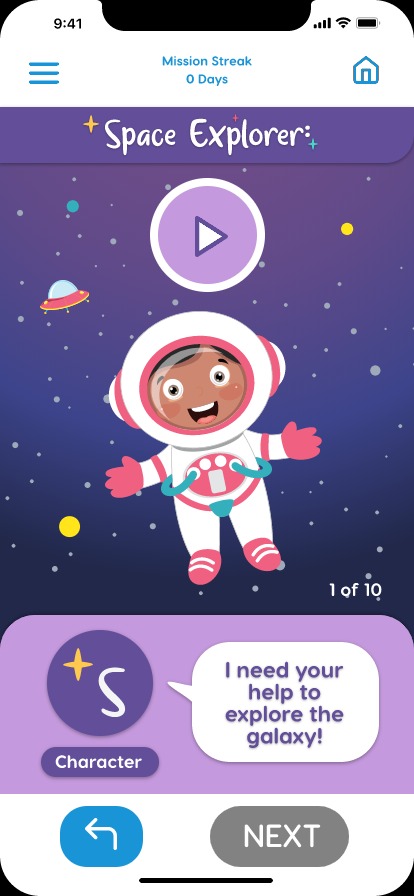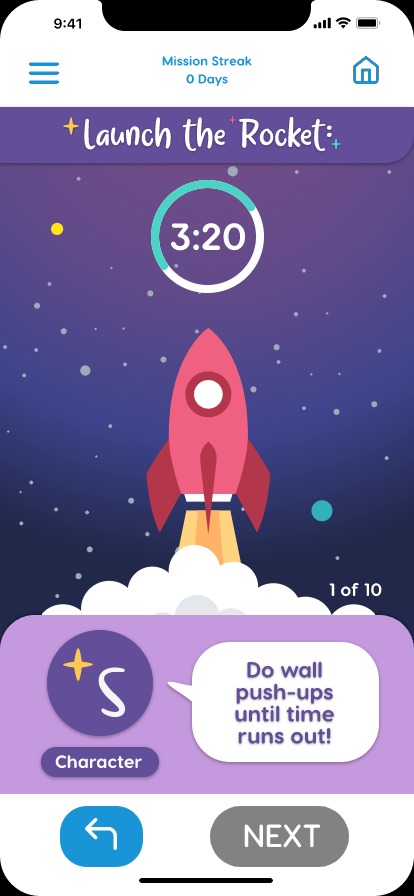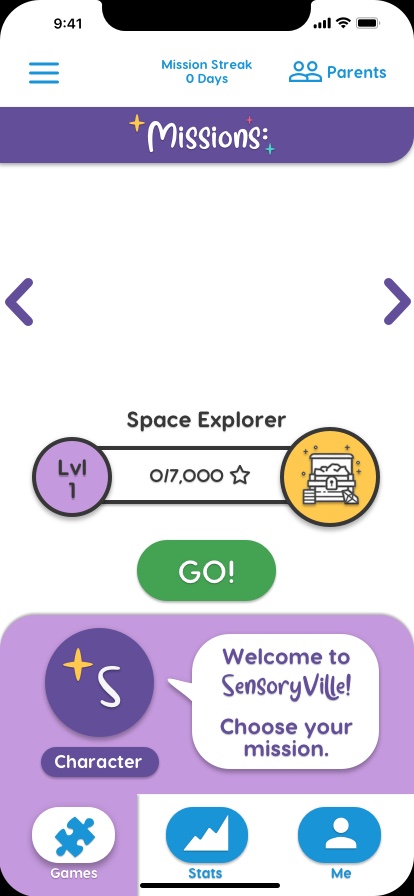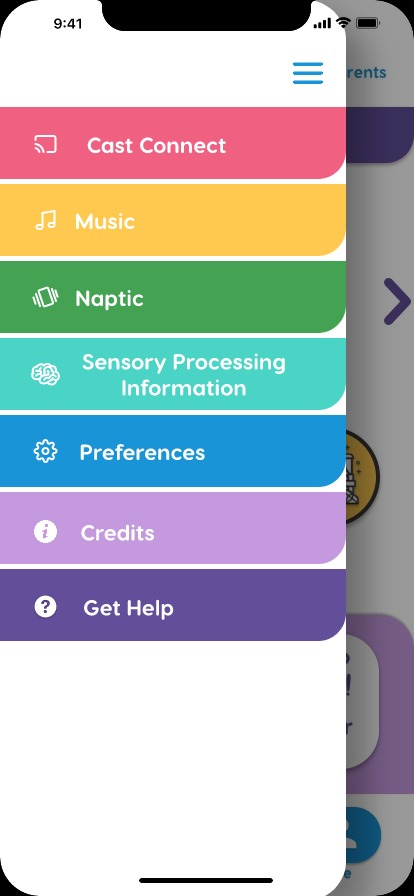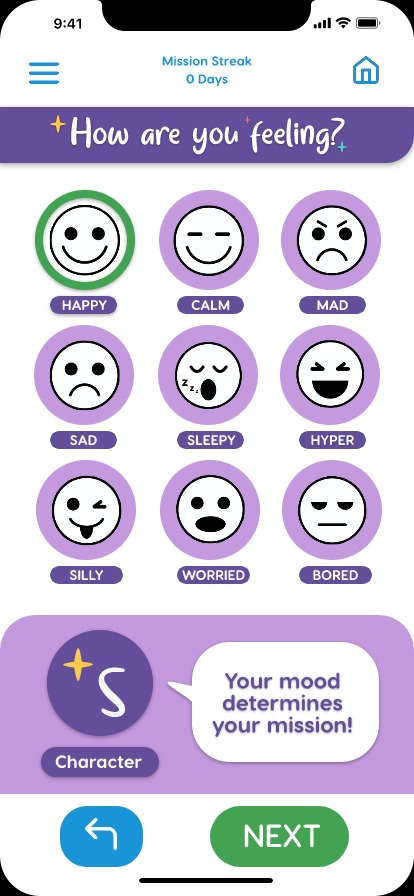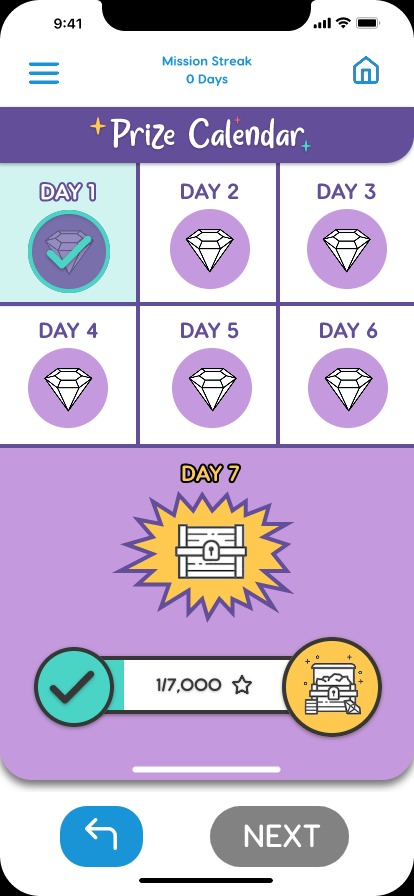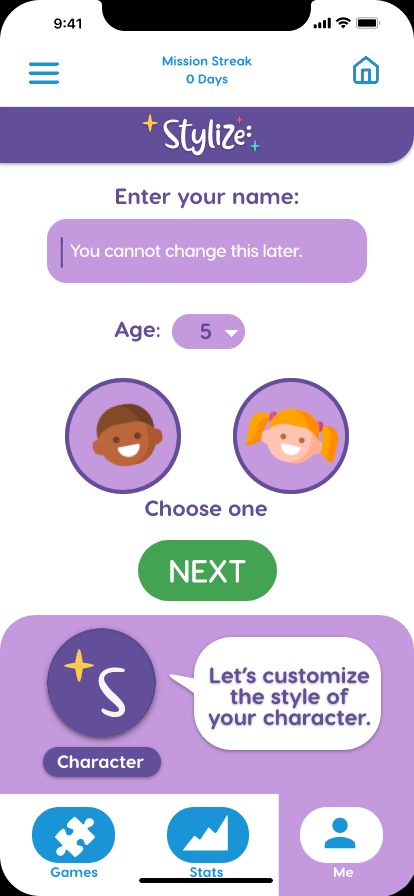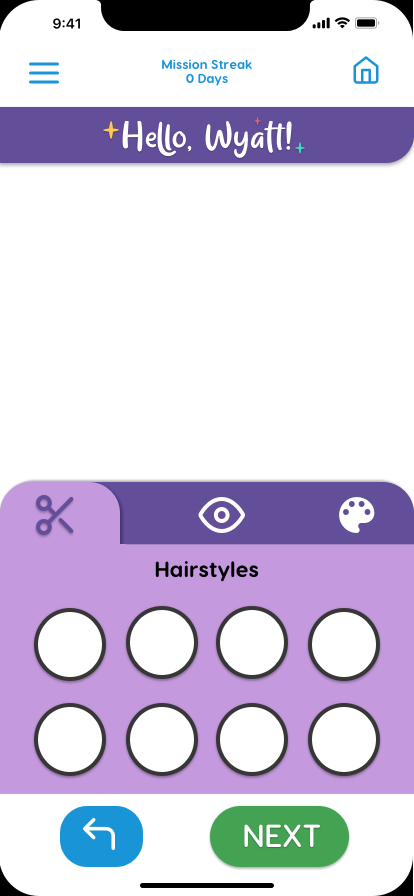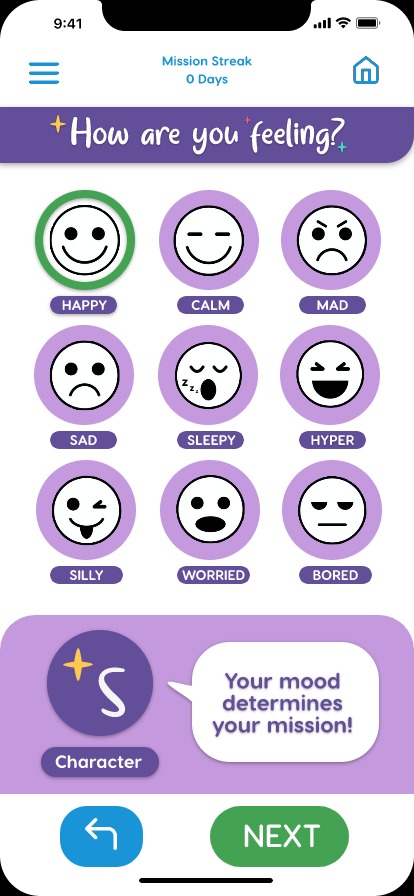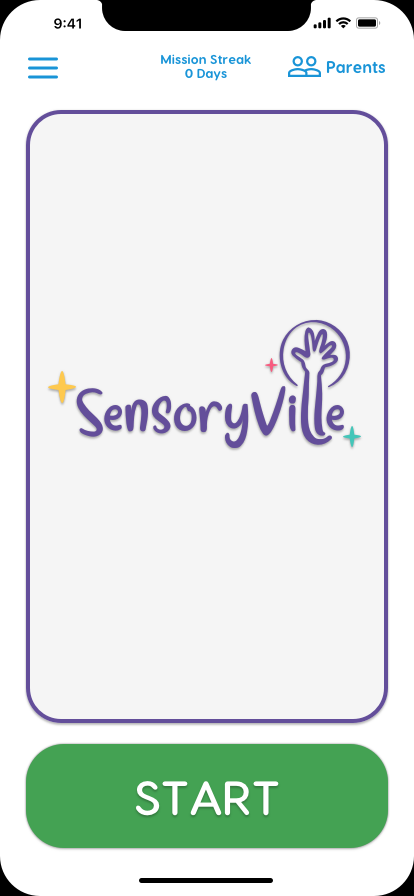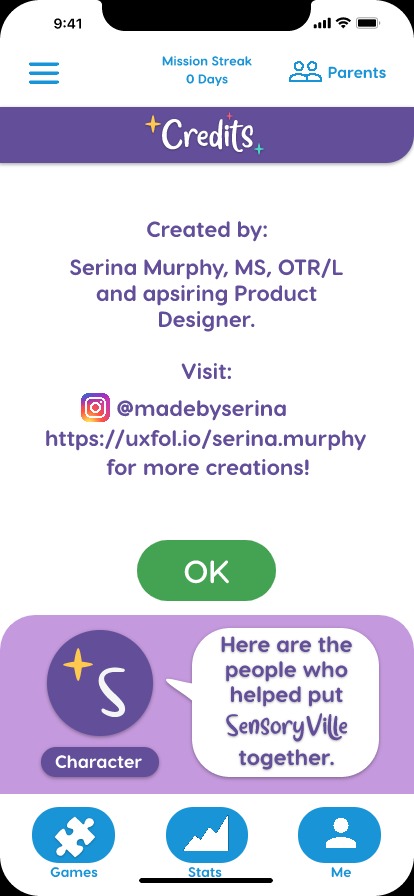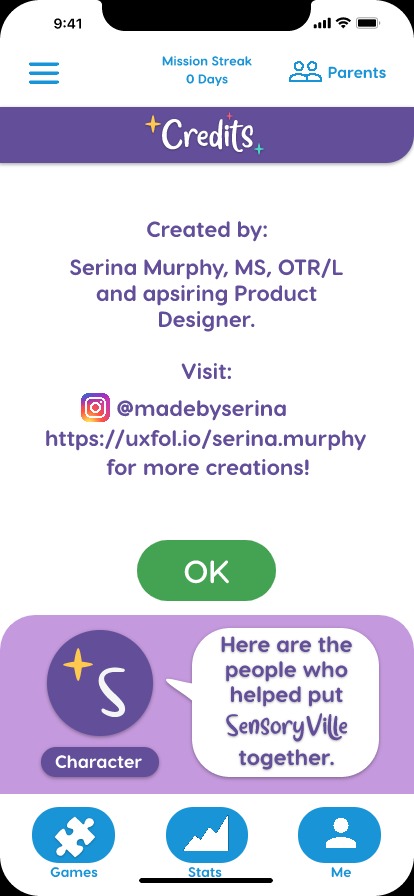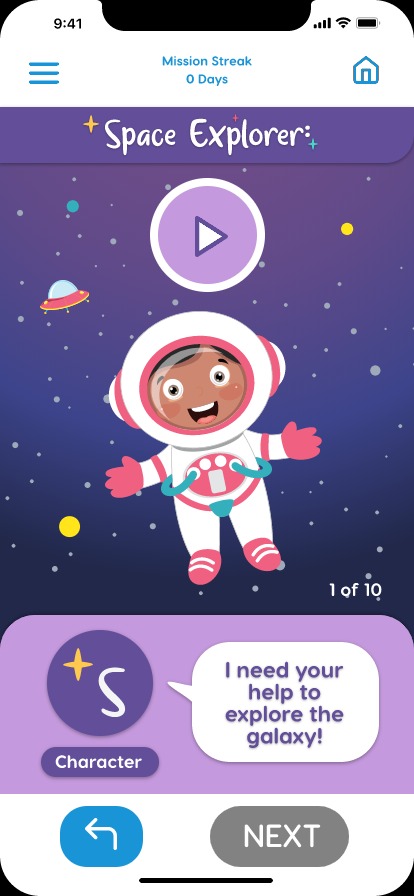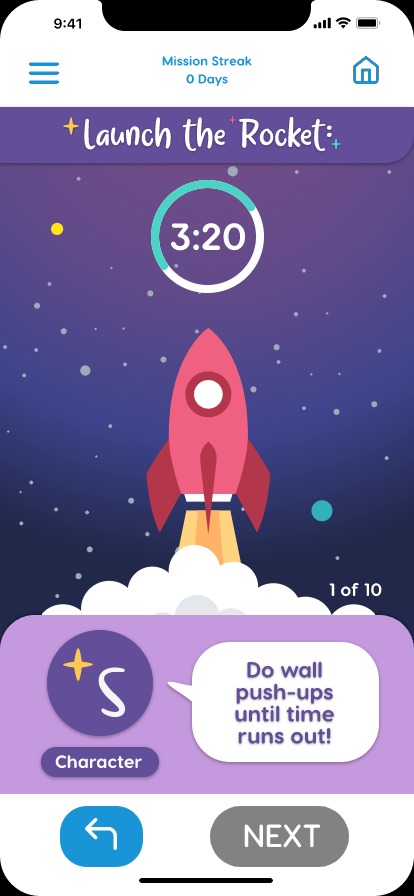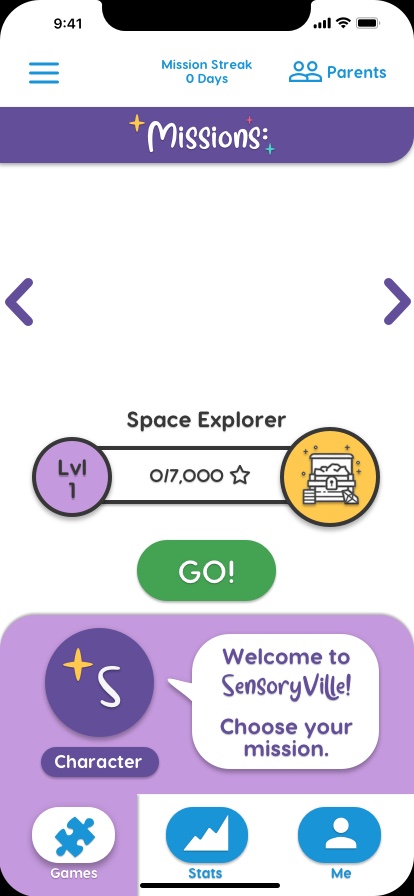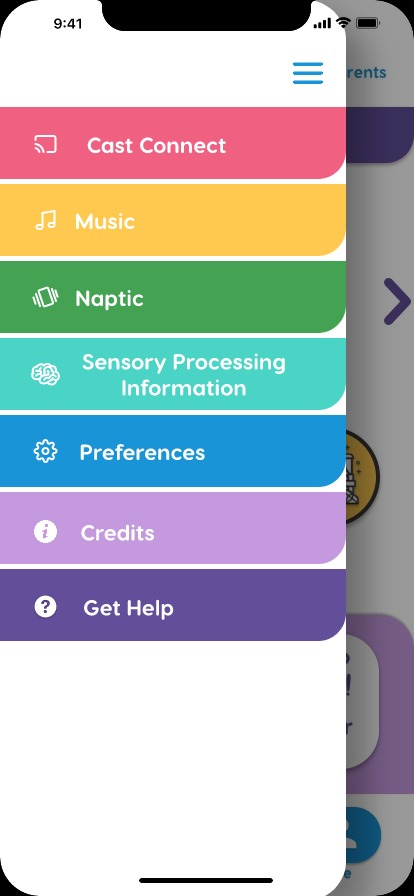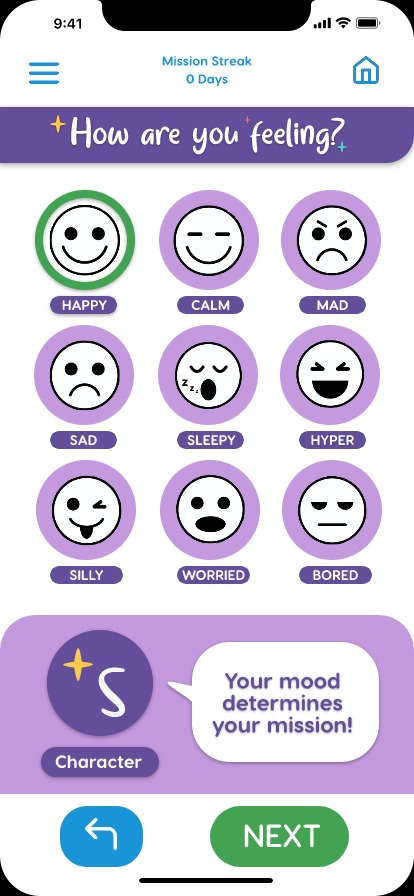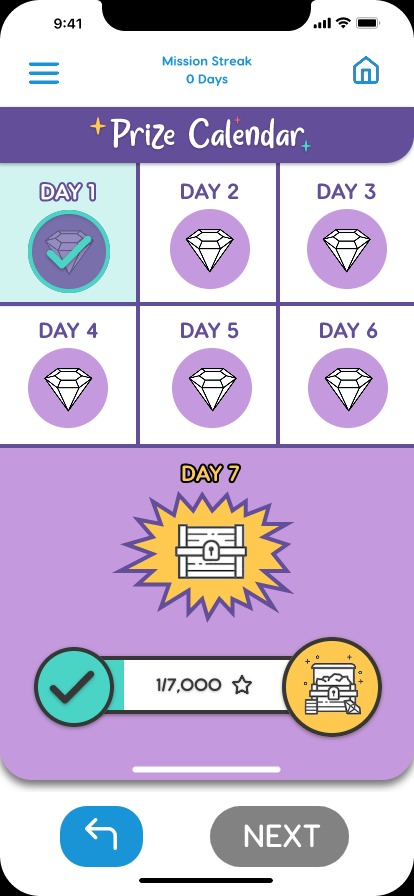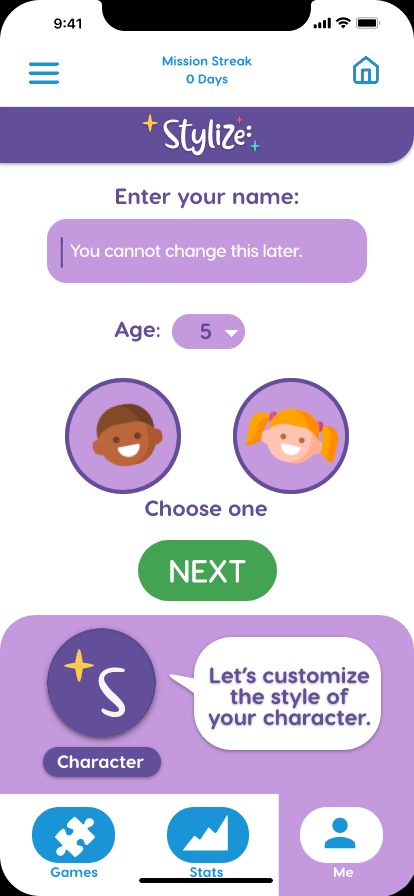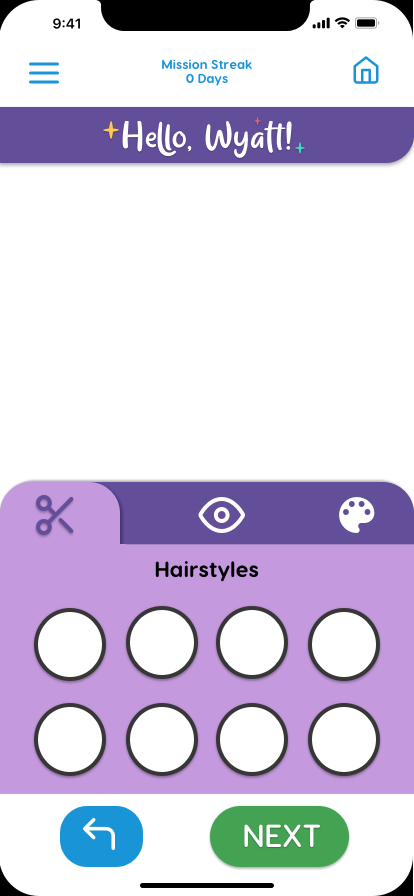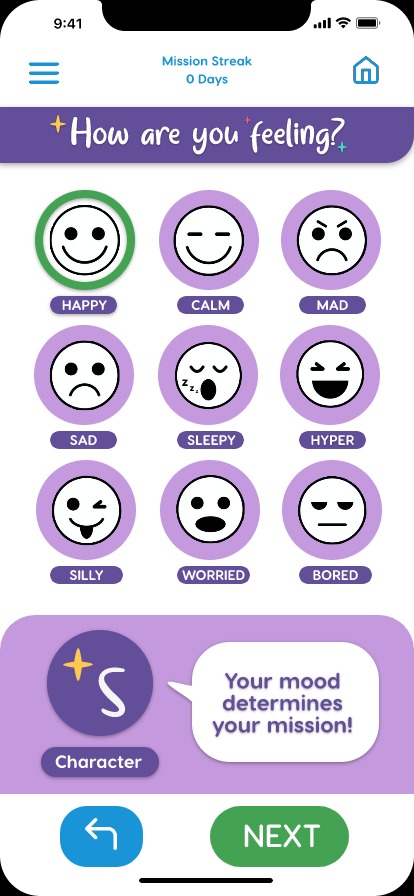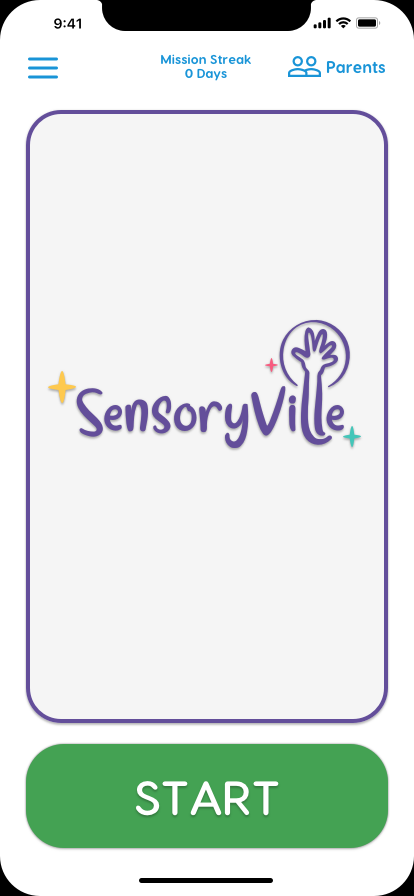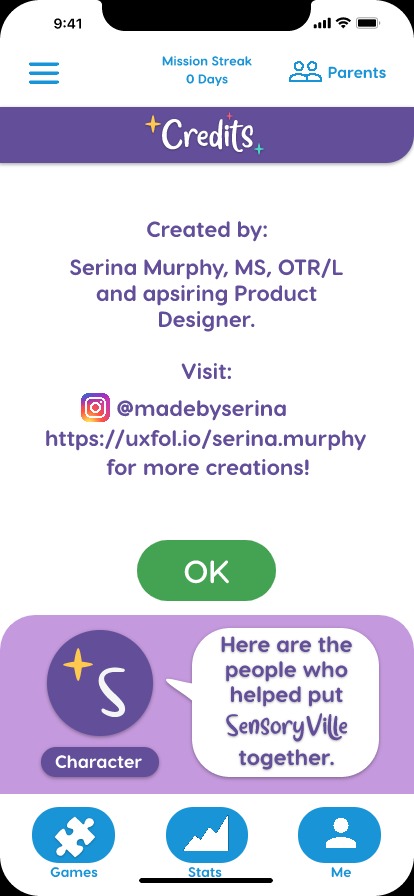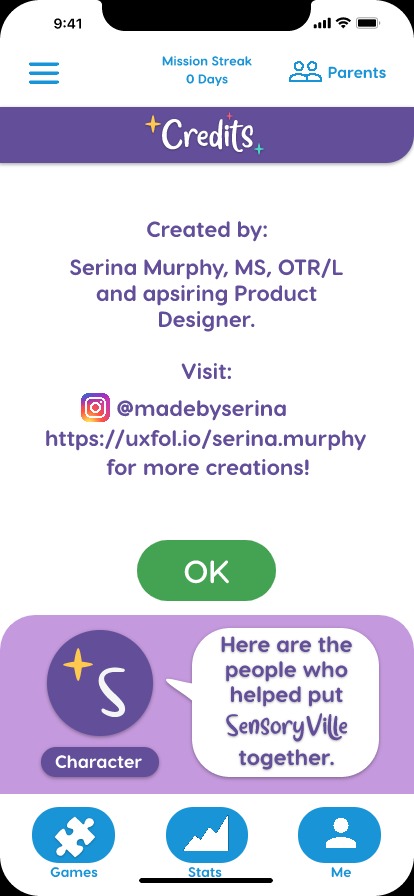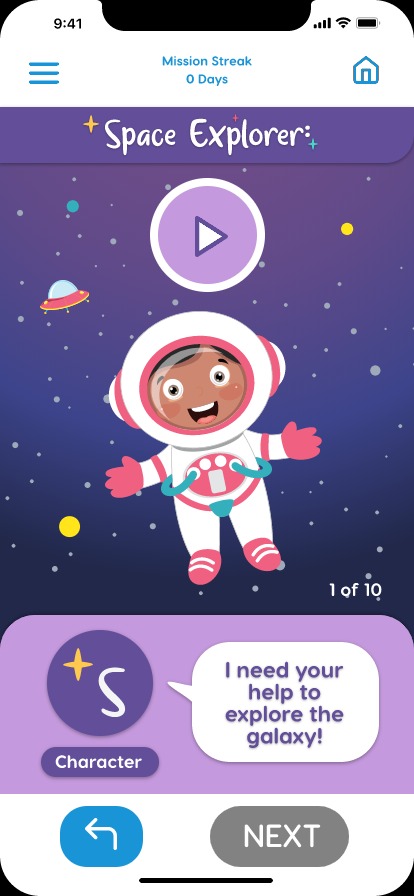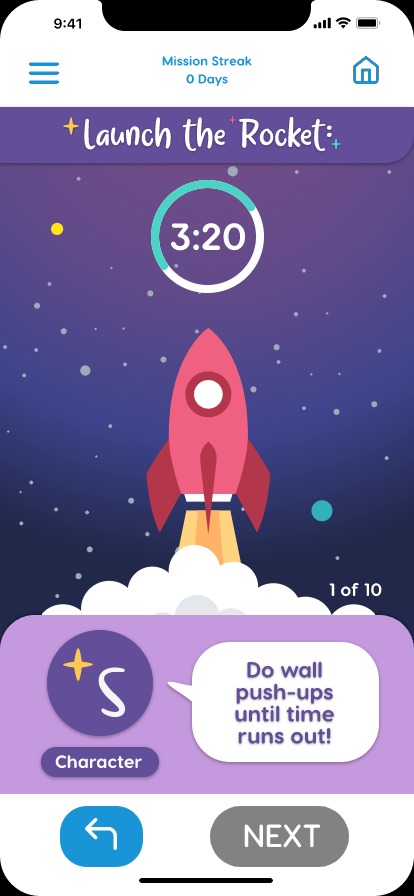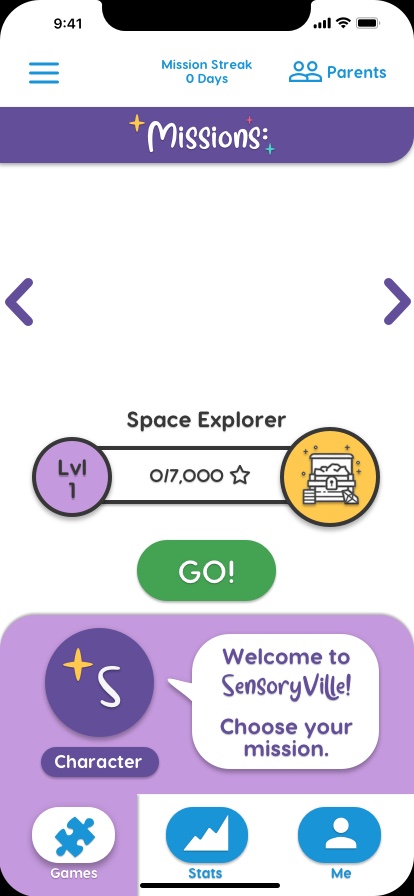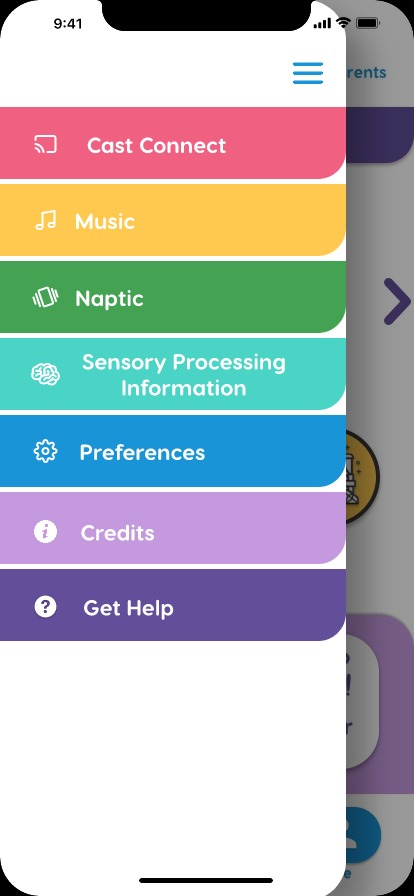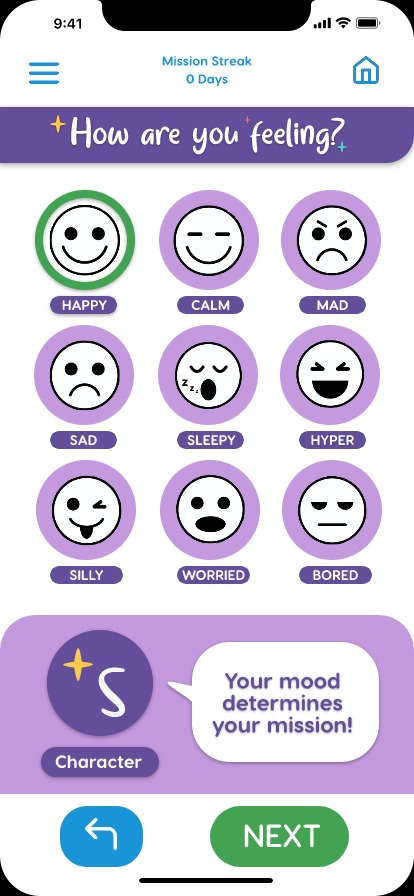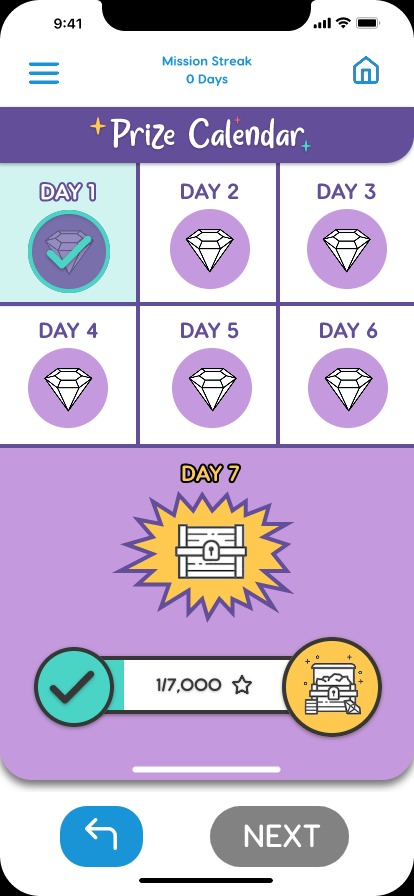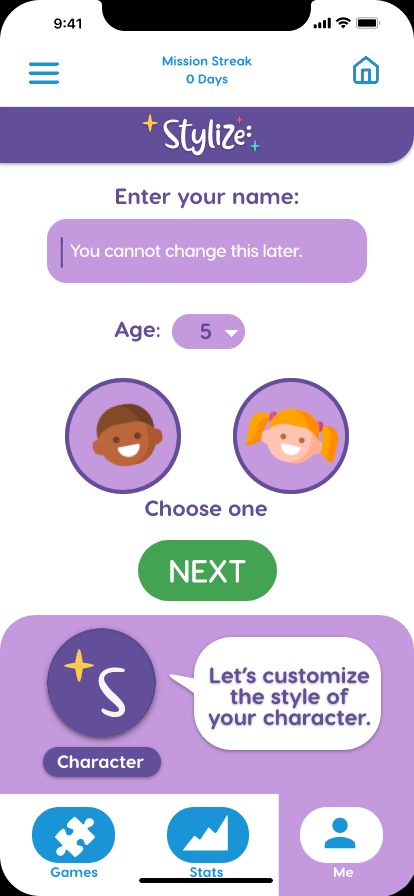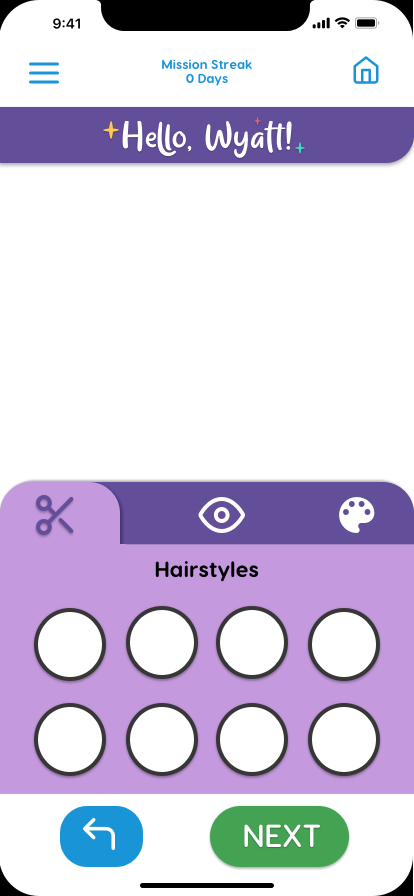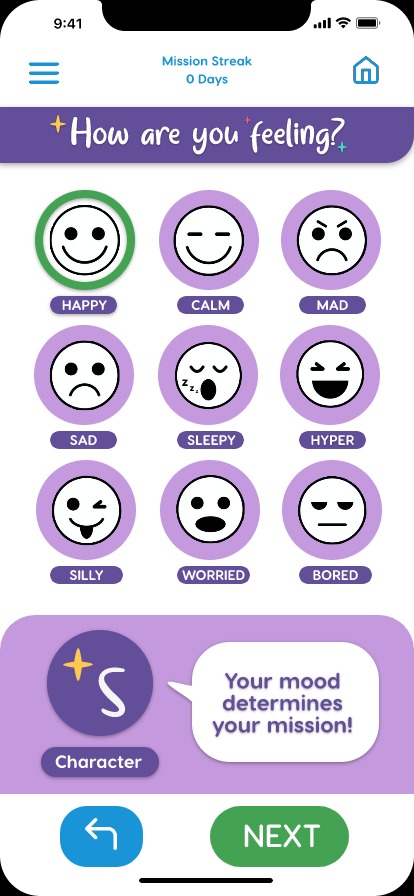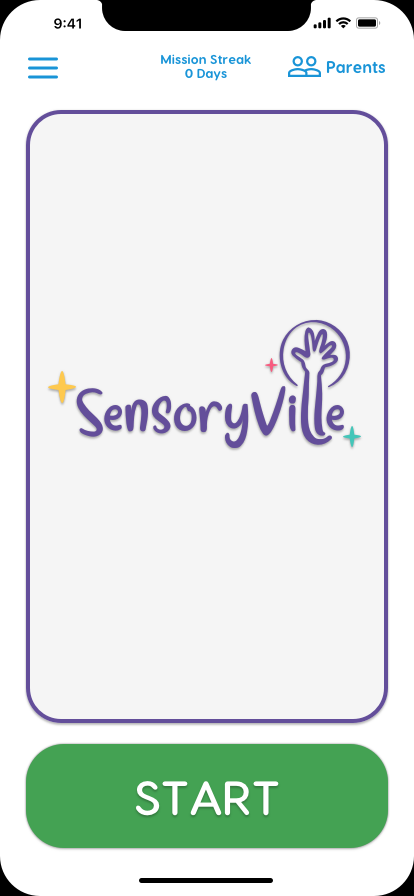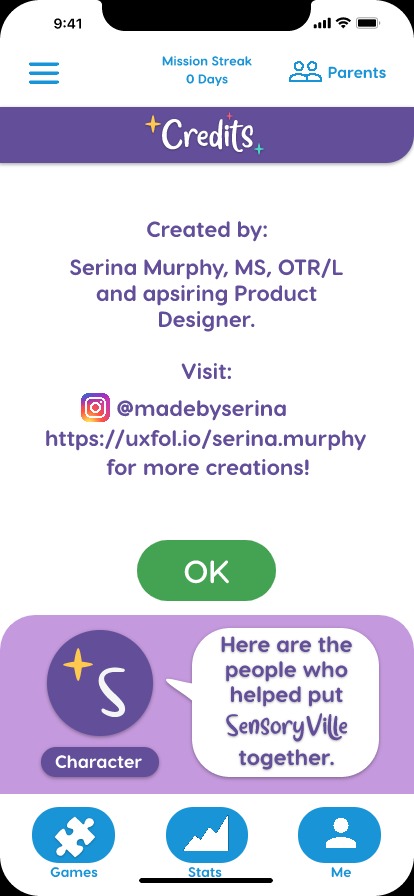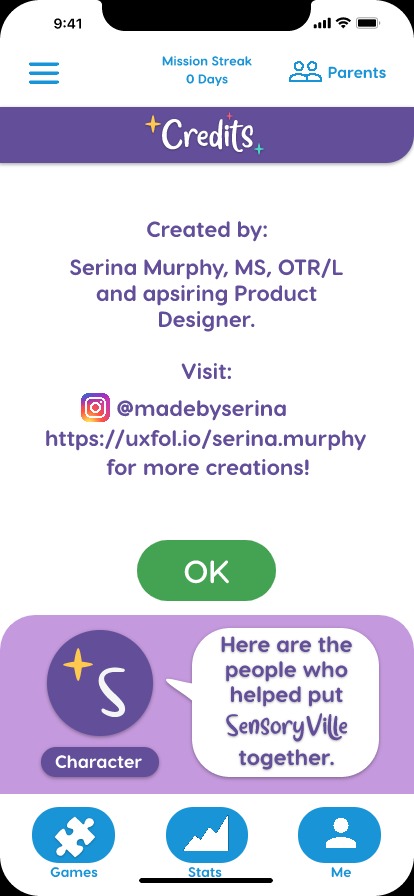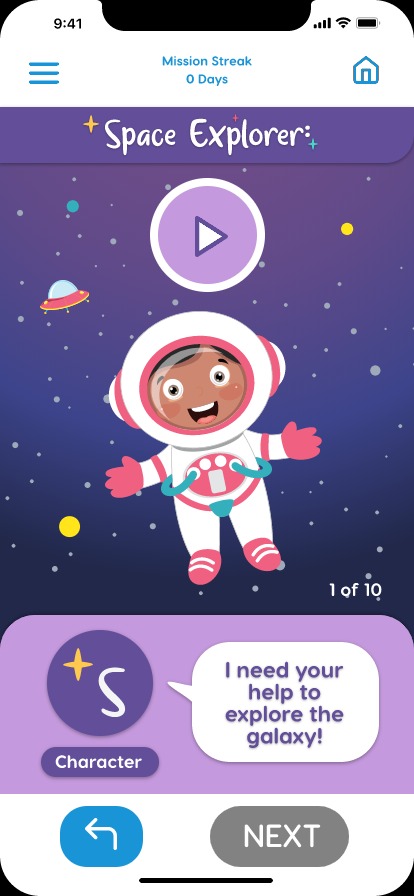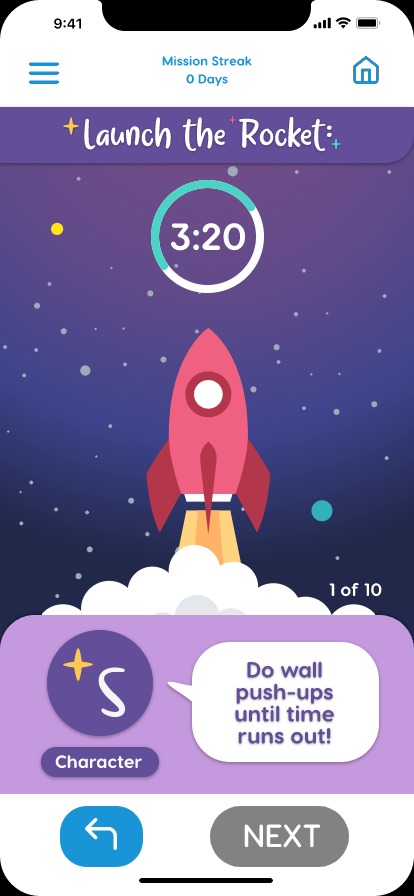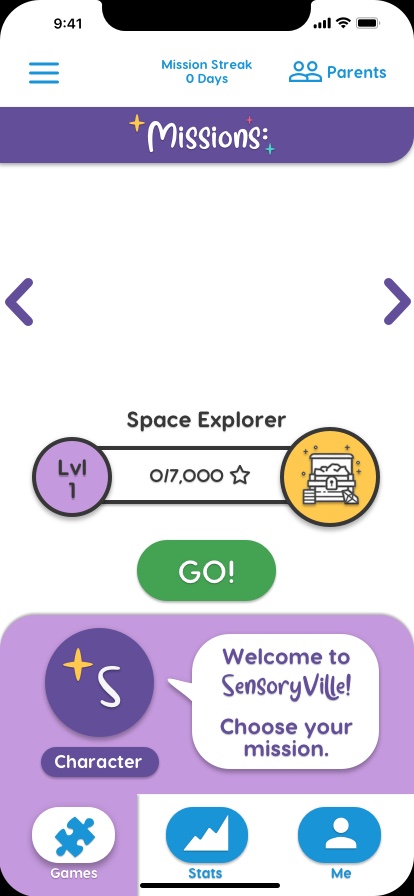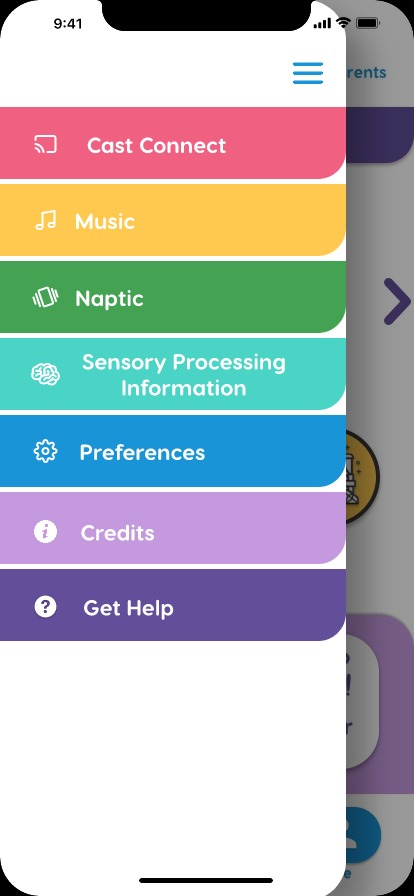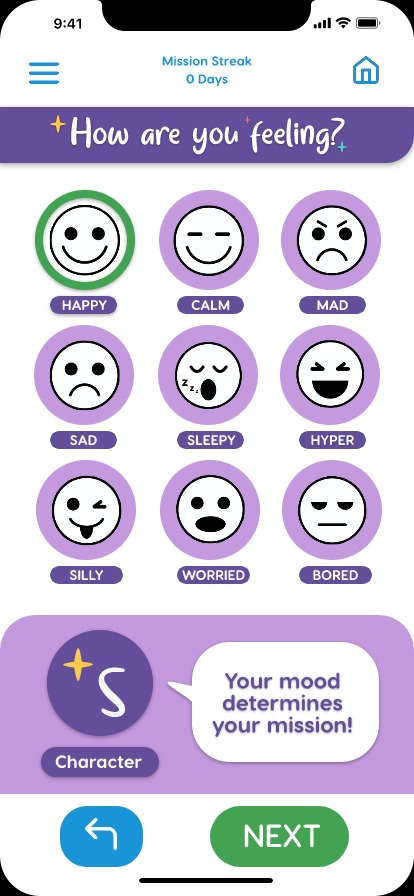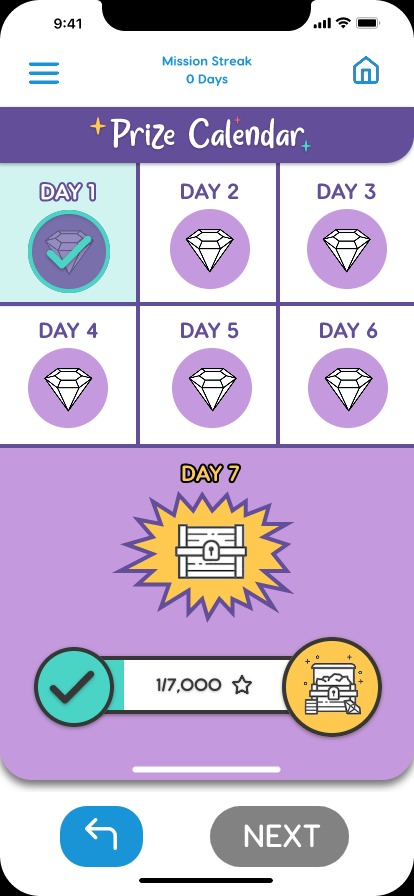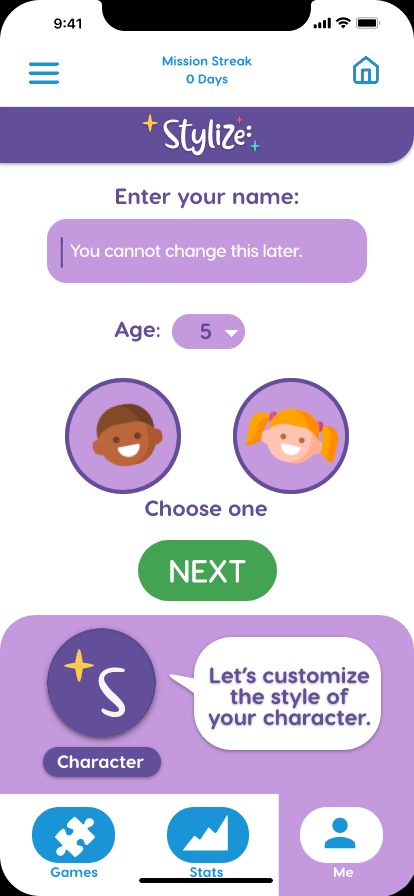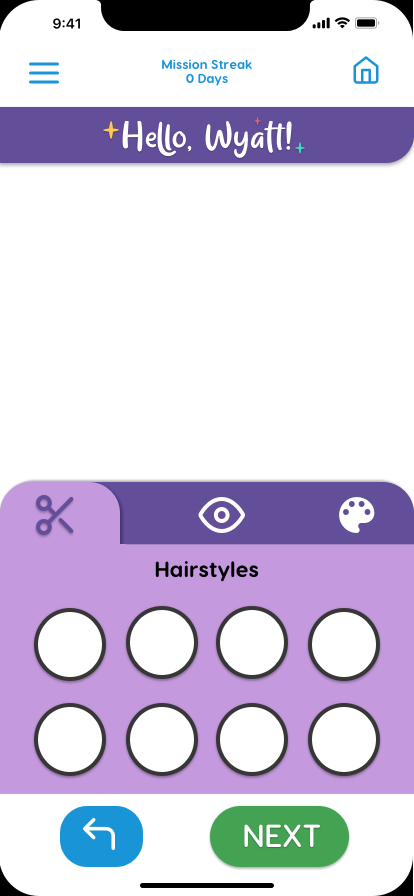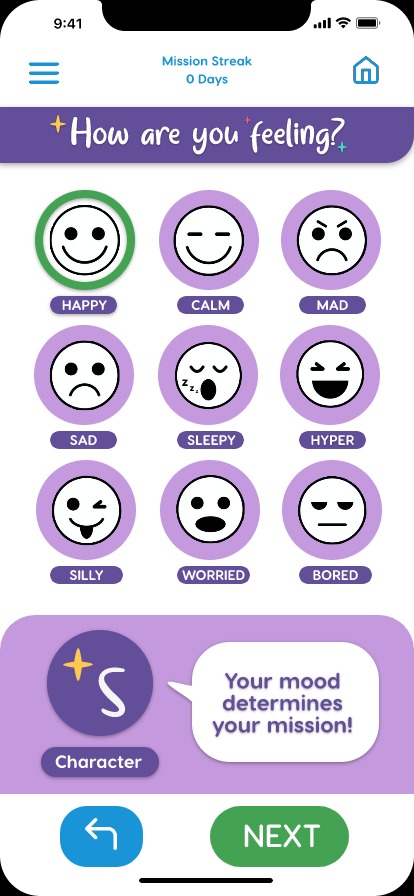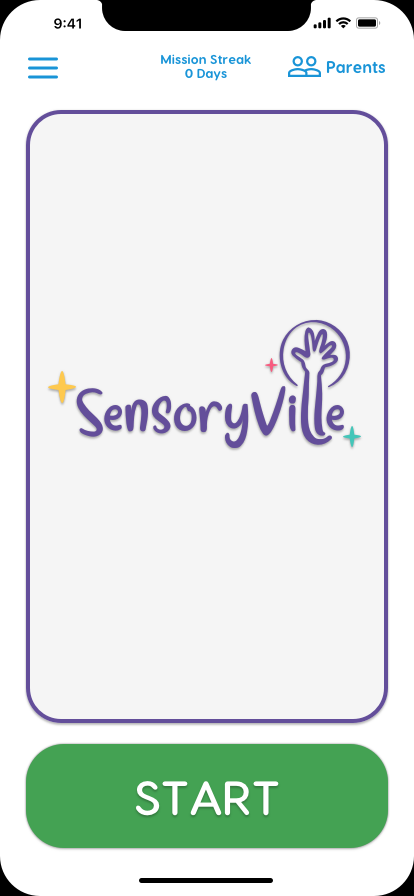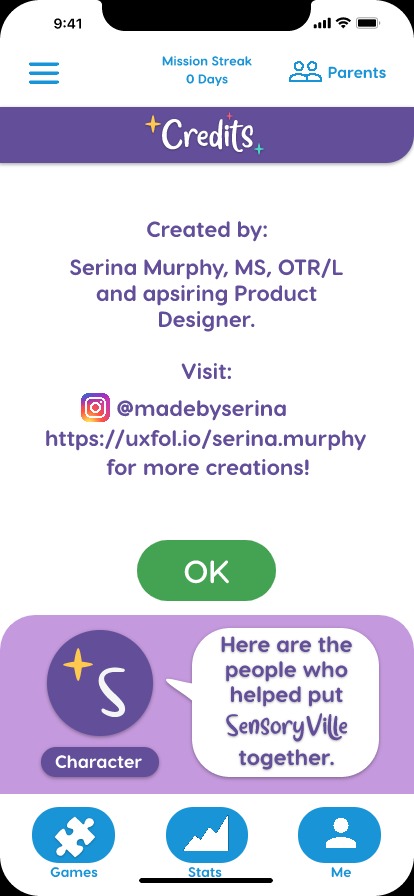 Usability Testing
In order to test my design decisions conducting rounds of Usability Testing was perhaps the most important step in this project. These moderated tests were conducted remotely through video conferences as I asked my participants to complete specific tasks within the app prototype.
I recruited five participants via social media and personal connections to conduct the testing. The session captured each participant's navigational choices, task completion rates, comments, overall satisfaction ratings, questions and feedback. The purpose of the test was to assess the usability of the app interface design and information architecture, as well as, perceived sense of fun and engagement. The 5 persons recruited varied from children to occupational therapists to parents participated in testing to ensure stable, well-rounded results. They included: (1) 5 year old boy, (1) year old girl, (1) Mom of 2 kids, (1) Pediatric Occupational Therapist, (1) Dad of 2 kids. They were recruited by means of social media and personal connections. Each individual session lasted approximately 30 minutes.
I anticipated that the users would want to see more information or test areas of the app that were not prototyped yet, but lead the participants through common red routes that users would take on a regular basis by focusing on 4 common tasks:
Getting started with the app - testing the app's login/sign-up flow.

Create a profile - testing how easily the participant can locate how to start the process.

Kids: Follow the tutorial & Parents: Check the Menu - testing the game flow that users could utilize to complete missions and to make sure parents understood the special menu section that offered other set-up features and preferences.

Check the reward system - testing the participants ability to find and understand the "Mission Streak" section.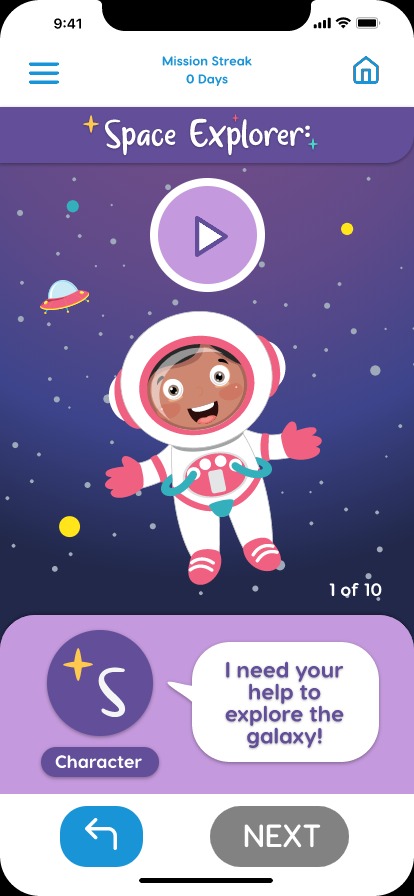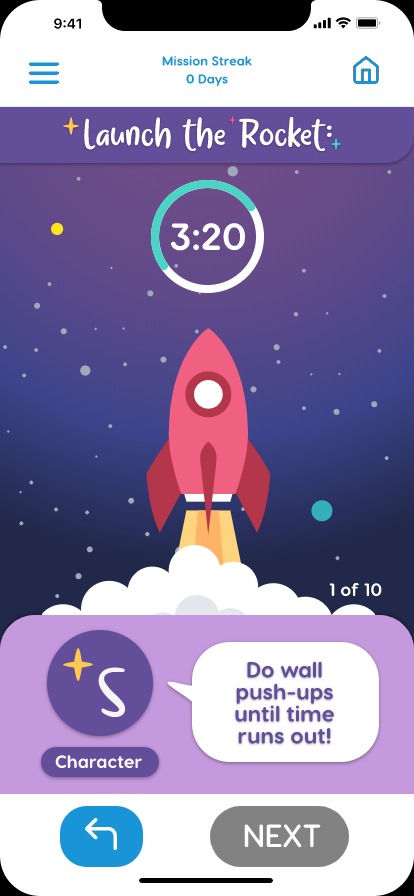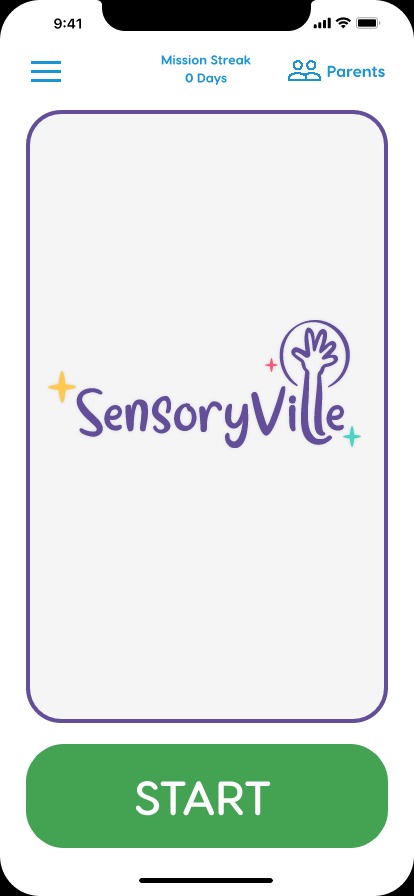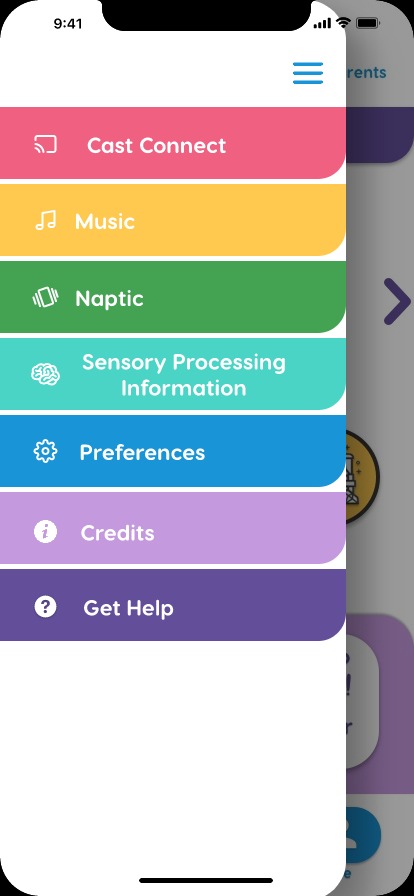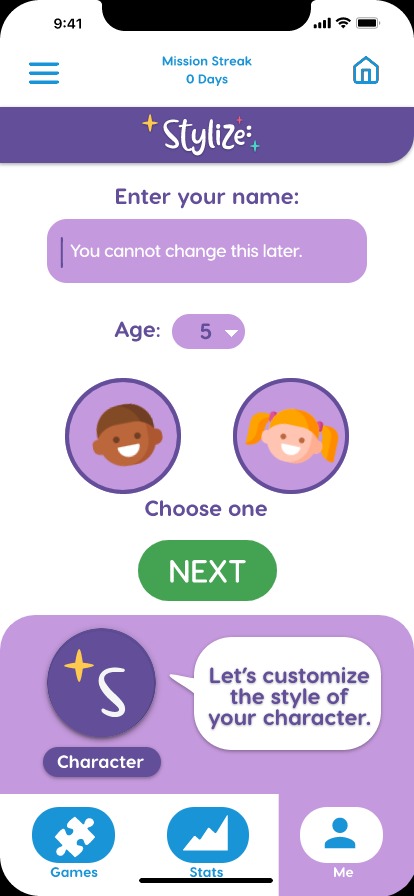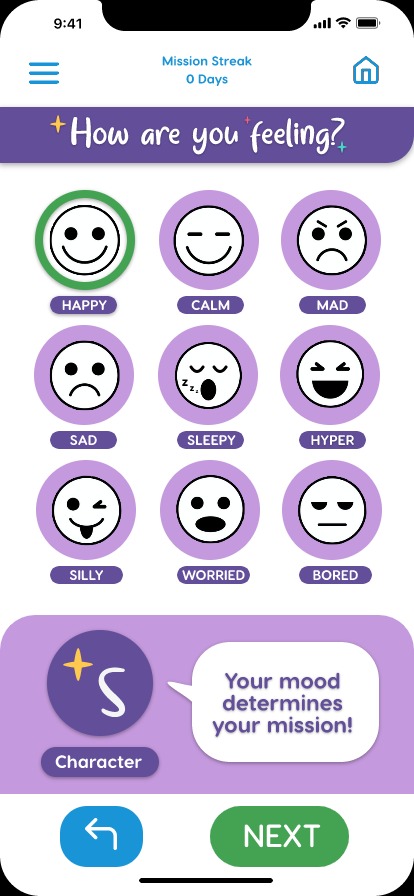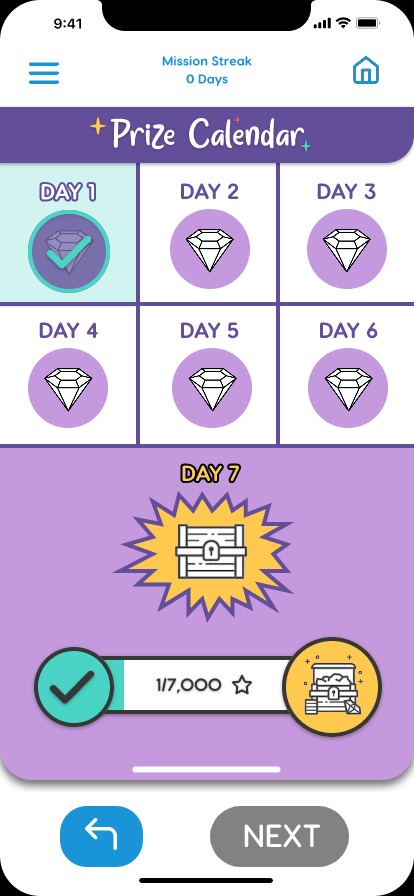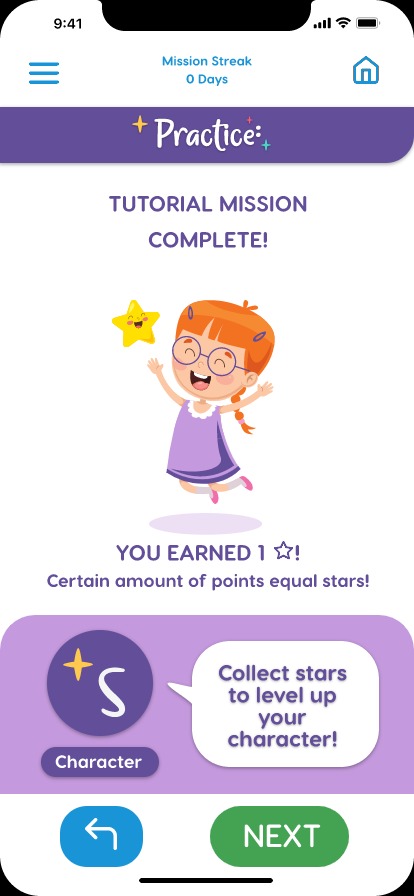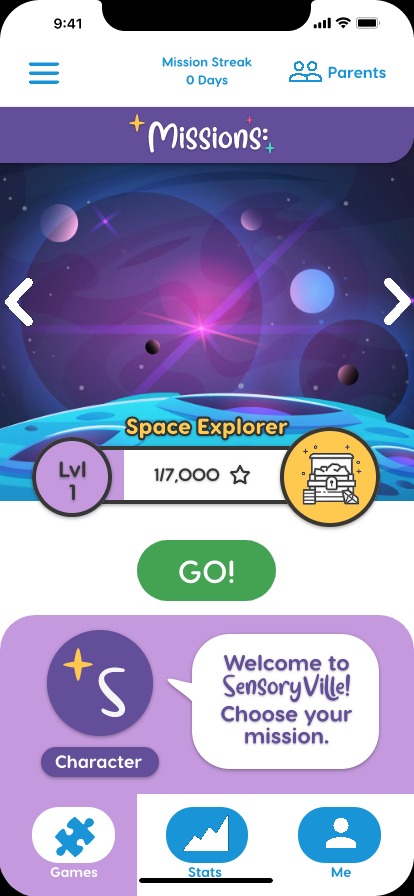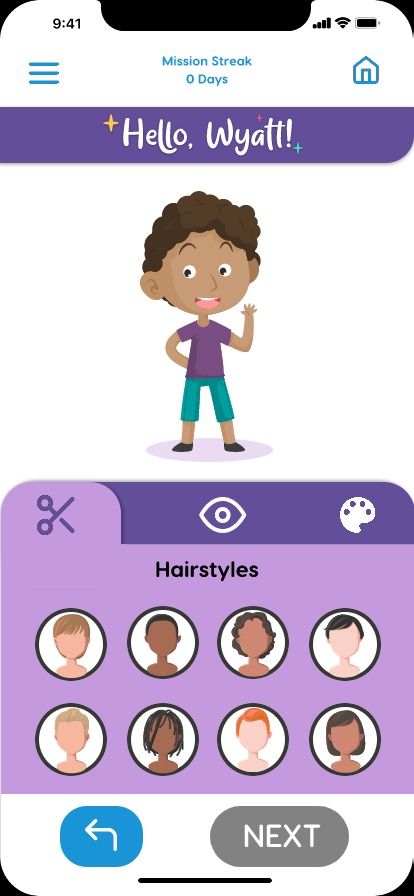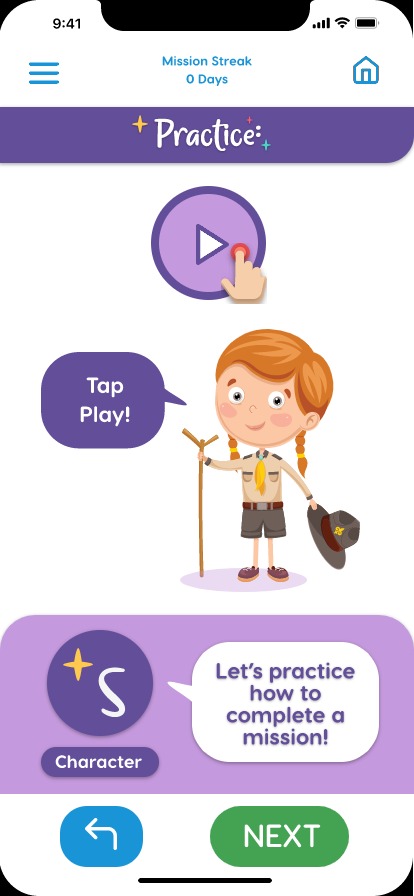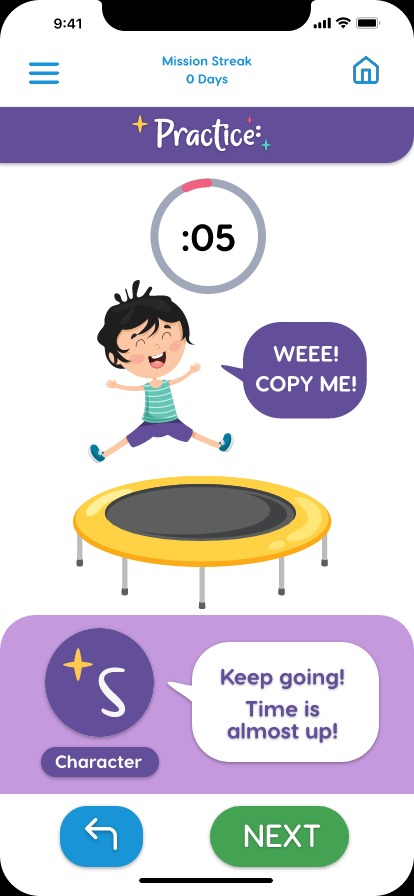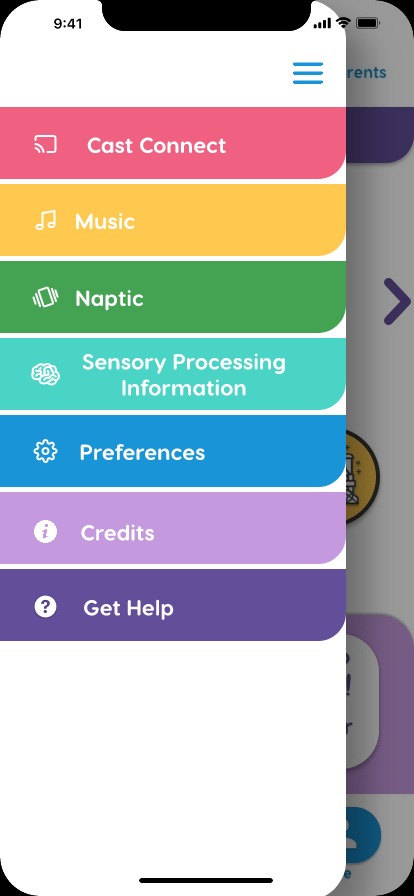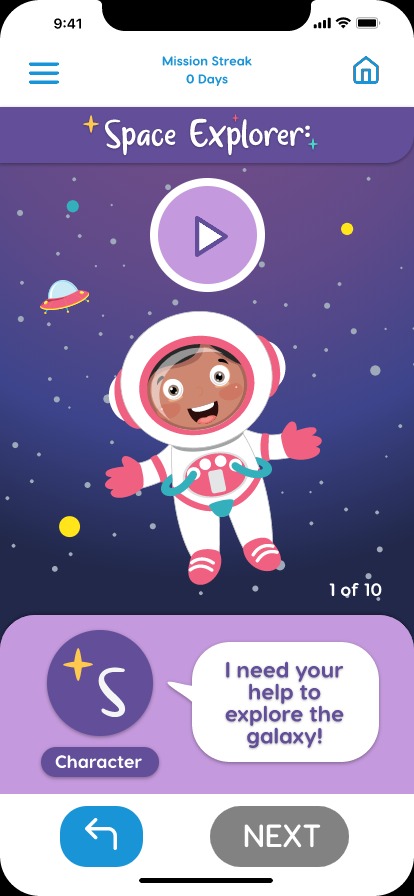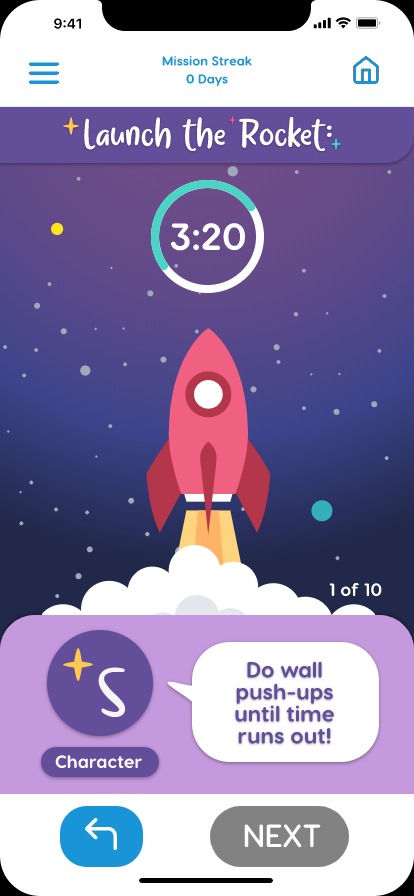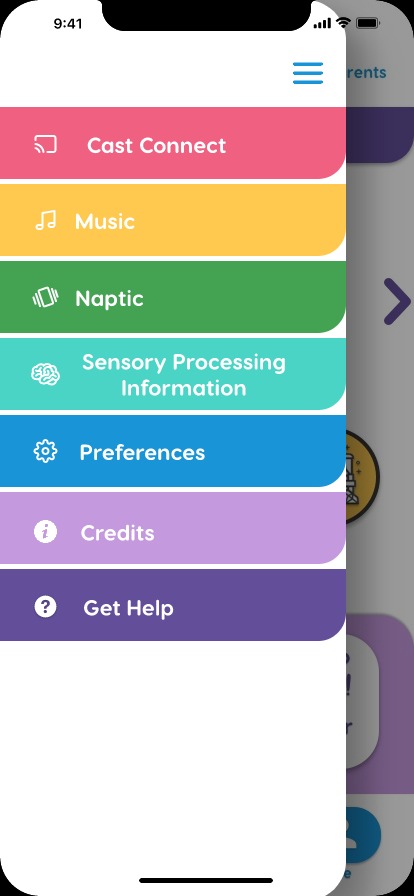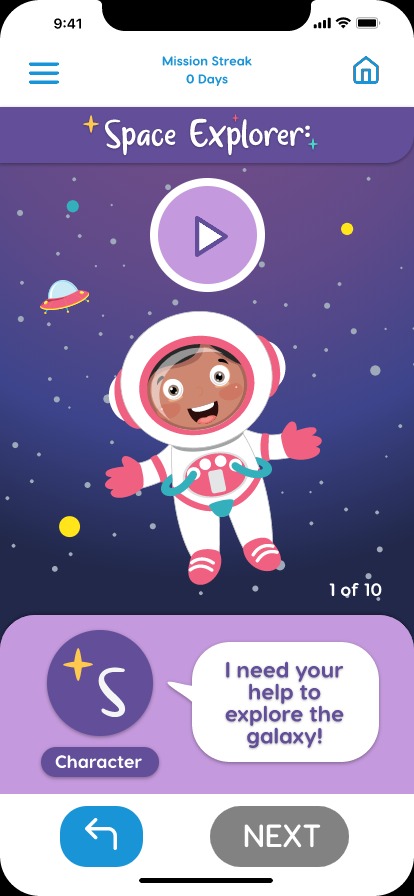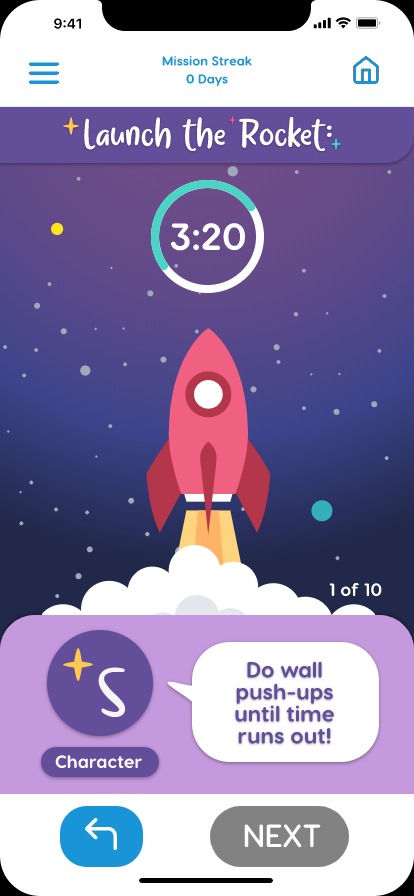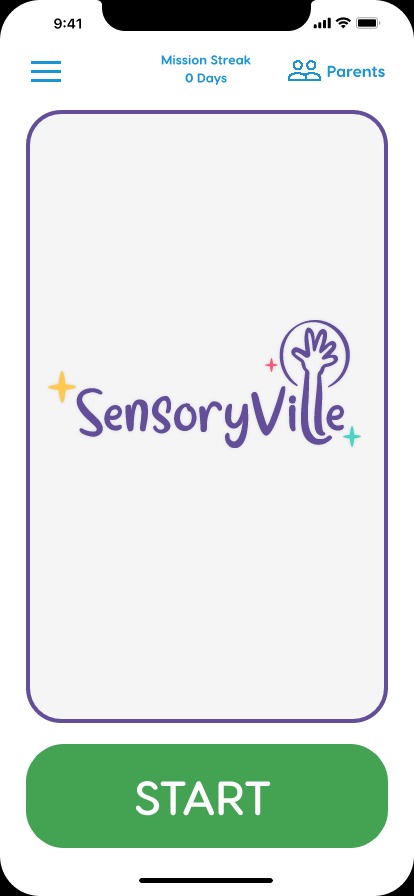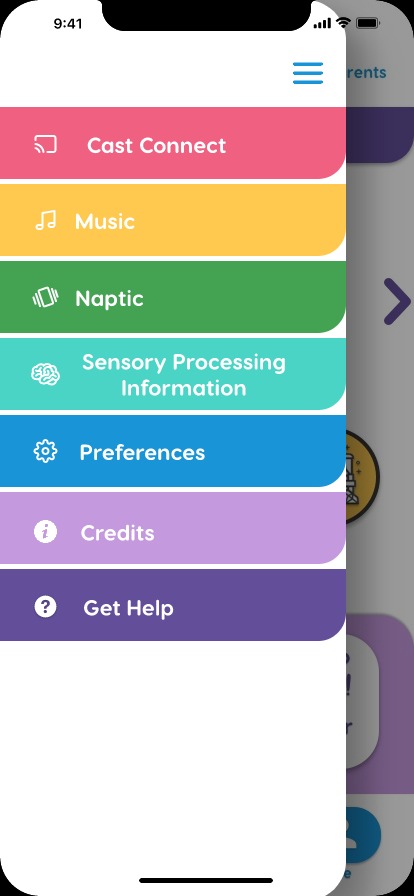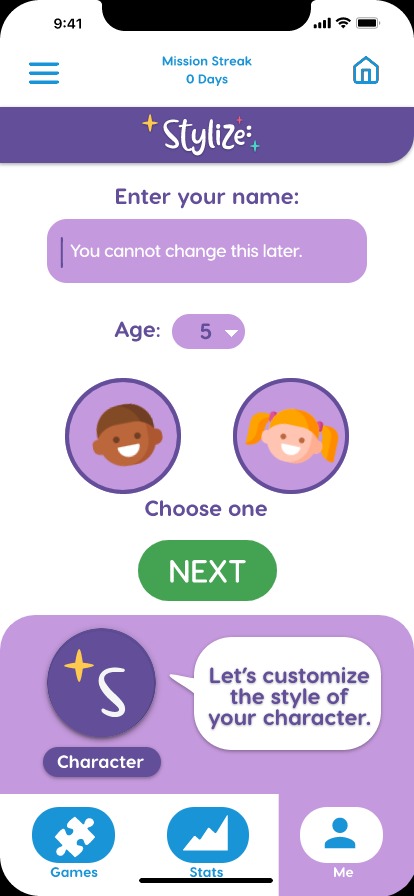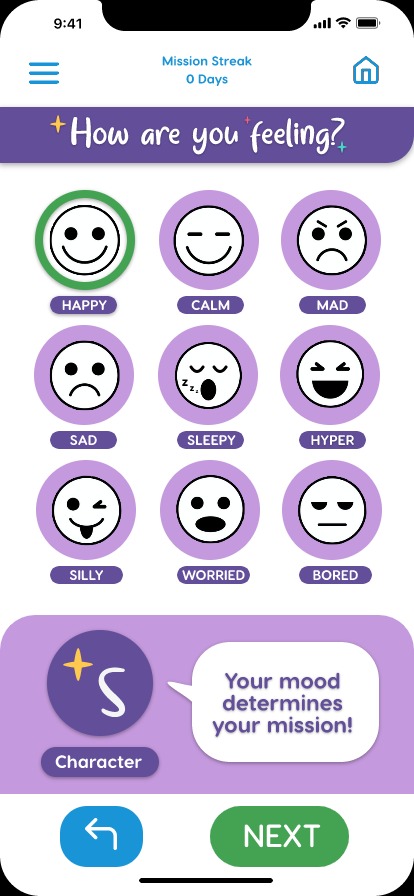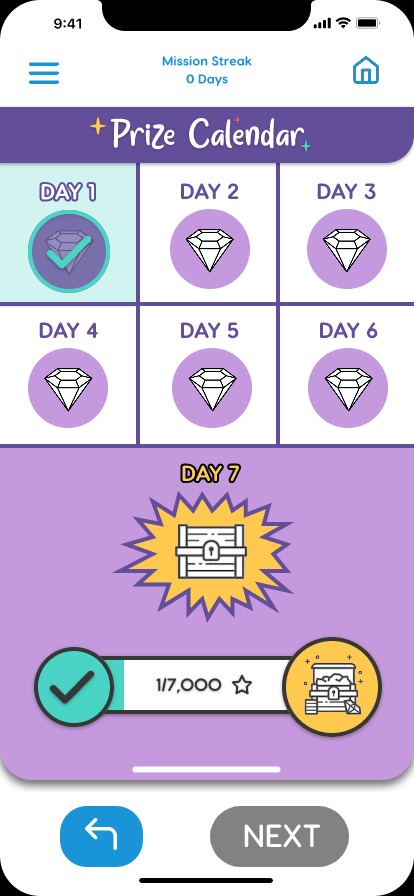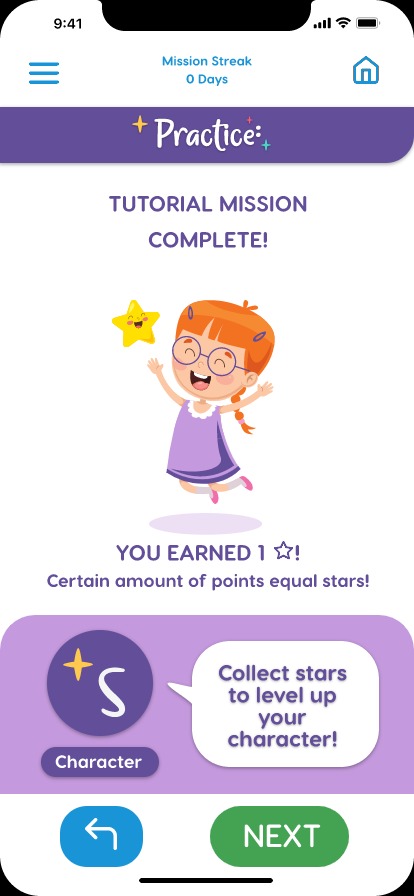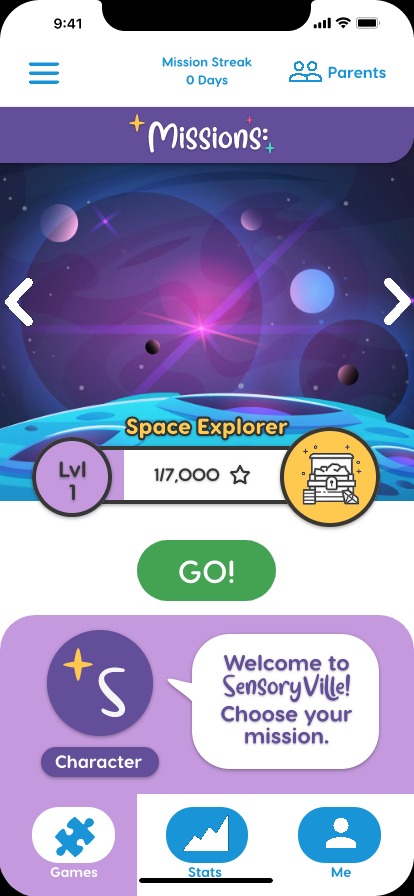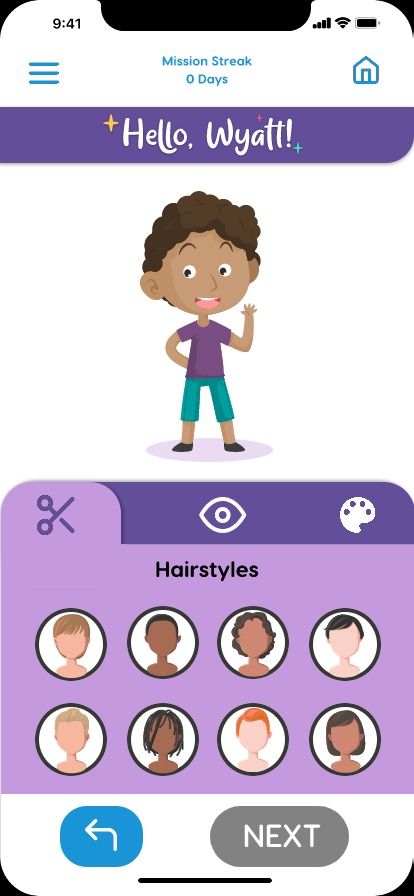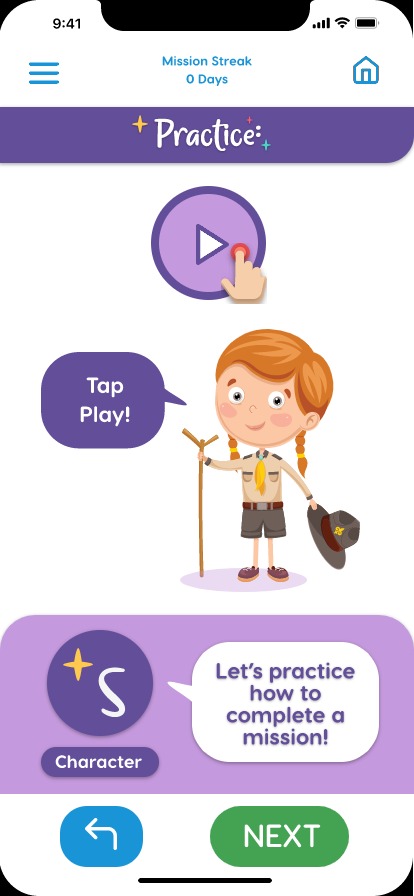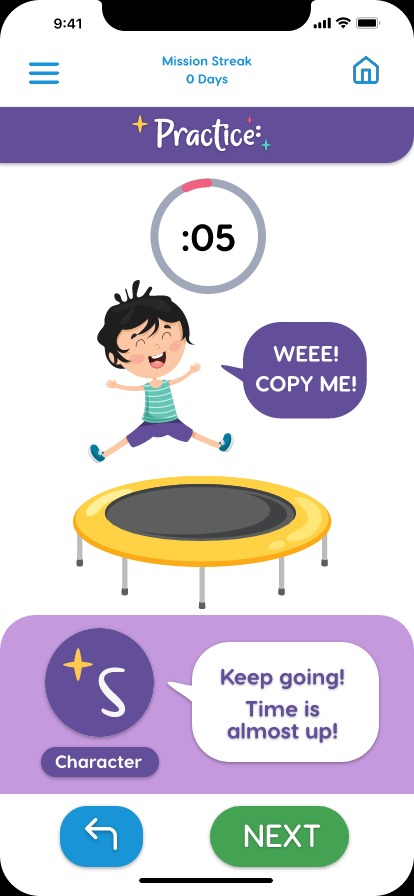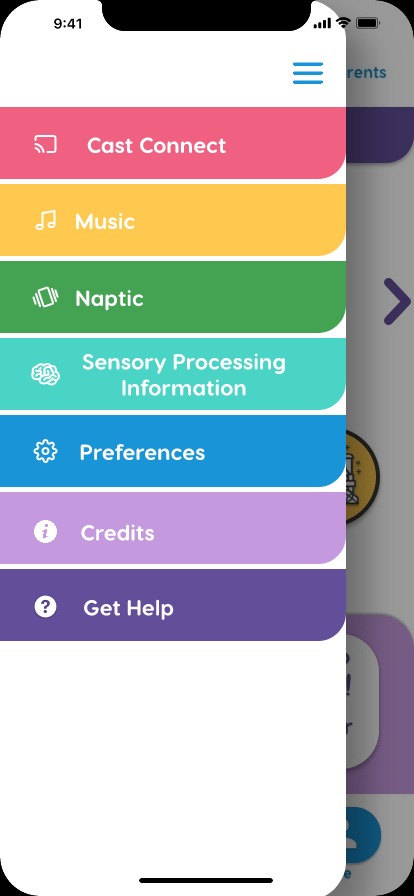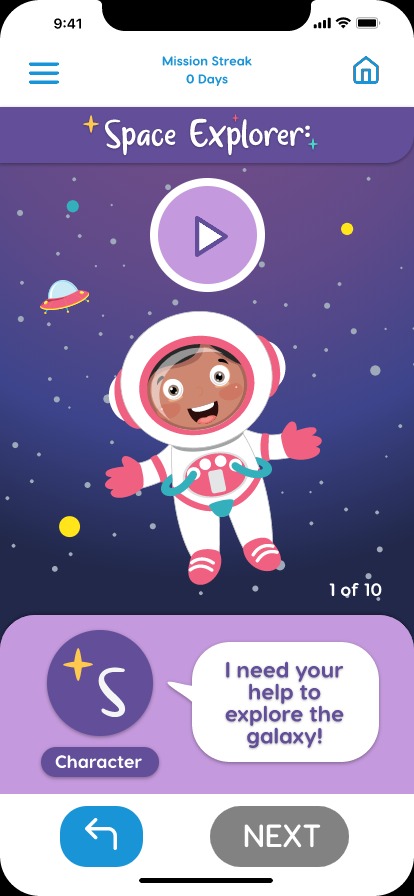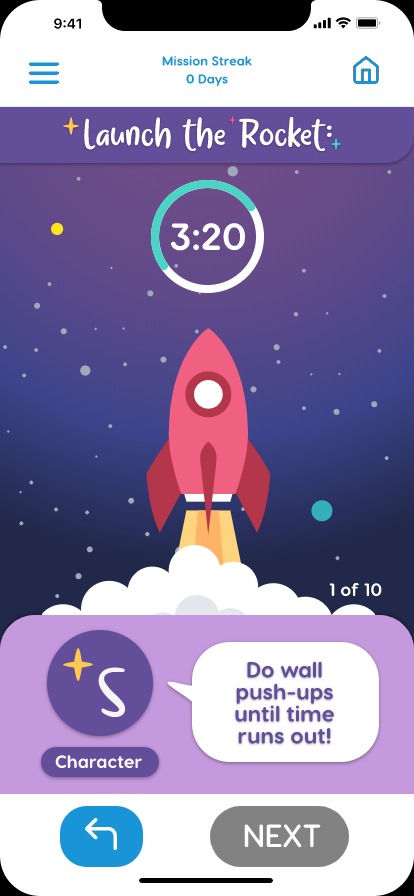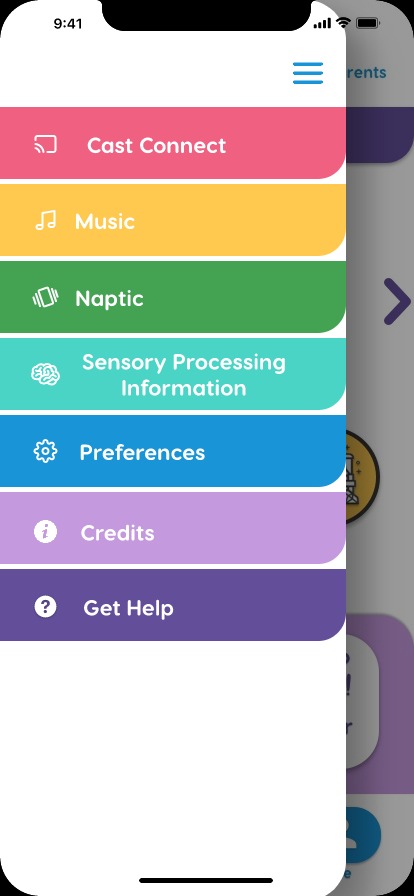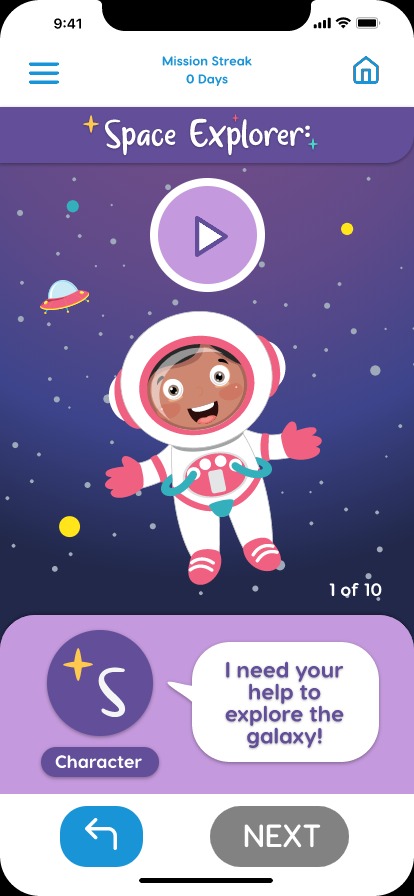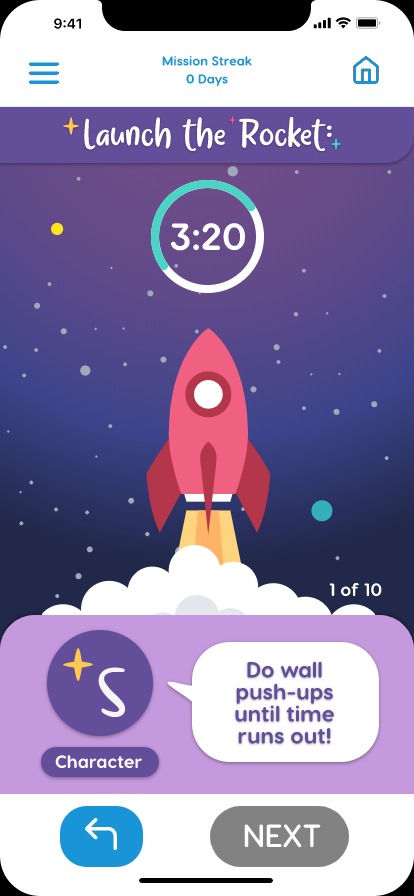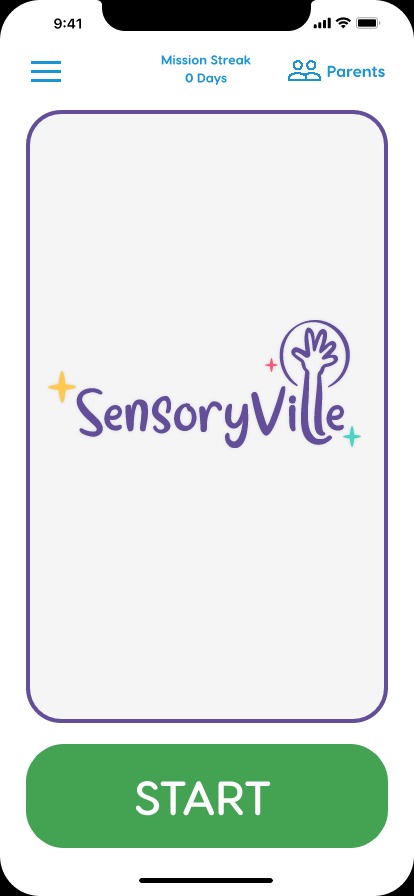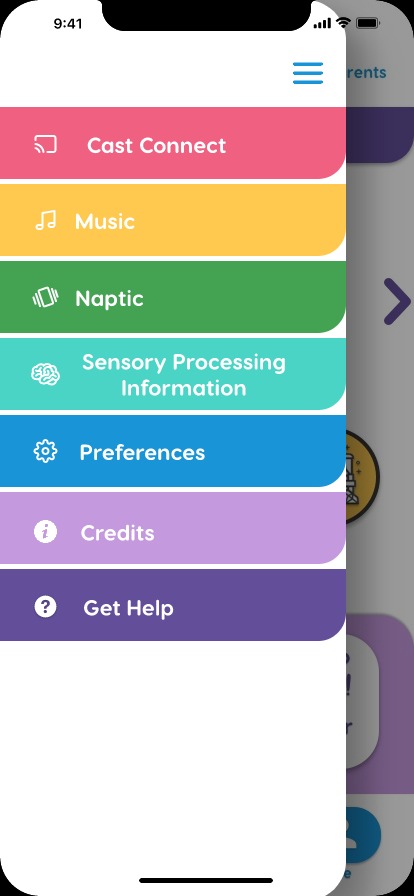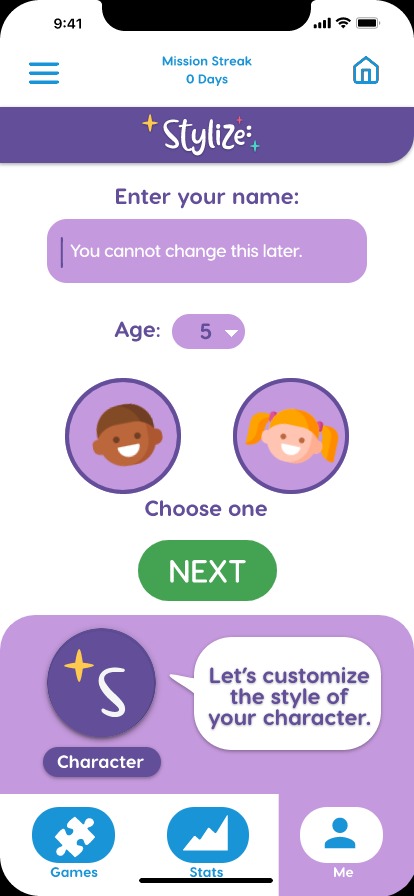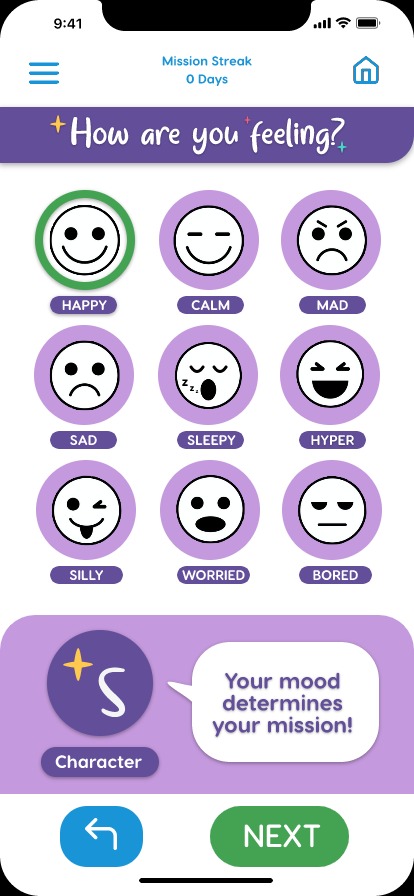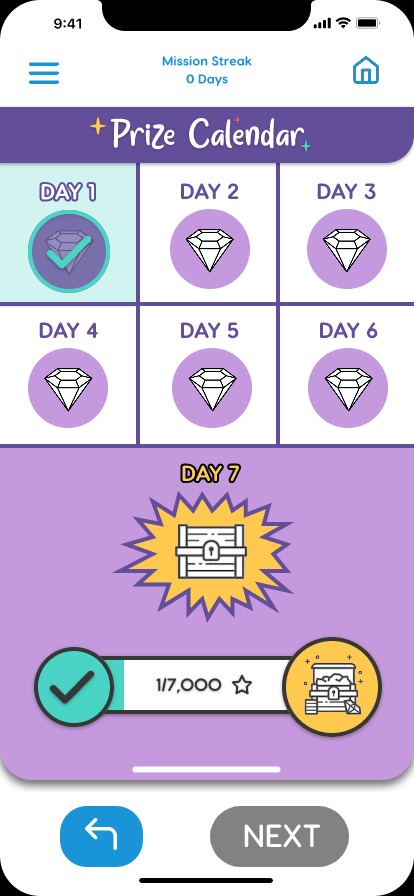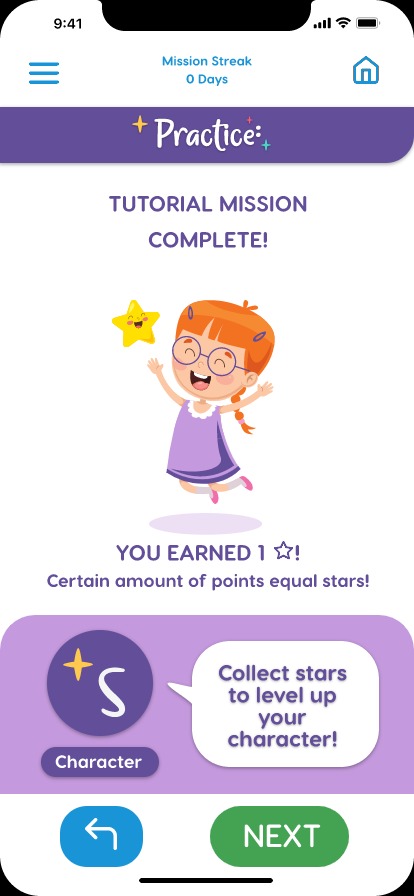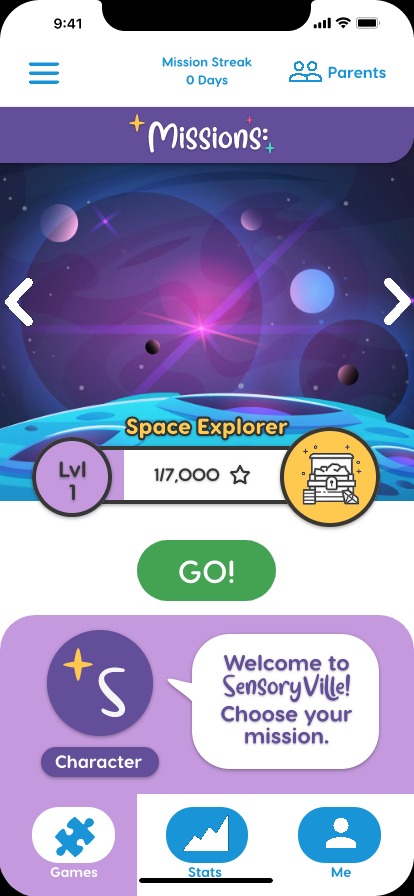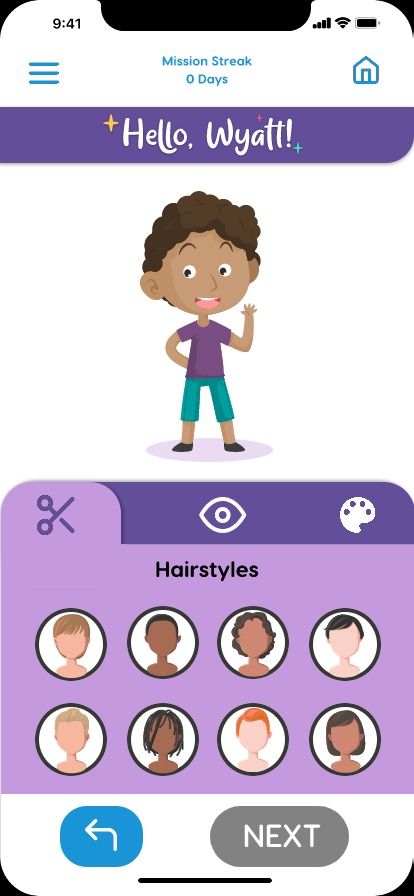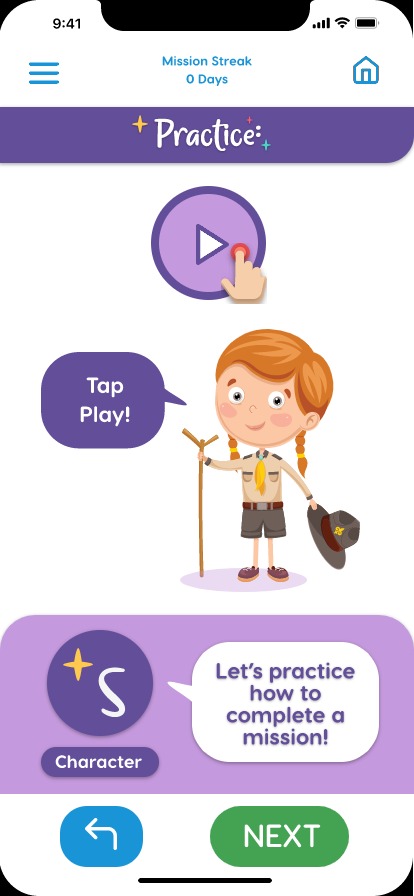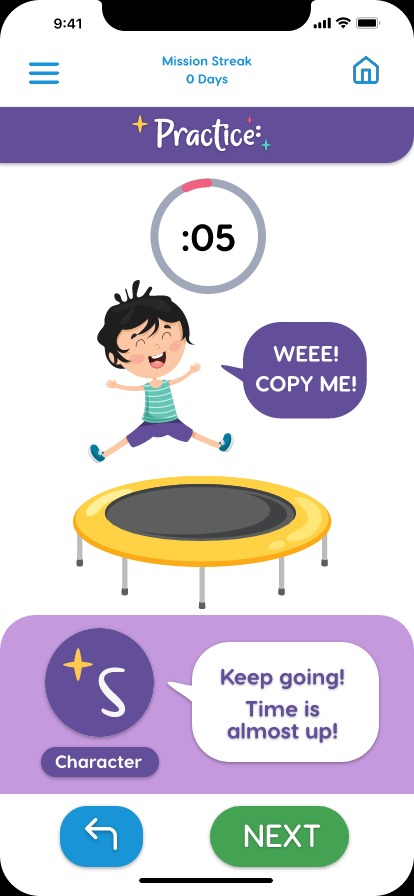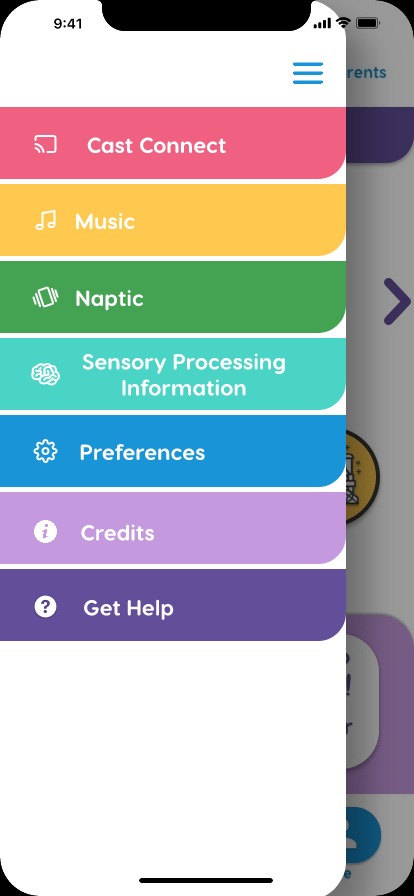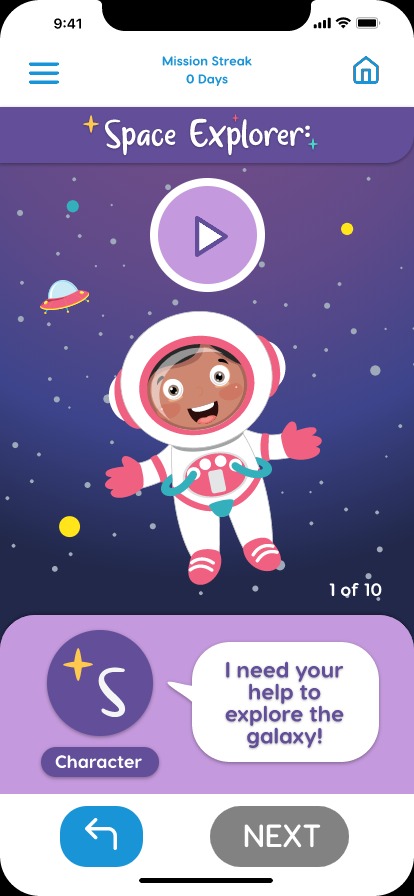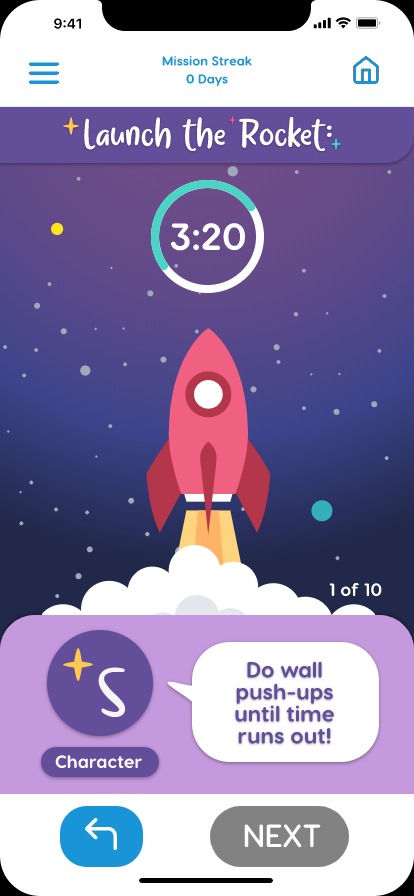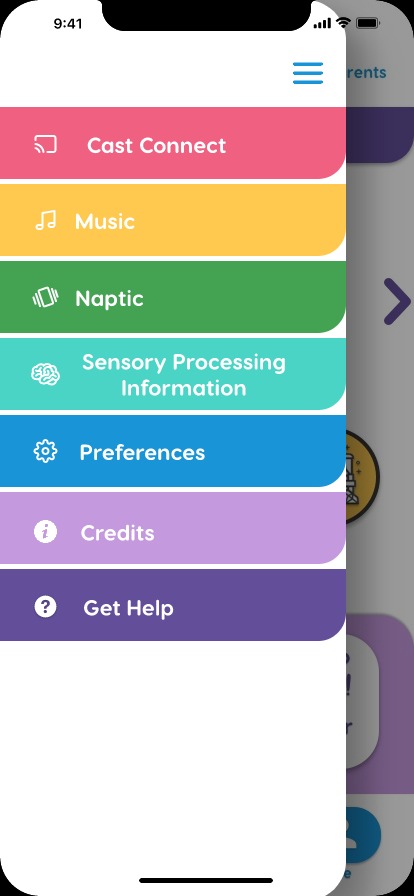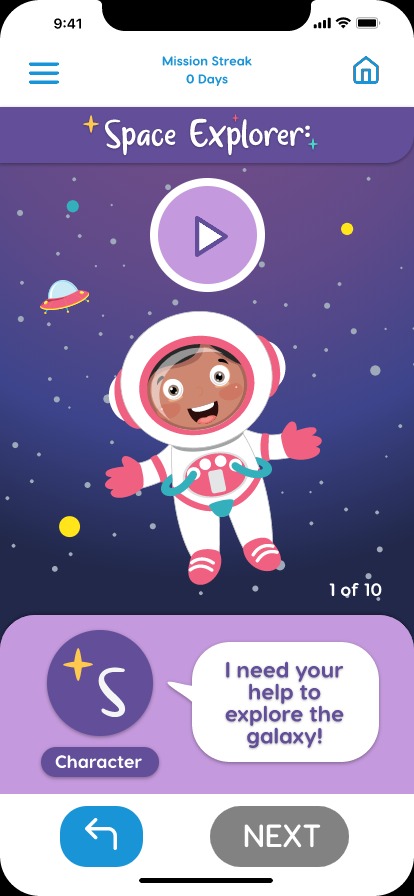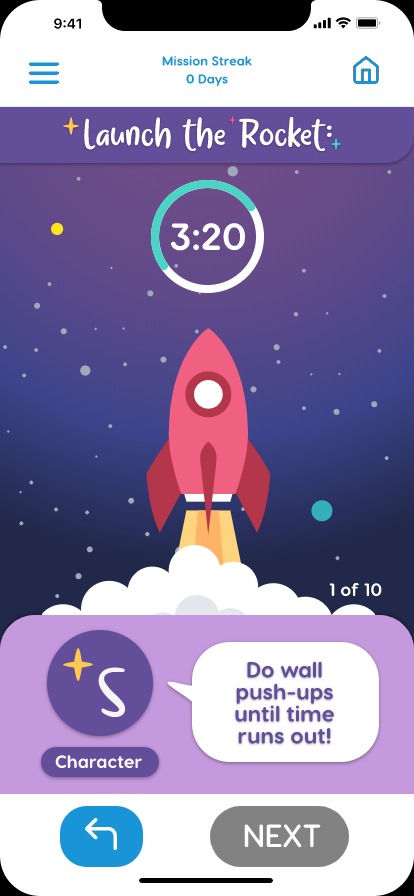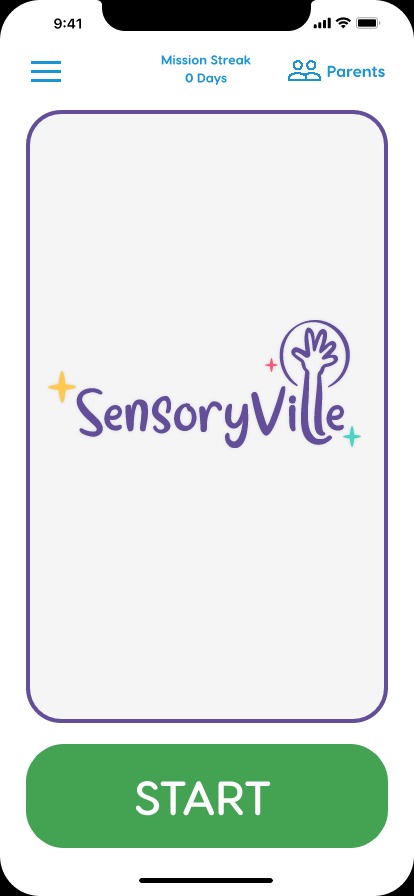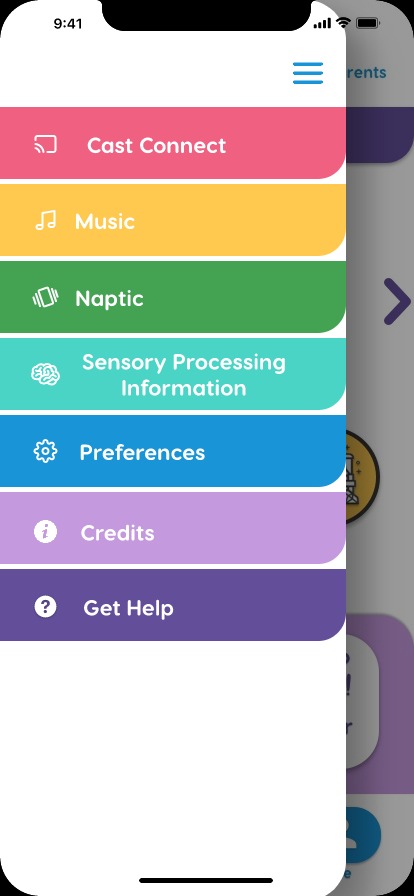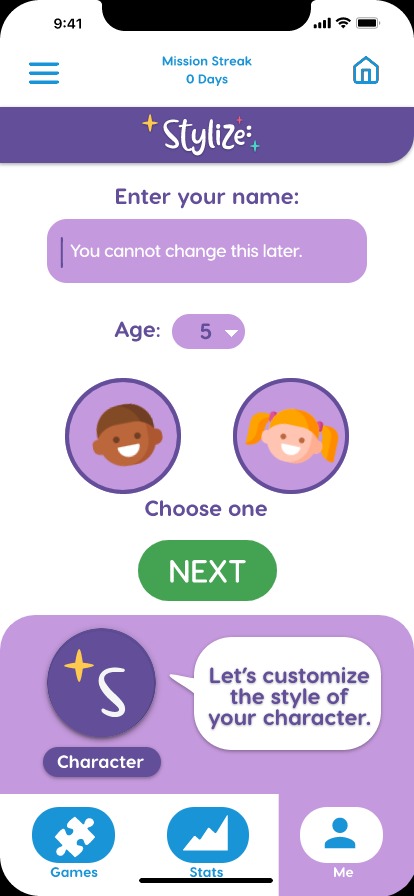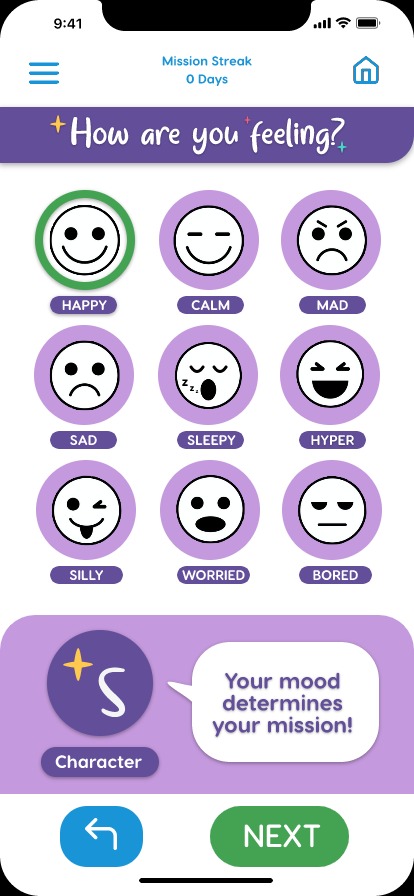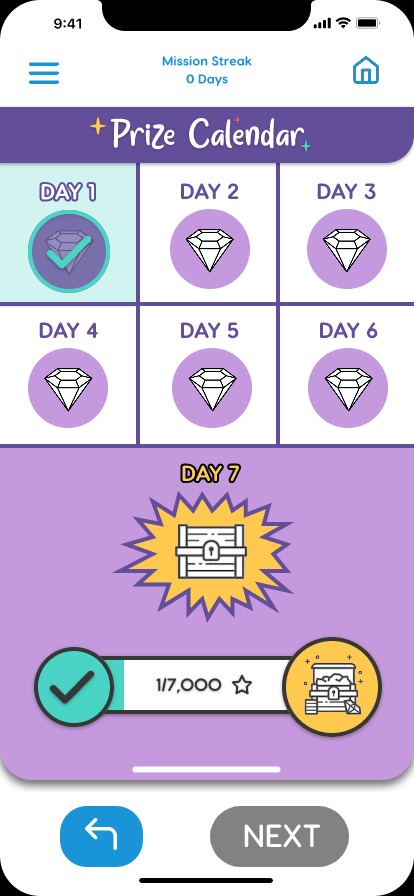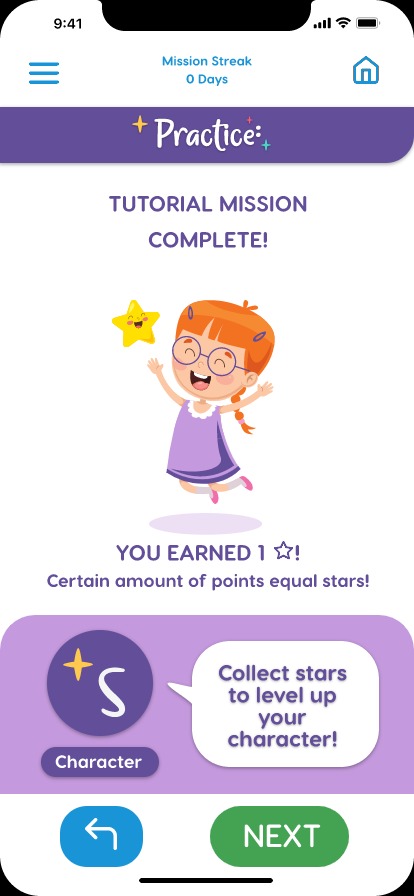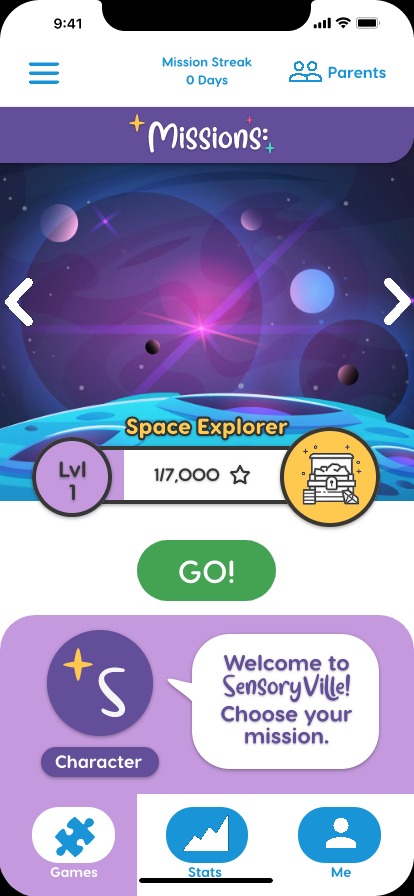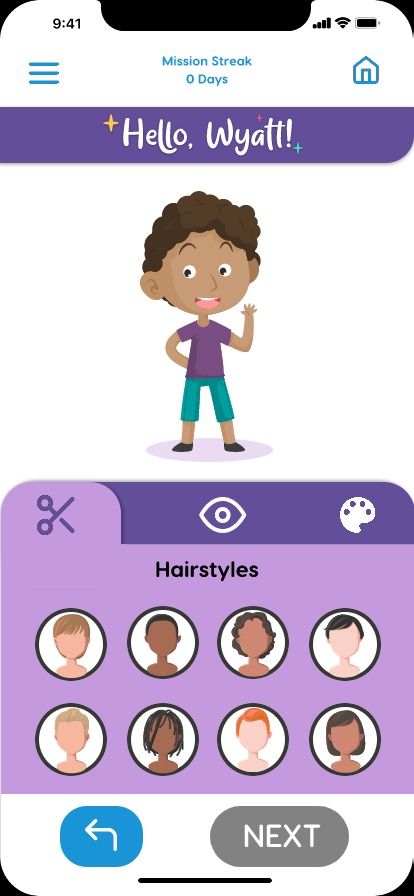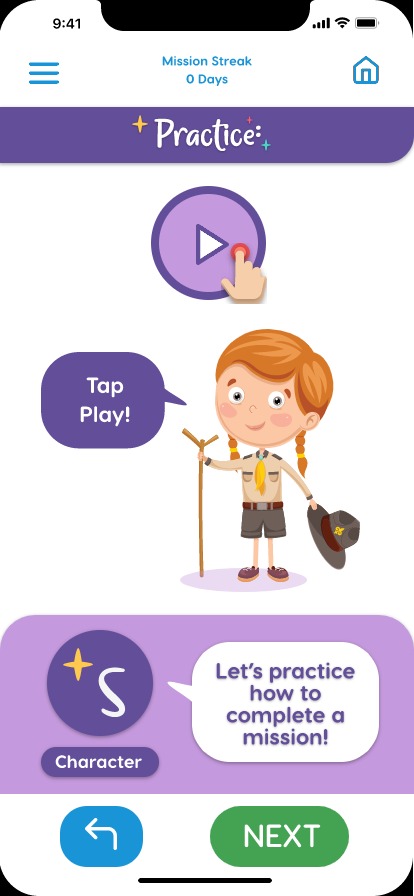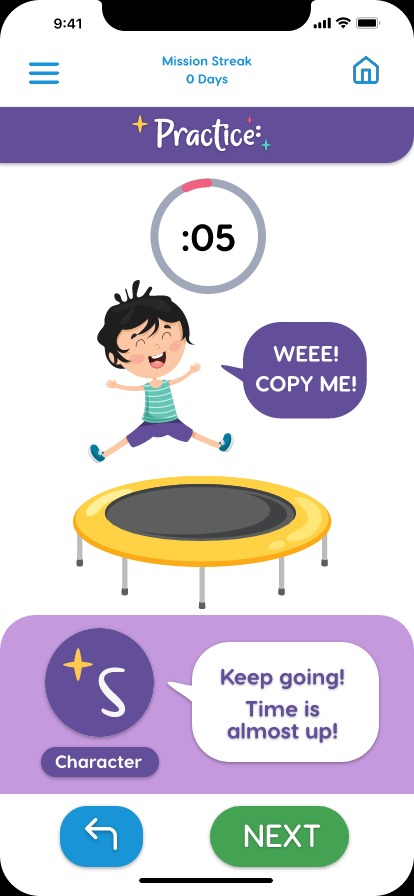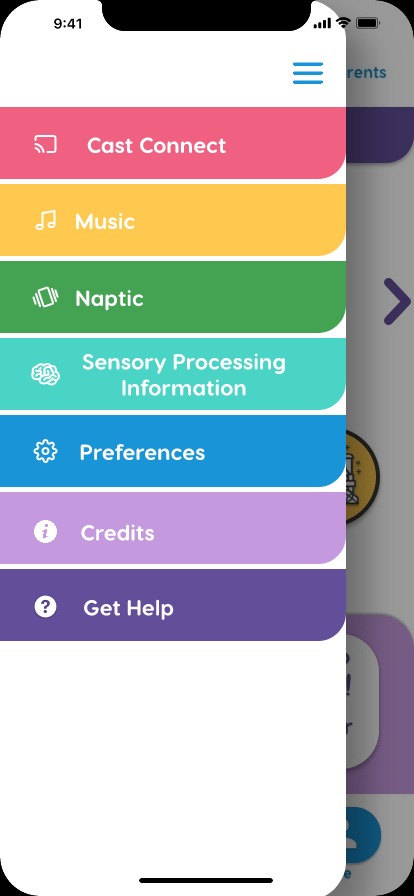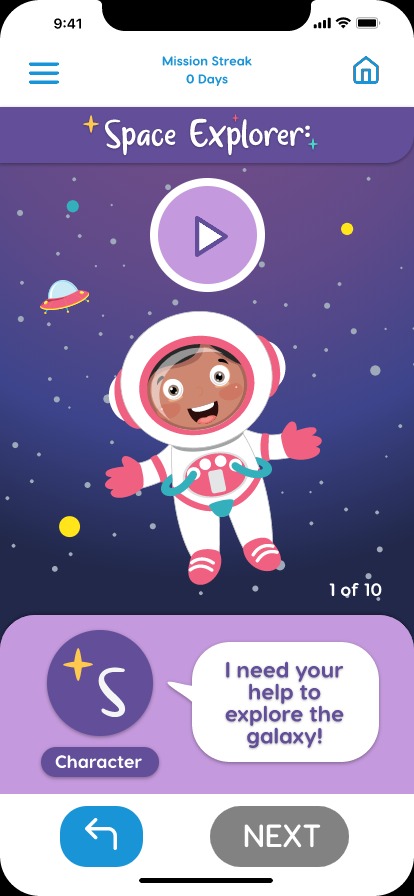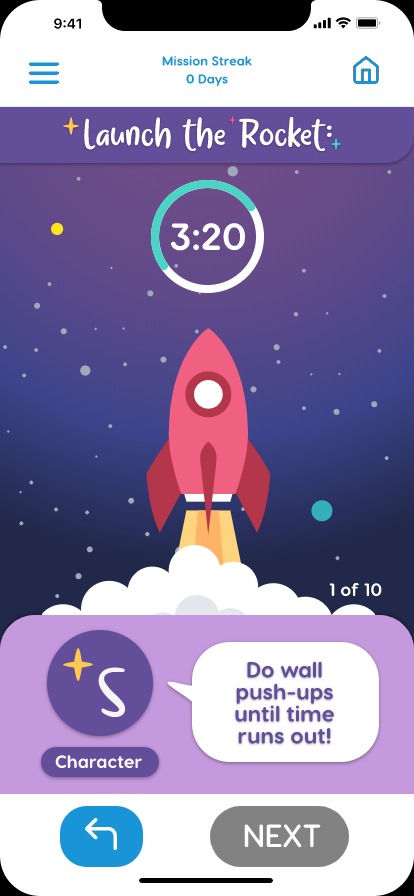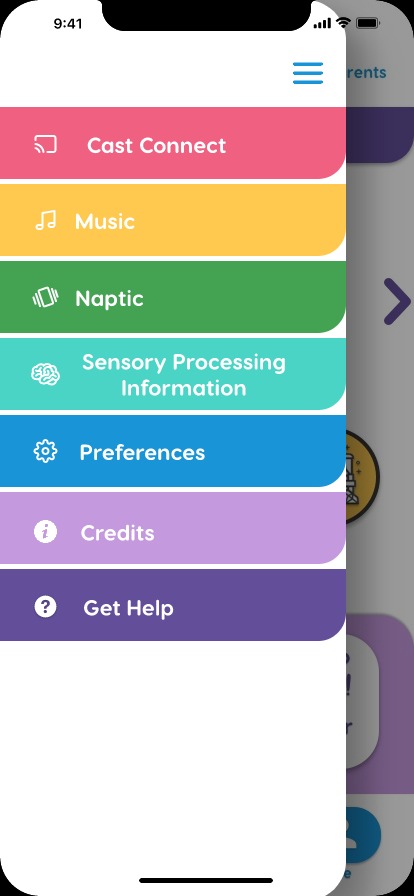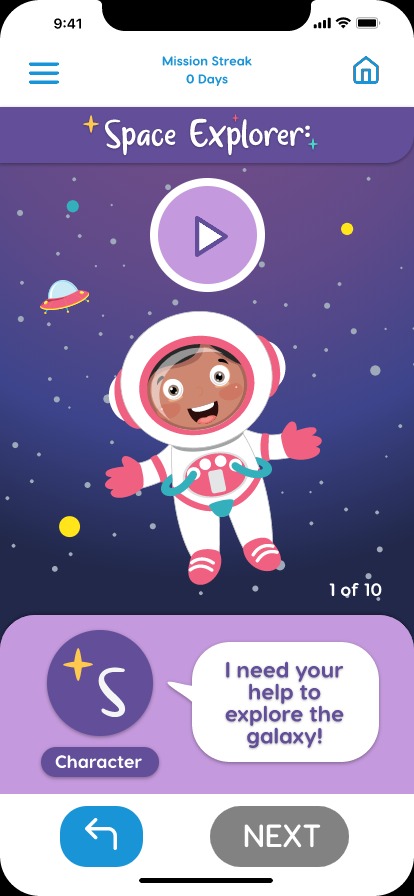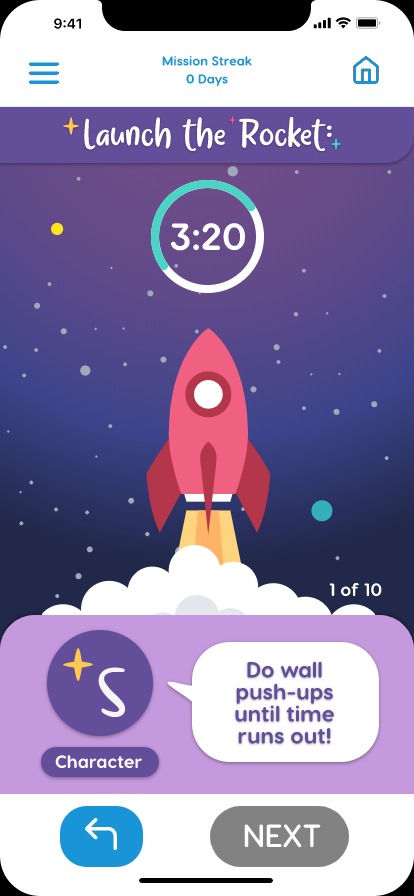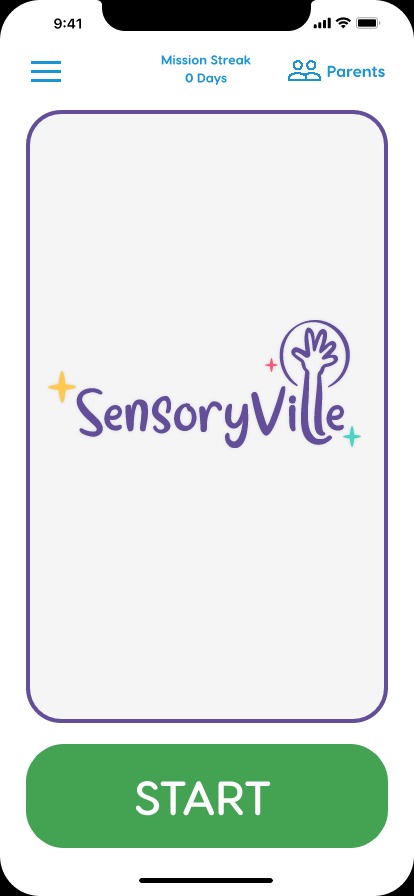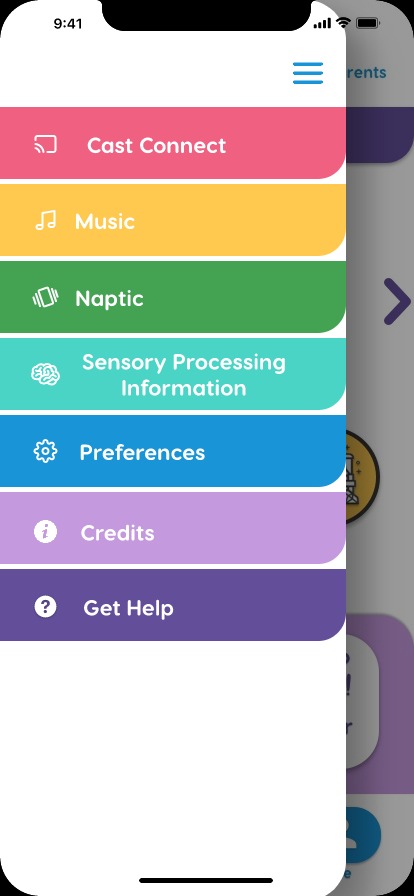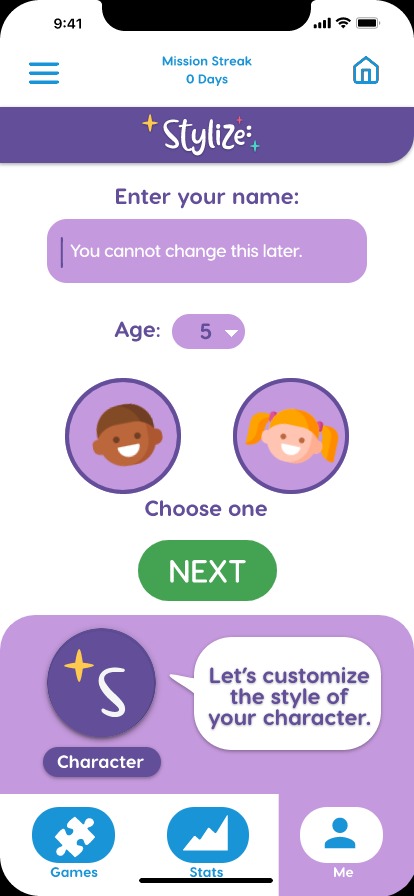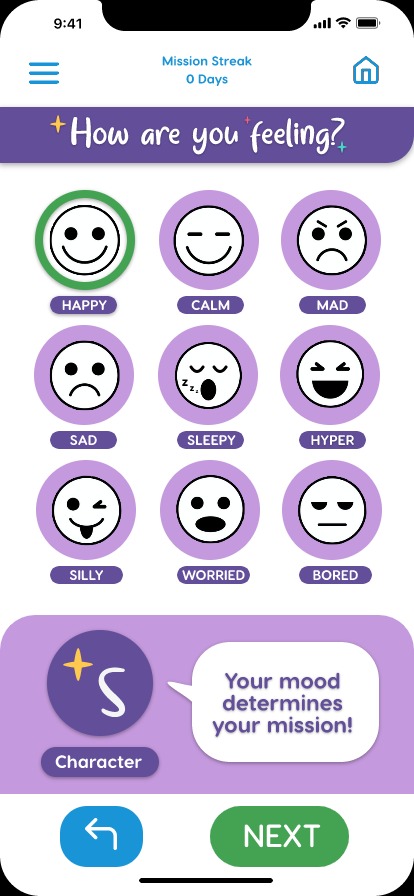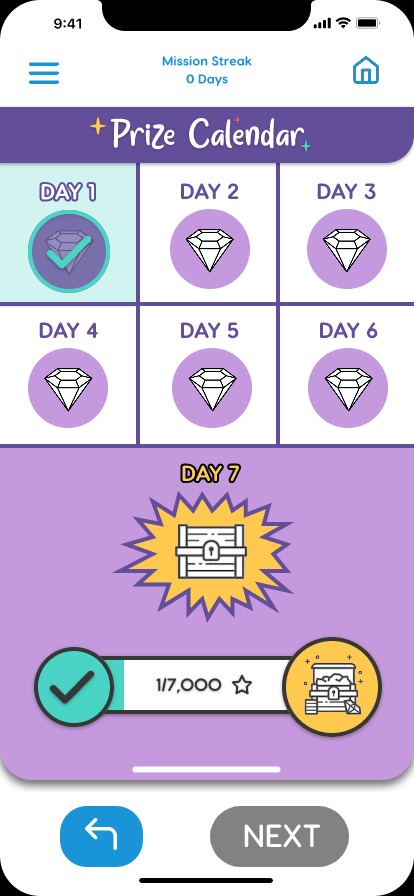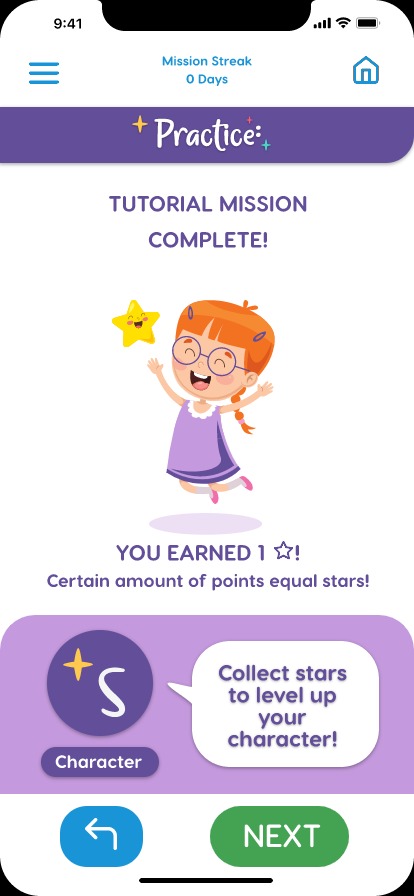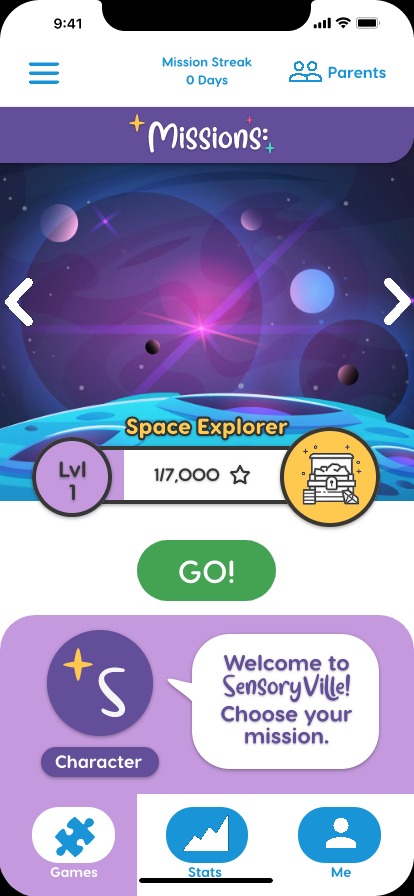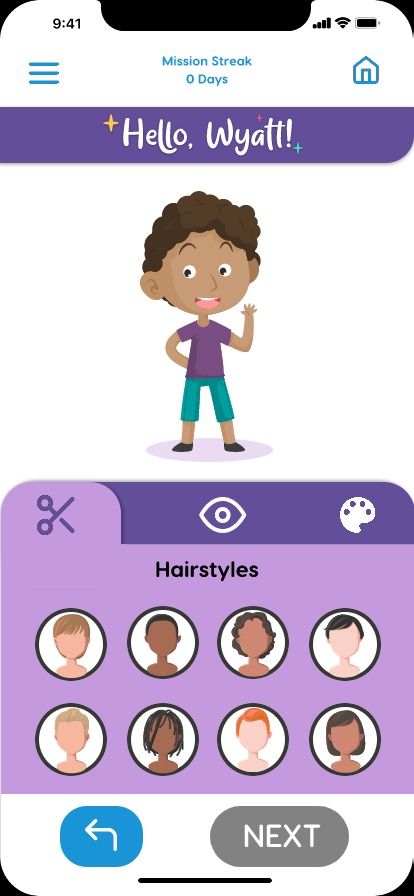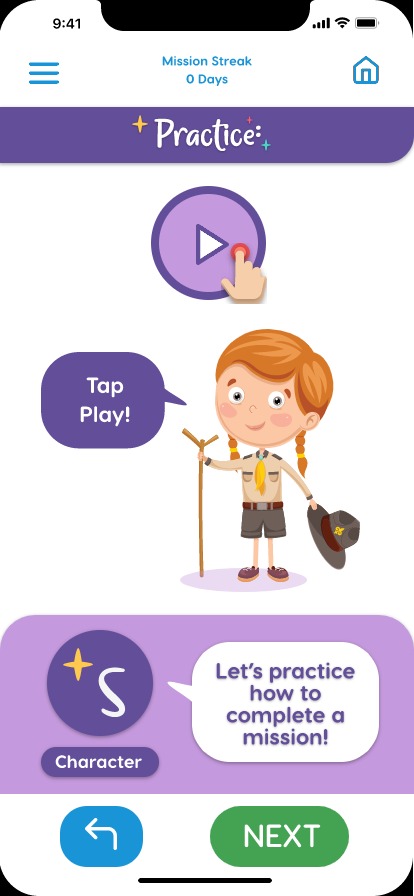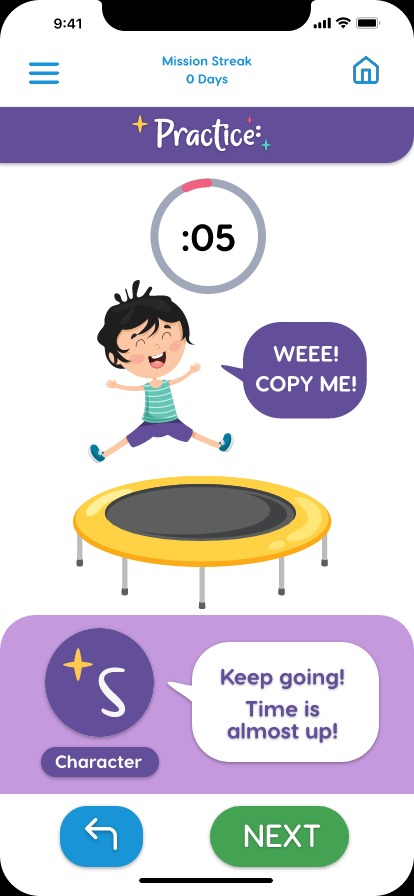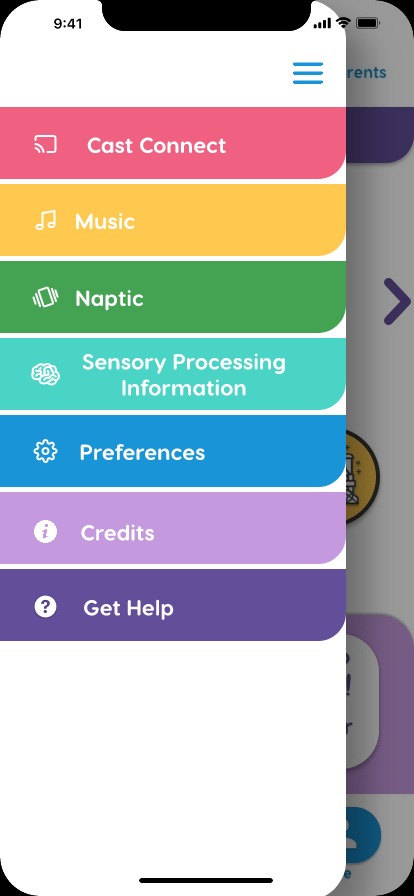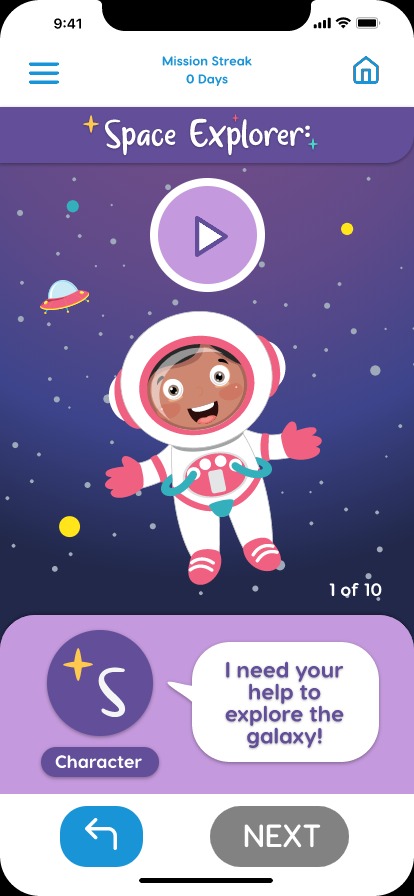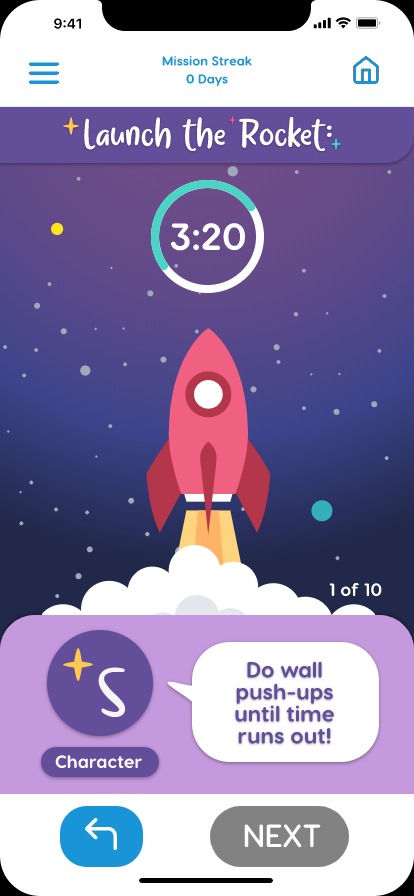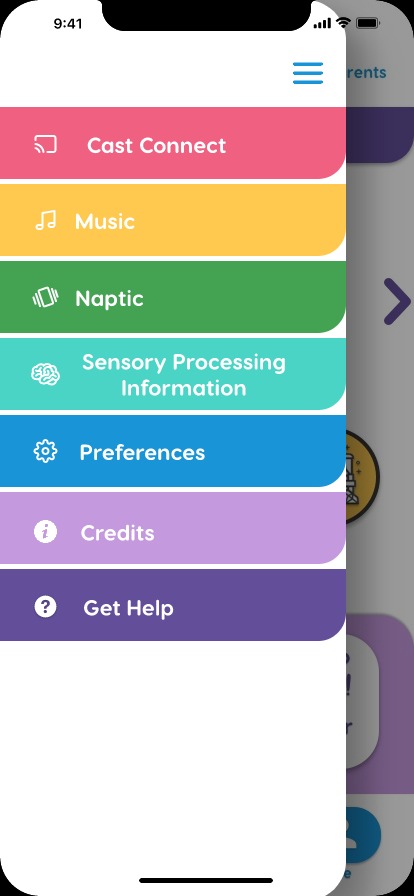 Findings
In general all participants found SensoryVille to be clear, straightforward, and 80% thought the app was easy to use.
The test identified only a few minor problems including:
Question if children understand the hamburger menu button and whether to make it avail for parents only.

Lack of accessibility around children who cannot read.

Lack of description around badges/prizes.

Lack of clarity on what SensoryVille is upon first game play.

Question whether to leave gender out of the profile process for PC.

Lack of clear direction on volume.

With multiple buttons on the screen, there was some confusion on what to select to advance through game play.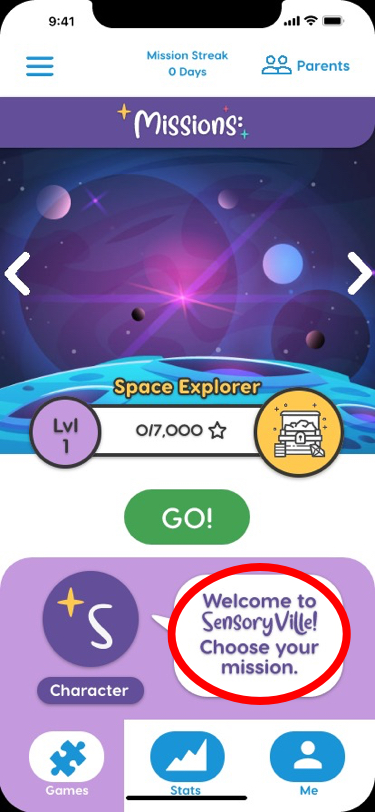 Issue #1
Participants were confused on what SensoryVille actually was and purpose for engaging.
Summary:
Majority of the users kept asking me what they were supposed to do for game play and debated between clicking on "GAMES" or "GO" buttons when completing the second task.

Once the participants tapped "GO" they understood they were supposed to follow the prompts, but told me they would have appreciated a backstory for clarification.

Revealed that the first time user may need a brief tutorial of the product before game play.
Recommendations:
I recommend a video that serves as a guided flow for first time users that introduces the product and how they earn items within the game to make it more clear.

Suggestions include:

Frame 1: welcome to sensoryville! What is it?

Frame 2: come explore with us

Frame 3: build your character. Explain the badges

Frame 4: try it out!

Frame 5: you unlocked your first sticker or badge.

Frame 6: put it on your heroes cape!

Perhaps highlighting the "GO" button can make the flow more obvious.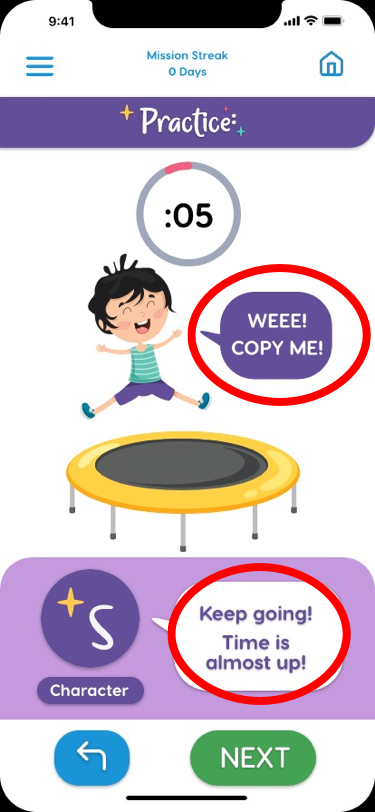 Issue #2
Participants kept questioning me what the app was saying in the bubble speech boxes.
Summary:
The children tested were non-readers and had trouble understanding what the characters in the app wanted them to do.

The children easily flowed through the prompts, but didn't exactly know what they were supposed to be doing when it came to the activity piece.

The parents questioned whether their children would understand bigger words used in text.
Recommendations:
Perhaps an automatic sound fx of the character reading the text for non-readers.

I recommend a sound button that can turn off the sound fx if they do not wish to hear it or would rather read.

Volume control should also be considered.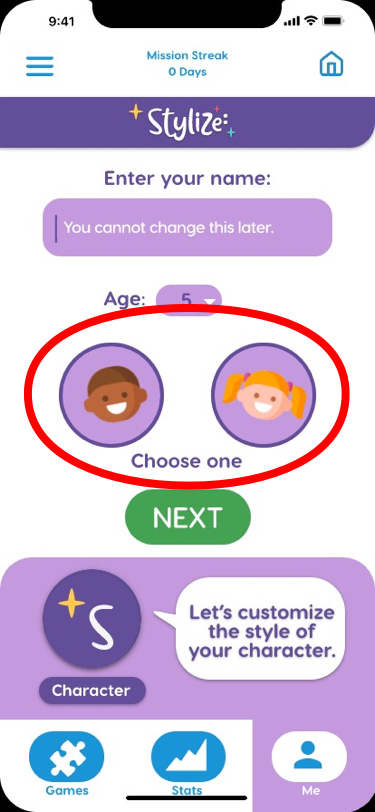 Issue #3
Consider sensitivity around non-binary selections and providing more options for self-expression that benefits everyone.
Summary:
The parents and occupational therapists were concerned that gender selection may take away the ability to digitally translate themself when the very first character creation option is gender.

Some users may want to create a character that reflects their real-life self as closely as possible, others use this feature as an opportunity to act as characters that are completely different from them.

The kids tested didn't seem to have an issue with the gender selection; however, I did notice it became a focal point especially when the gender selected didn't appear on the next screen.
Recommendations:
Remove gender selection on the profile page.

Allow users to build their character however they wish from the stylize frame.

Consider non-human characters so that gender would never play a role.
2nd Design Iteration
Using the findings and my recommendations I updated the UI to address the usability issues found in my testing. I also addressed some minor issues I saw when parents were accessing the menu section. I made it more prominent that it was for "grown-up" access and added a security measure. created an intro tutorial for SensoryVille using my idea from the game play tutorial. I took the liberty of introducing the main character and how users would fulfill the mission of the game. In addition, I added the sound button in place of the "home" button and moved the "home" button to the bottom main tab where it made more sense to be intuitively through gameplay. These are simple changes but make navigating the app so much easier.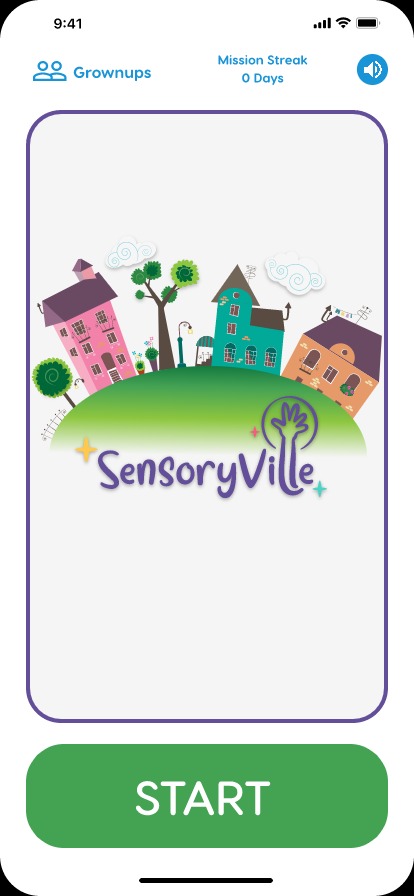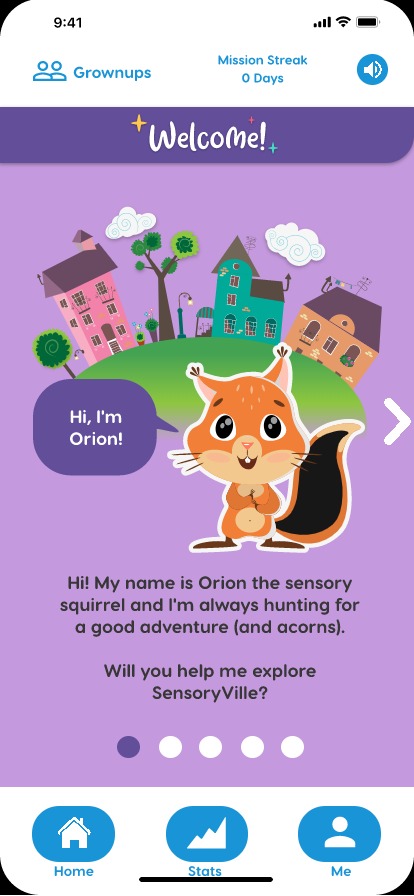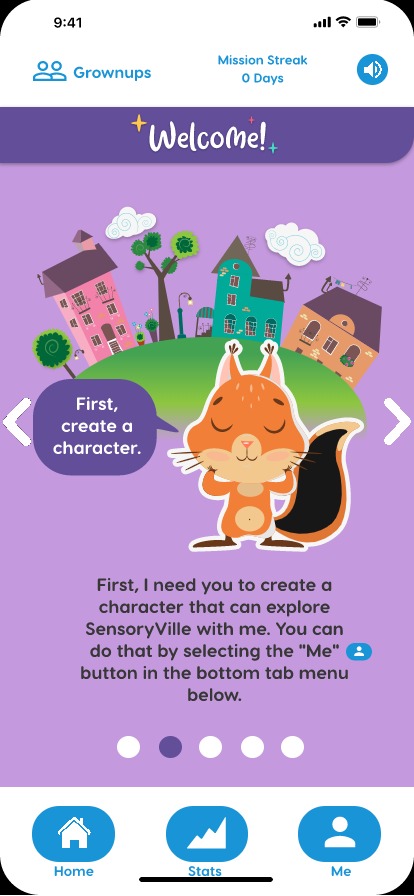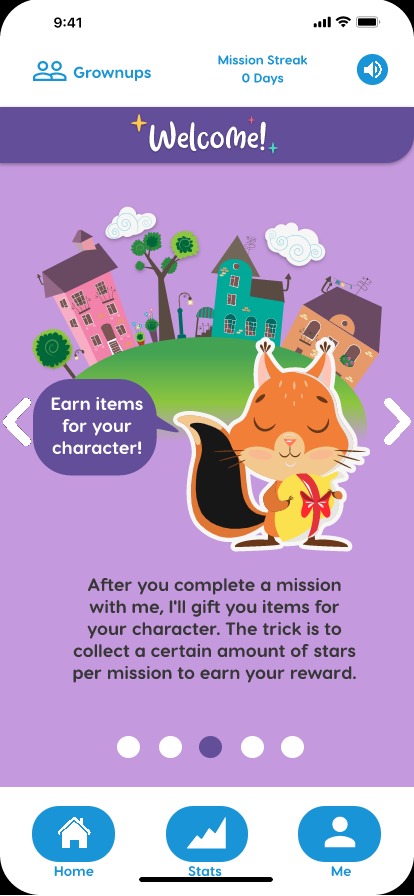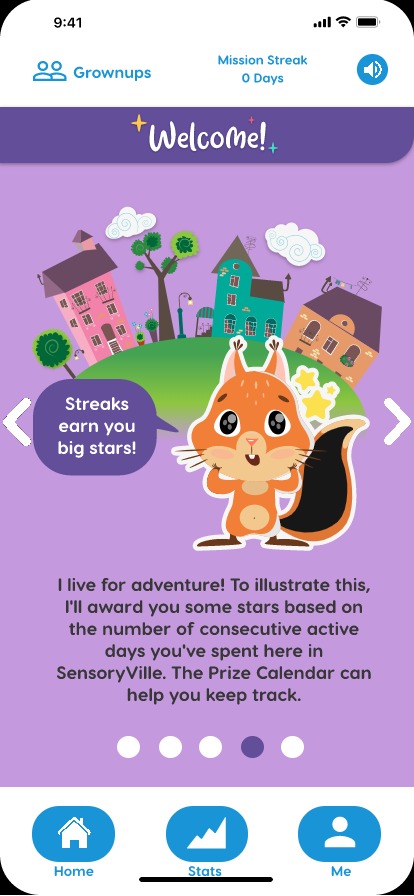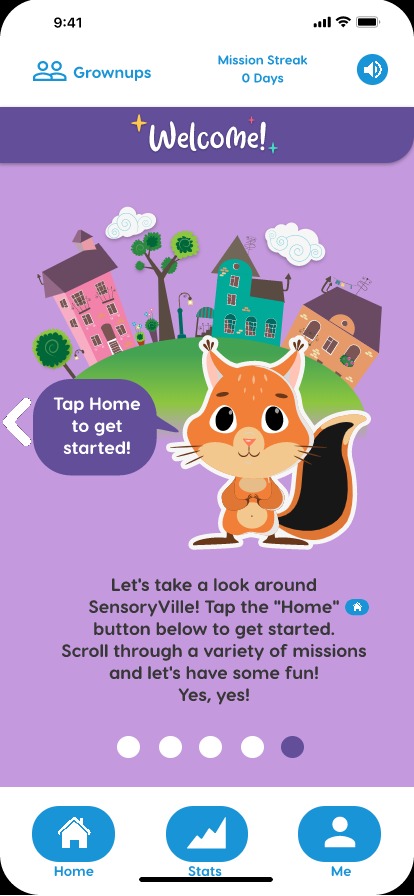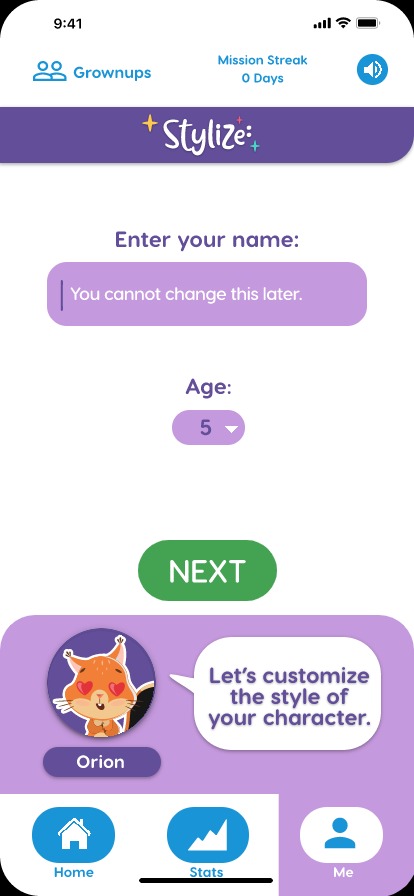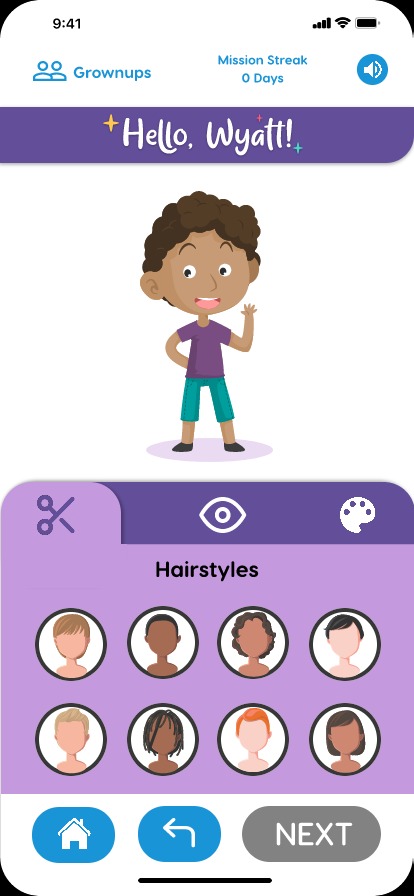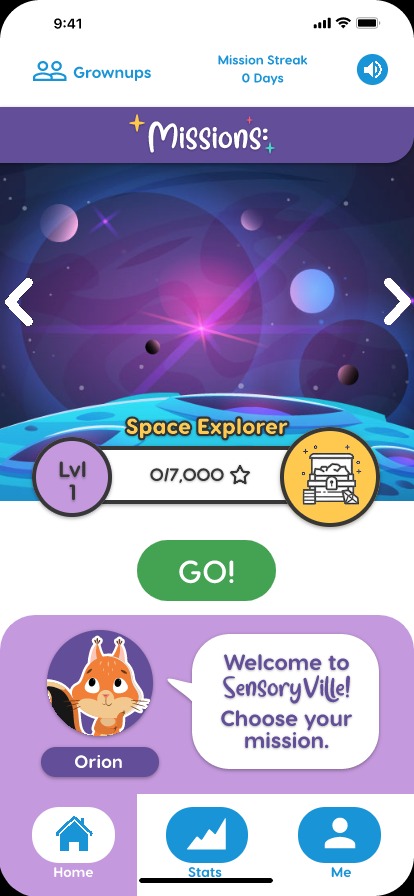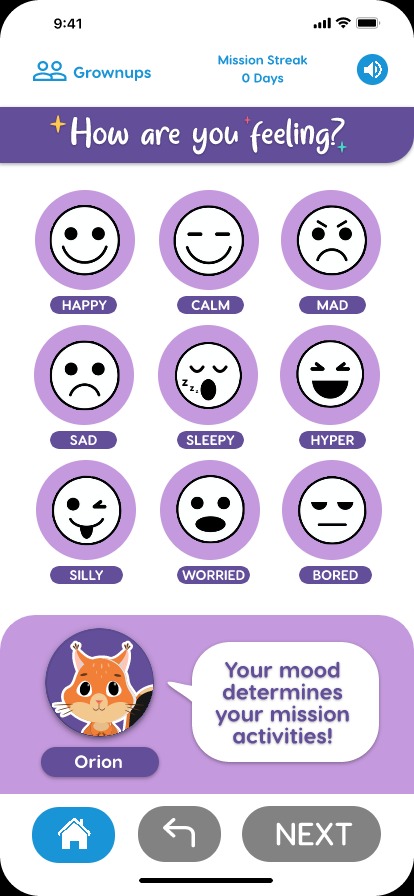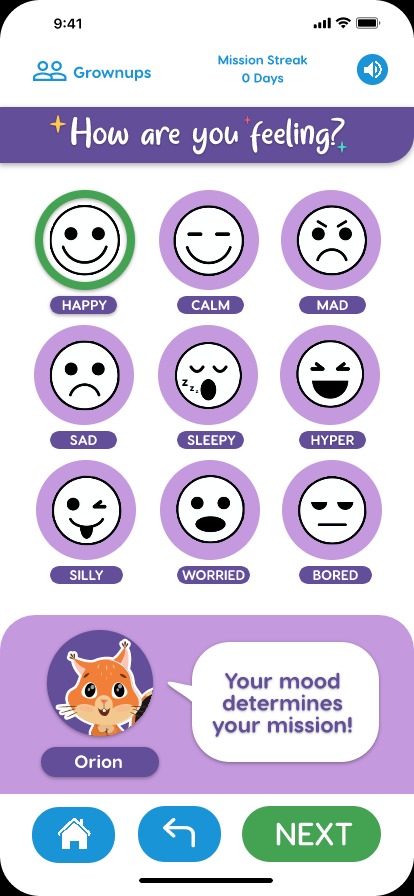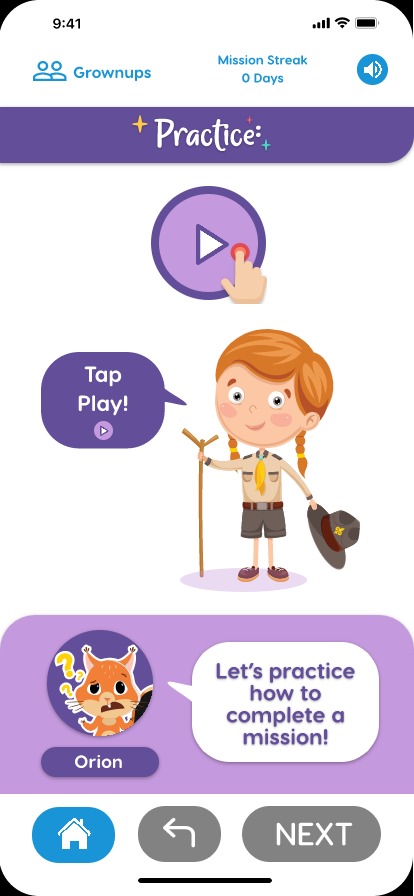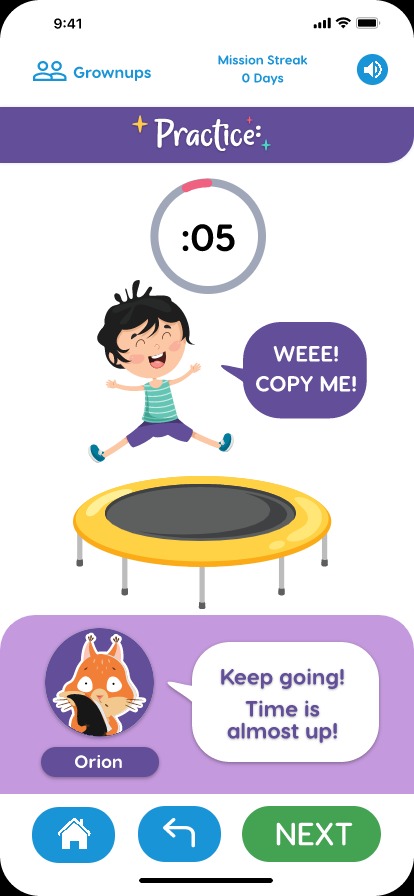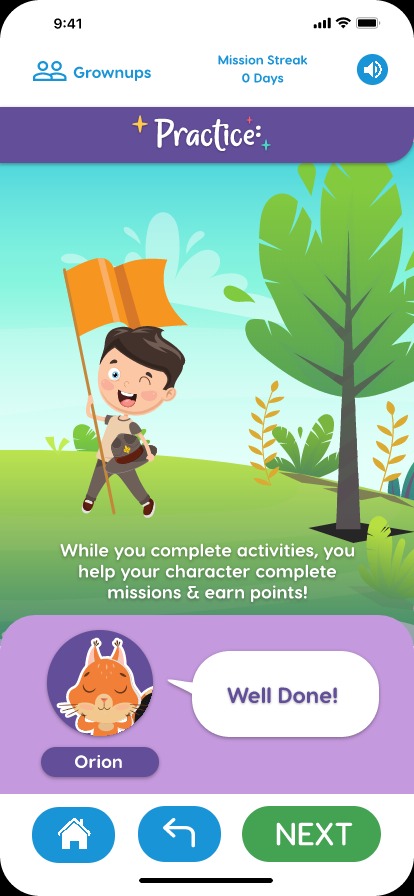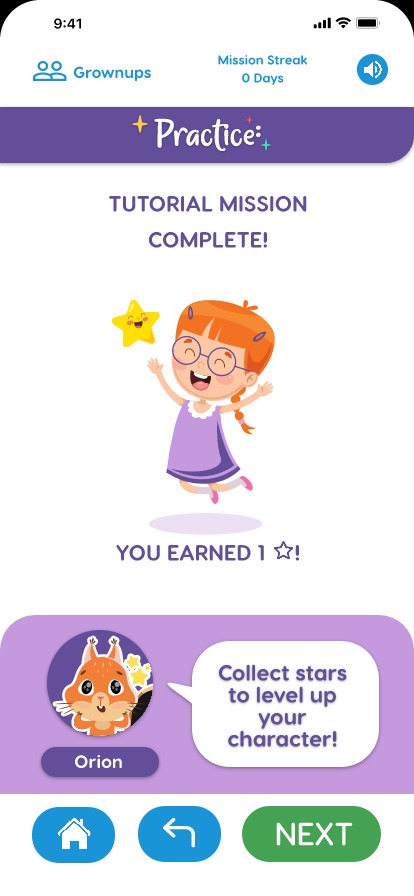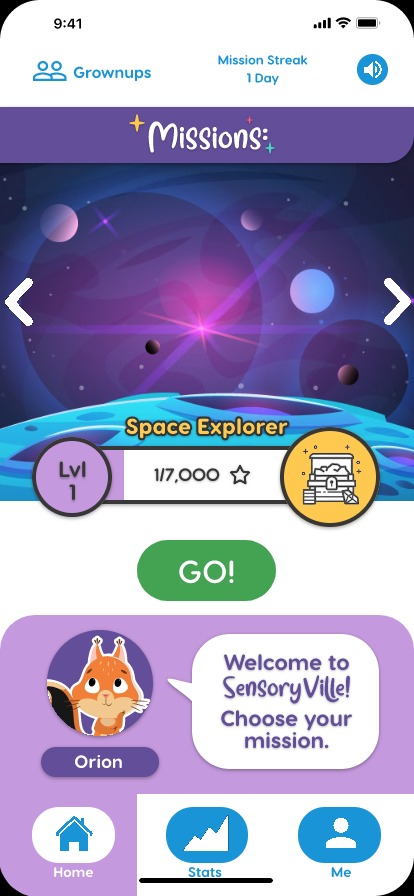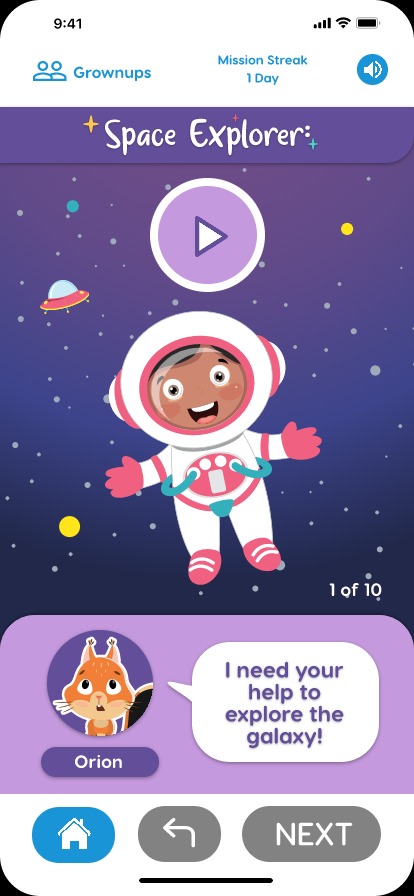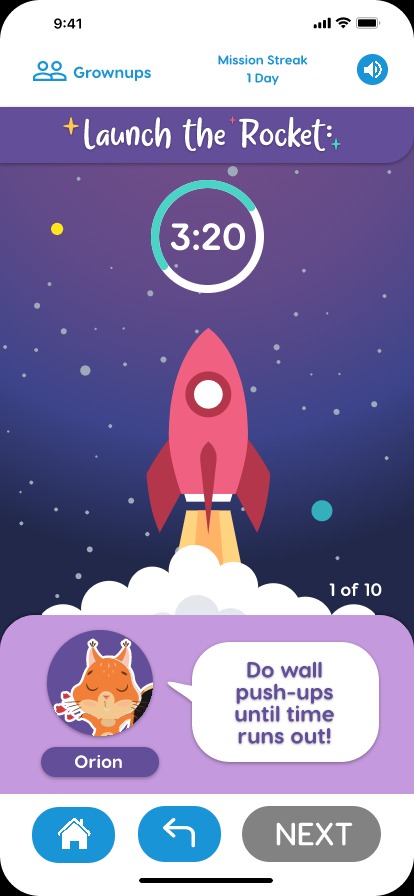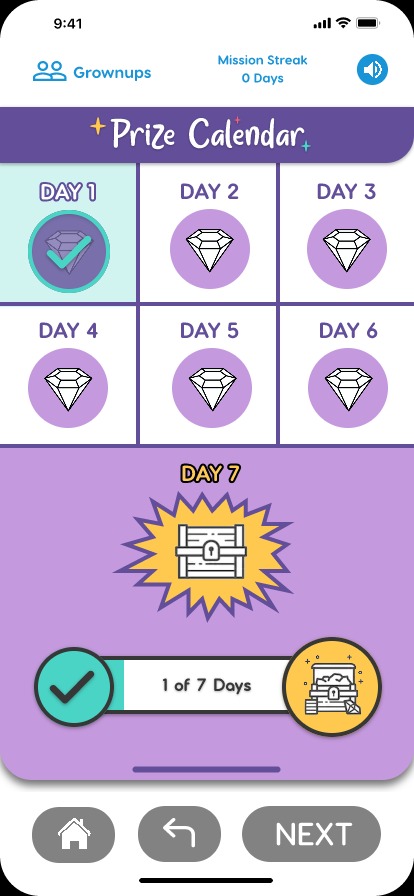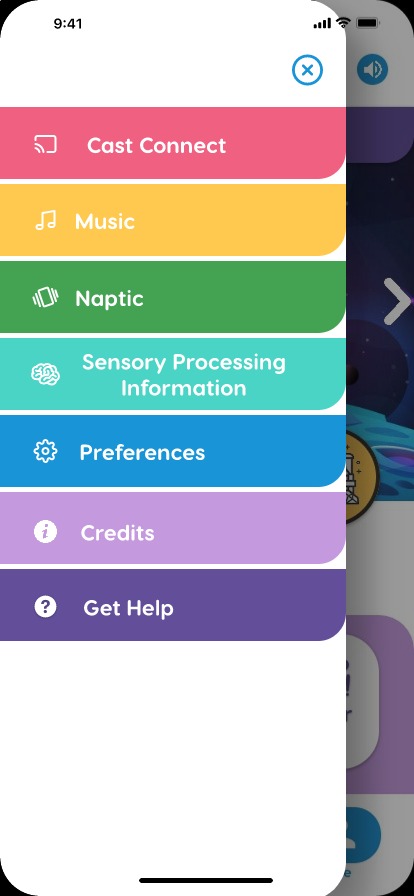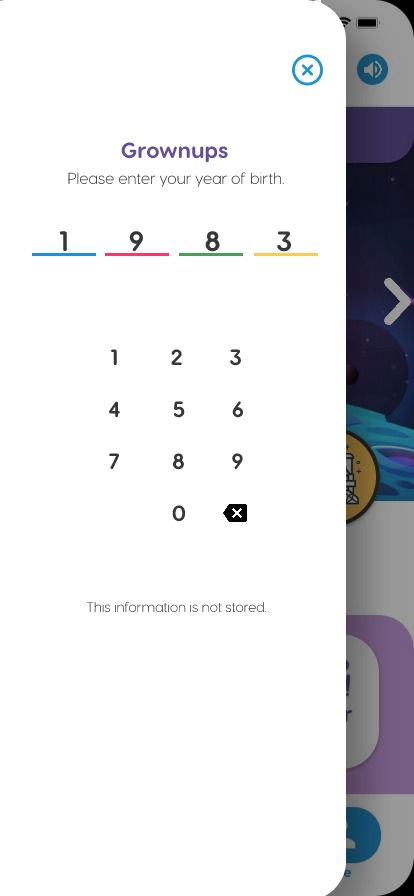 What have I learned from this project?
This was my second project and I learned a great deal from this one since it was something I am very interested in bringing to the market. I definitely think that I need to do a few more tests and design iterations, but I think it's a wonderful start to a really valuable product. In this project I learned:
User Testing is KEY. I would love to do more tests on this product with a broad array of people. I learn so much by watching how people think through their actions. A lot of what I think is intuitive isn't necessarily the case and I like being able to think out of the box and hear other people's thought processes and struggles. I think it has to deal a lot with my love for problem solving and wanting to get to the core to make an experience as enjoyable as possible.
I LOVE UI! This was my first attempt at learning UI and putting my lessons into action. I realized that I loved this part of the process the most, especially when thinking about color and layout and how my choices would affect the overall mood of the product. I can only imagine what a brainstorming session would be like for this part of the process, but I can anticipate that it would be really thoughtful and creative. SO many possibilities and SO much fun!
Looking ahead. While this project addressed an Occupational Therapy solution for children with sensory needs, I believe there are additional opportunities along the way that would be unique prompts for future iterations of this app design. This could include:
Allow characters to grow with a child so that their age matches the look of the character.

Add some social components to it like gifting friends or sending messages to do missions in tandem with one another for extra rewards.

Incorporate a parent companion app where they can interact and watch their child playing in some fun and interactive way. Add monetization pieces and resources for more strategies at home.