Serina Murphy
Product Designer | Digital Artist
Strivita:
Health App
Kaiser Permanente approach to wellness.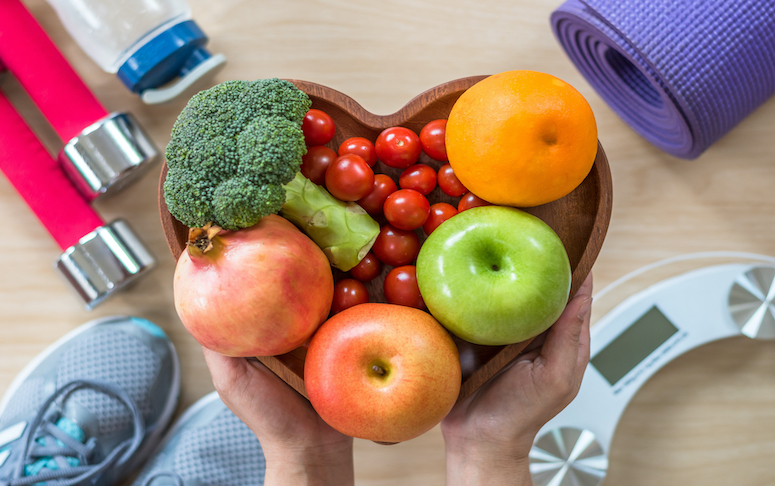 Overview

Strivita is a mobile application designed to take the frustration out of managing multiple applications to track health and fitness by fully integrating a best-fit-all solution that is personalized and produces results. Key features include Unique partnerships with some of the top health and fitness businesses on the market, ability to connect with friends and family, health professionals, trainers, and coaches within the Kaiser Permanente network for support with health goals, and user incentives/rewards that produce results.
One of the most expensive conditions in terms of direct health care costs is diabetes. Of this, Type 2 Diabetes makes up about 90-95% of all diabetes diagnoses which is largely preventable through simple lifestyle changes (CDC.gov, 2020; healthy.kaiserpermanente.org, 2019). The focus of this app is to target Americans to reduce the disease burden, or even reverse the onset of the disease while driving down the cost of health care.
Role: User Experience Designer (Including: Research, Wireframing, UI, Prototyping, and Testing)
Type: Mobile application
Industry: Health
Timeline: 4 weeks
Tools: Figma, theplot.io
2. Research:
Understanding the Problem
Secondary Research
This project focused on a topic that was prompted by my studies as an Occupational Therapist and past career experience as a Project Manager. Coming from a healthcare profession, I have a base knowledge of certain diagnoses, especially in relation to diabetes. Moreover, I have had close family members suffer from type 2 diabetes which I knew in large part could be prevented with different health choices. In order to grasp a better understanding of Kaiser Permanente, its mission, its impact, as well as, the hurdles experienced by health-conscious individuals and those living with diabetes, the research portion of my project was a crucial step in making sure my solutions were heading in the right direction.
I started my project by conducting an initial round of Secondary Research, sourcing background information about diabetes from the American Diabetes Association, CDC.gov, FDA.gov, HealthyPeople.gov., and systematic reviews of evidence-based studies on the reduction of type 2 diabetes. I also took some time to research more about Kaiser Permanente, their patient base, their competitors, and their financials in order to set up a powerful case about the impact my solution could have on their mission and business.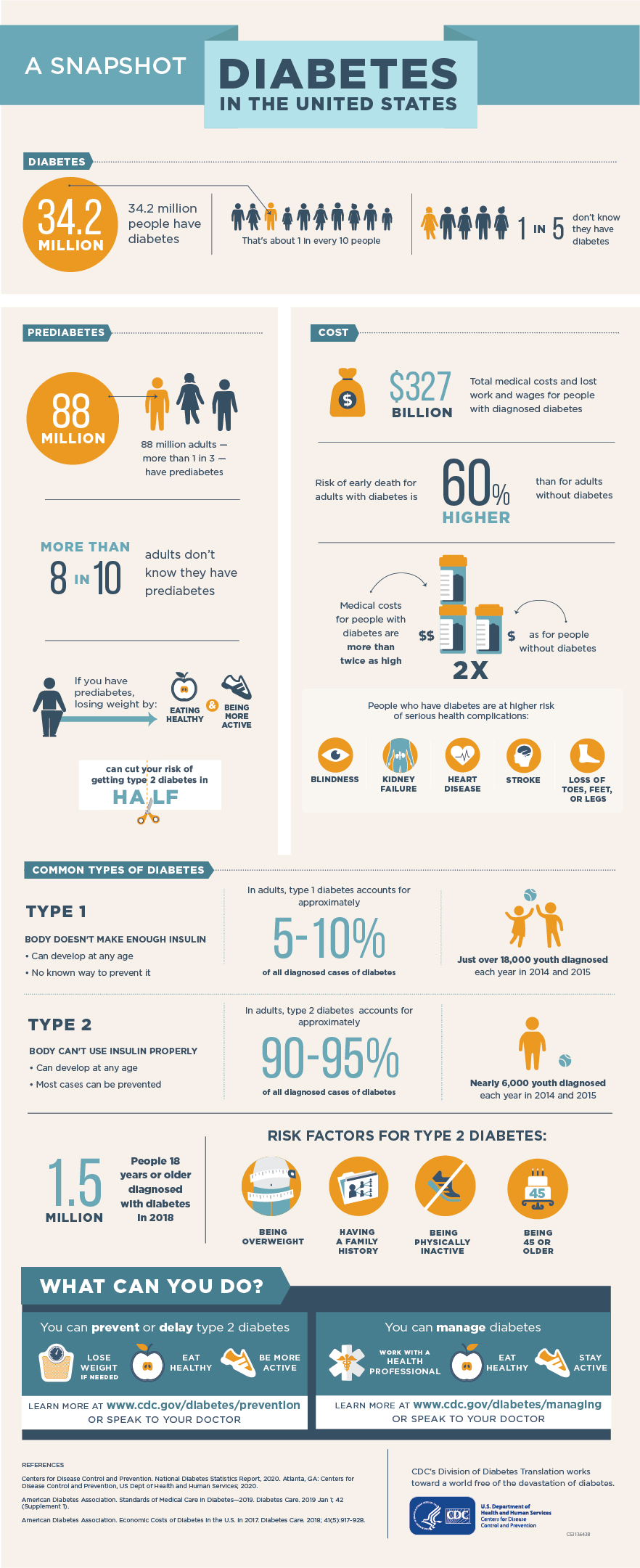 Key Facts
More than 34M Americans are currently diagnosed with diabetes.
We spend $327 billion annually on diabetes in the U.S. that could be saved & this includes:
$237 billion in direct medical costs

$90 billion in reduced productivity or missed work
Americans with diabetes spend 2.3x more on healthcare costs.
People from minority populations are more likely to be affected by type 2 diabetes.
Minority groups constitute 25% of diagnosed diabetes in the US.
Root Causes: Do not have easy access to health care & good foods.
Today, more than 88M Americans have prediabetes and nearly 90% of them don't even know it.
Key Insights
1. Diabetic Americans spend ~$10,000/yr on health care costs that could otherwise be saved. In 2017, the total estimated cost of diagnosed diabetes was $327 billion.
2. Prediabetes is a risk factor for type 2 diabetes. Being overweight, being age 45 or older, and being physically active less than 3 times a week are risk factors for prediabetes and type 2 diabetes. A Cochrane systematic study from 2008 states that daily exercise for 30 minutes and a healthy diet could reduce the onset of diabetes by 37%.
3. More than 34 million people in the United States have diabetes, and 1 in 4 of them don't know they have it.
4. Specific to Kaiser Permanente, Kaiser's current patient base is 12.4 Million members. If we use the stats provided by the ADA and CDC as a proxy, then we can assume that about 1.3 Million of these members have been diagnosed with diabetes and 3.3 Million more are prediabetic. That's 37% of its patient base!
This data gave me essential information to narrow down the demographic to interview in my next research steps. Diabetes impacts a wide age range of people with the majority centering around the age of 18-45. Due to this, I was able to easily find age groups to talk to; however, a huge challenge with the application is in being easily adopted by such a vast range of users with different engagement motives, and technical skills.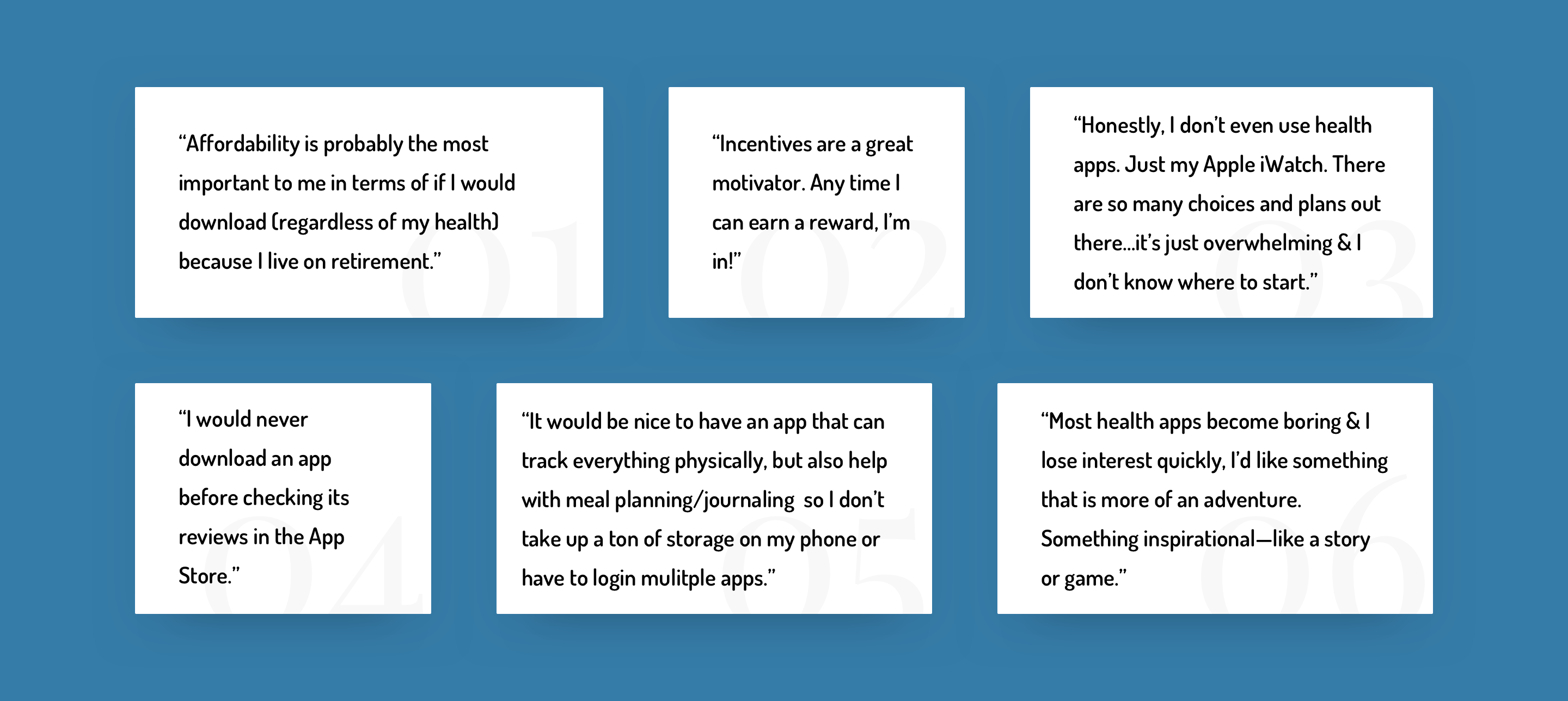 Interviews
At the discovery phase of my project, I conducted user interviews in order to get a better understanding of the problem. I interviewed people who self-identified as wanting to make healthier changes to their lifestyle due to health decline, possibly with prediabetes, in order to gain some insights on their general daily health habits and obstacles. Ages 18-65 hold the majority of diabetes cases in the U.S. (CDC.gov, 2020), so interviews were with a total of 4 people as requested for the assignment for exercise purposes that included a 32-year-old female, 40-year-old male, 38-year-old female, and 65-year-old male.

Key Findings:
Consumers often find themselves wanting more solutions where products track accurate activity without having to log it in themselves as they often have multiple applications and wearables that they use for health purposes.

Consumers often get bored of health applications and quickly lose interest and motivation with keeping track of health.

Consumers often try to find reviews about products before purchasing but have difficulty trusting their reliability.

Consumers most often choose health apps that are free or relatively affordable, especially for those living on retirement.
Overall, these interviews helped me to understand the problem consumers are facing today when it comes to managing their health through virtual products and to think through some potential solutions that not only help solve the problem for consumers but aim to achieve the goals of Kaiser Permanente to help their patient base increase physical activity and improve on healthy habits.
Product Vision & Goal
A heart-centered solution should:

Deliver a quick and easy way for people to keep track of their health.
Create an affordable and engaging environment that allows users to establish healthy habits and prevent bad choices.
Drive down health care costs by creating a Kaiser Permanent network where consumers are motivated daily by personalized support and an all-inclusive health tool that helps users take control of health.
How Might We
Based on the interviews, I went back to review Kaiser Permanente's problem and goal. Kaiser Permanente is looking to enter into the preventative care space to help their patient base increase physical activity and improve on healthy habits. While the overall goal is improved patient satisfaction and well being, the specific financial goal is reduced cost by emphasizing improved health prior to any adverse conditions developing. Overall, Kaiser wants to decrease spending on conditions such as type 2 diabetes.
With this in mind, the key insights from my conducted interviews and research, I used affinity mapping with the "How Might We" method to identify opportunities. By framing the challenge as a How Might We question, I was able to set myself up for an innovative solution specific to solving the needs of Kaiser Permanente and potential users.
In the exercise, I was made to think of eight "How Might We" questions in 5 minutes to create 32 HMW statements to later sort into similar themes.
How Might We Help Kaiser Permanente Patients...
...create healthy habits?
...celebrate & amplify healthy habits?
...be more educated about healthy habits?
...develop a healthy lifestyle easier?
...reduce health care costs associated with type 2 diabetes?
...better connect to resources that support healthier lifestyles?
...receive better care from Kaiser Permanente health professionals?
...reduce the chances of developing type 2 diabetes?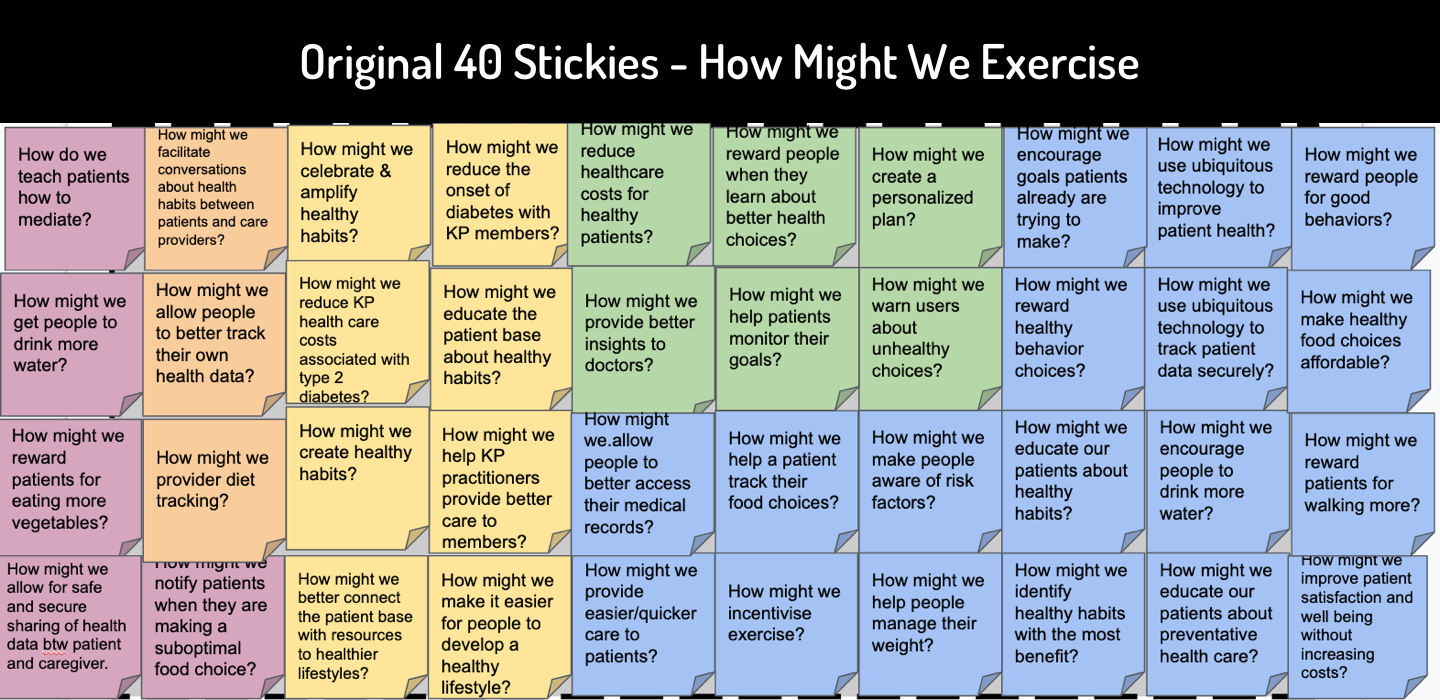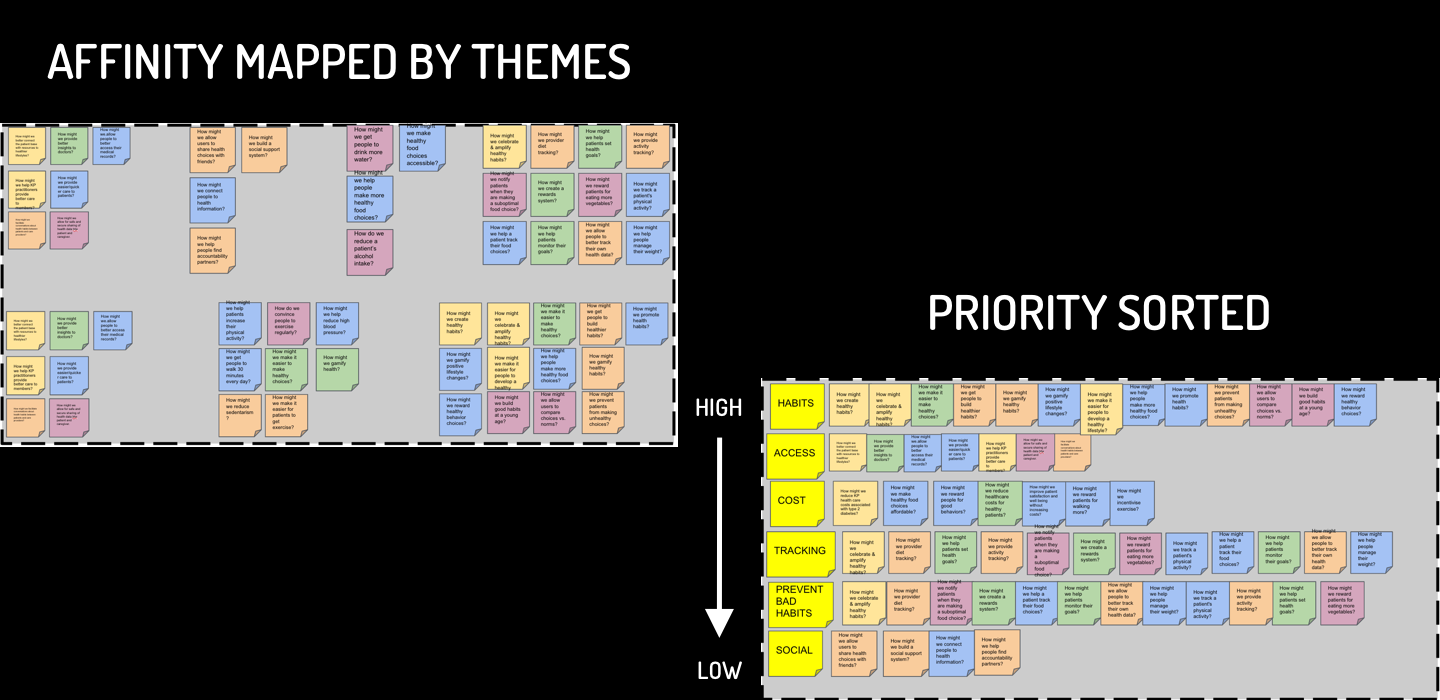 Competitive Analysis
I analyzed 3 big competitors within the health industry to identify gaps in the market. I learned that other insurers are making headway into mobile by doing very similar features. However, there seems to be a gap around tracking accuracy, realistic goals for a wide range of users, and no real social component to hold users accountable. A virtual health professional or a chatbot who is trained to talk about diabetes can be an option. Additionally, the competitors that are insurers only provide their app services to their members leaving Kaiser Permanente members missing a key perk to their membership.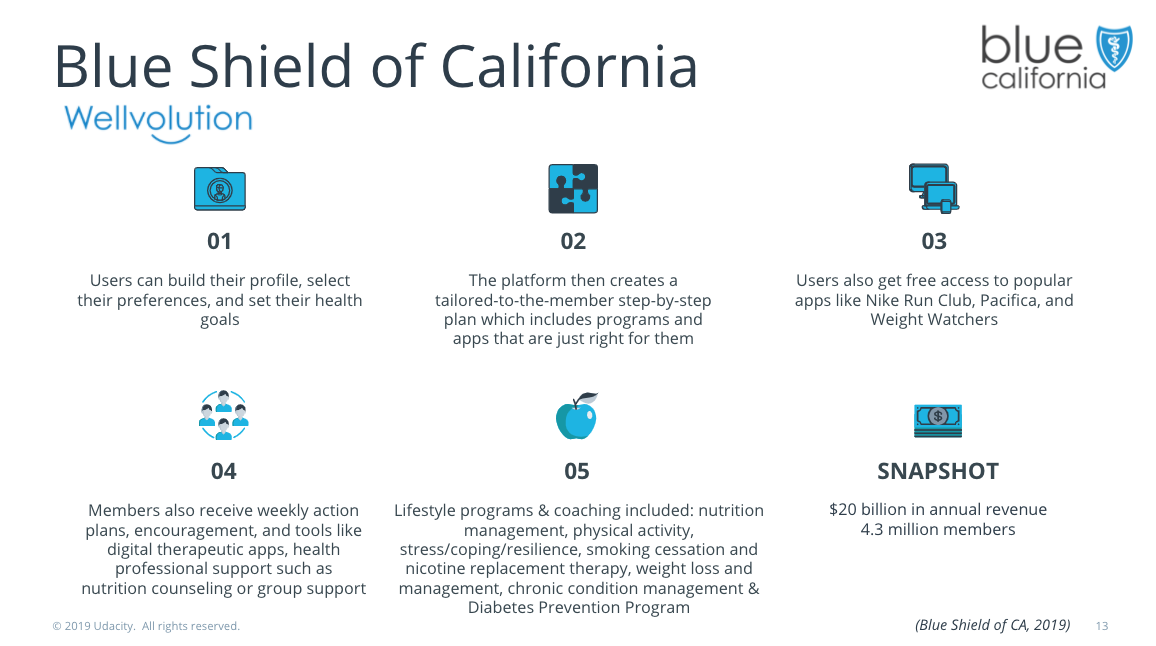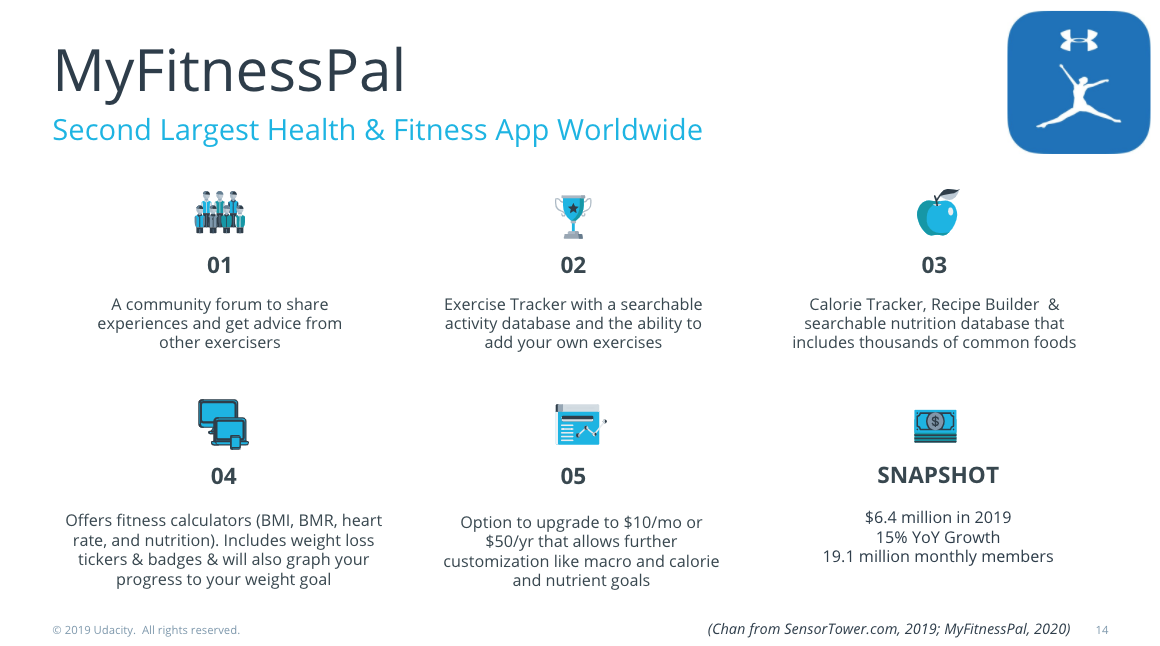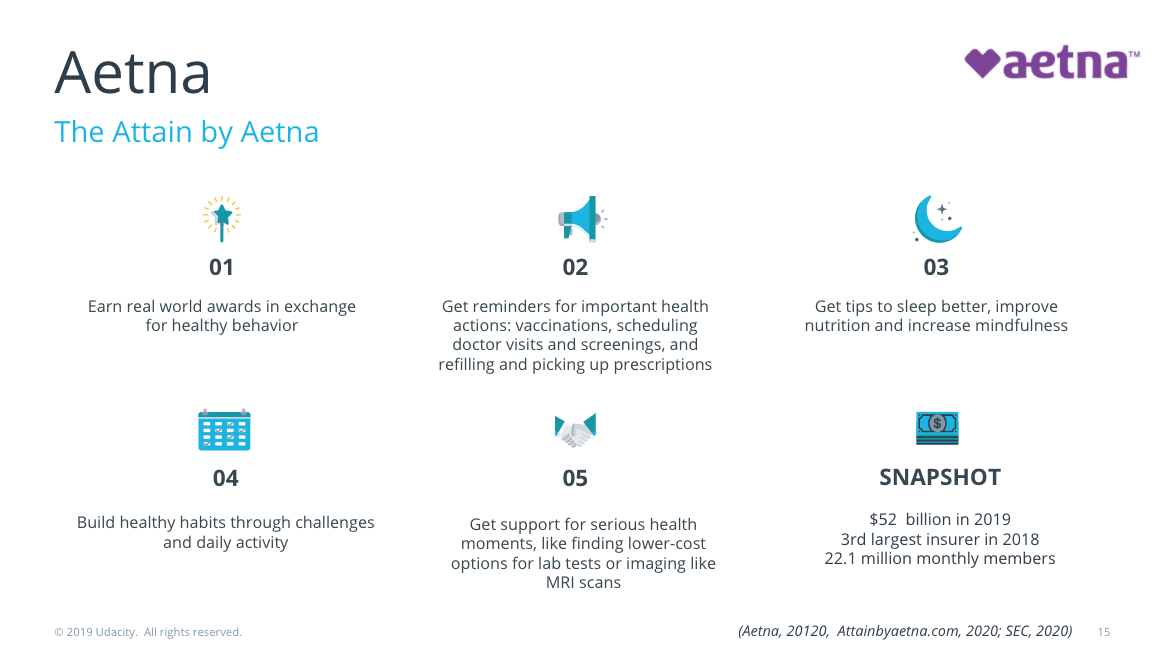 The HEART Framework

Since this project is for a product management course, I was tasked to focus and align on specific outcomes for the Design Sprint. With an understanding of the problem space, I leveraged the HEART framework to define metrics that measured the quality of the user experience.
Happiness - user attitude towards Strivita
Engagement - how users are using Strivita in terms of frequency or number/types of features used
Adoption - how many new users start using Strivita
Retention - how many users keep coming back
Task Success - ability for users to complete critical tasks in order to be successful with Strivita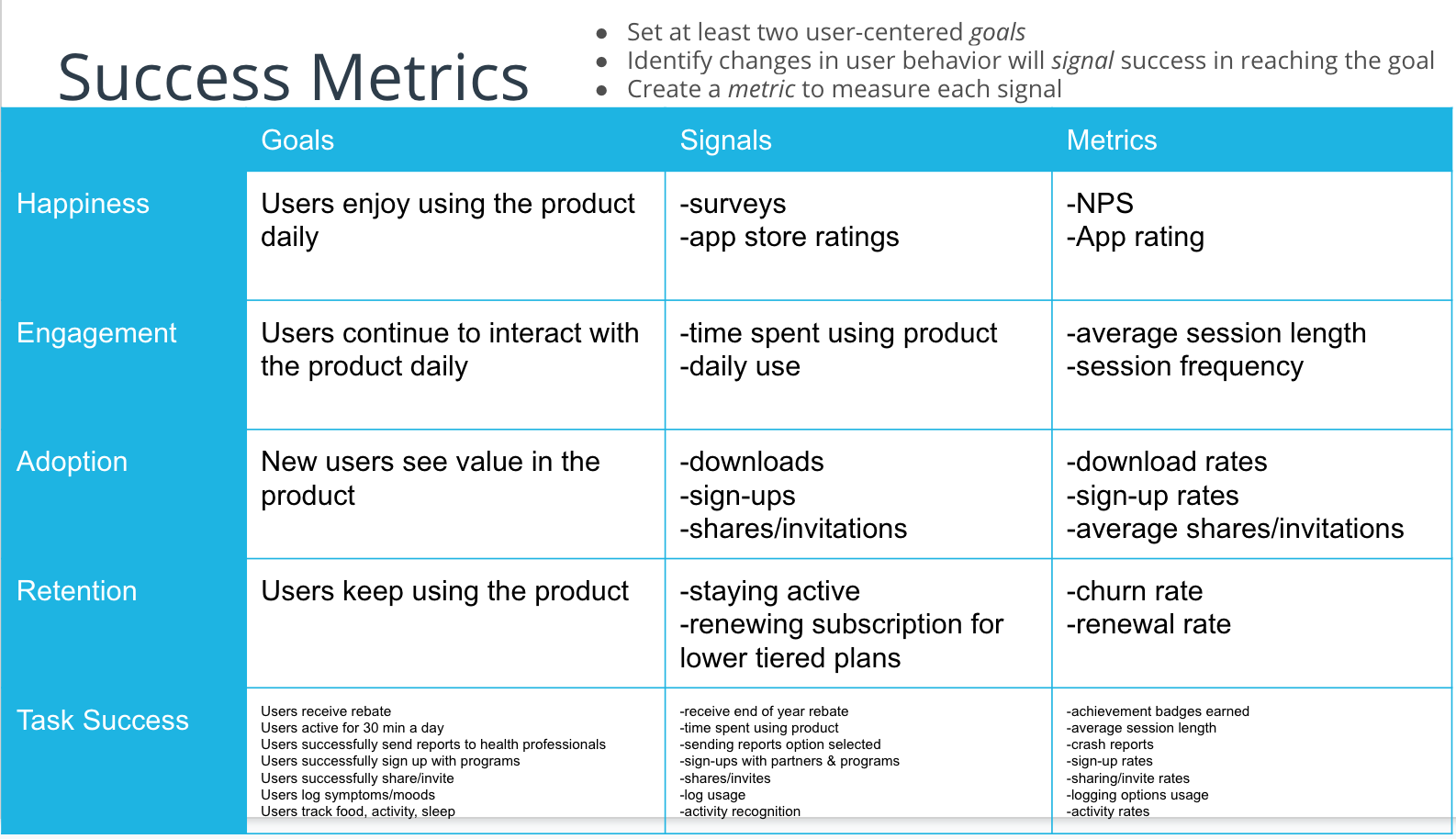 Epics to Key Features
From the data gathered, defining goals were clustered together into epics, which then served as the basis for the product's key features.
Epic 1: Key partnership integration for tracking accuracy
It is crucial for us to bring accurate 3rd Party data and connectivity to our platform so we can provide a real-time, one-in-all solution for our users. Our platform will connect members with top health and fitness applications for ease of use and tracking. This includes Google Fit, Fitbit, Apple Health, & Medi Weightloss to ensure top quality results.
Key Features are:
Data monetization--Access to data that can be used later for potential clinical trials or to make predictions about population health

Selling more wearables or products

Expand service offerings
We will do a revenue share with our partners:
User buys a meal plan/wearable/etc: we get 1% of the order for our platform

Partners who sponsor the app will be promoted in select placements in our app for free
Epic 2: Earn Rebate Award
Users can earn rewards — particularly an end of the year rebate and costs off partnered products

Develop a customizable habit tracker that users tailor to their own ability level that automatically calucates and displays potential points earned towards reward and rewards user when complete
Epic 3: Social Support
Able to connect with friends and family within the Kaiser Permanente network, along with health professionals, trainers, & coaches

Allow users to select social connects as accountability partners for support along health journey & goals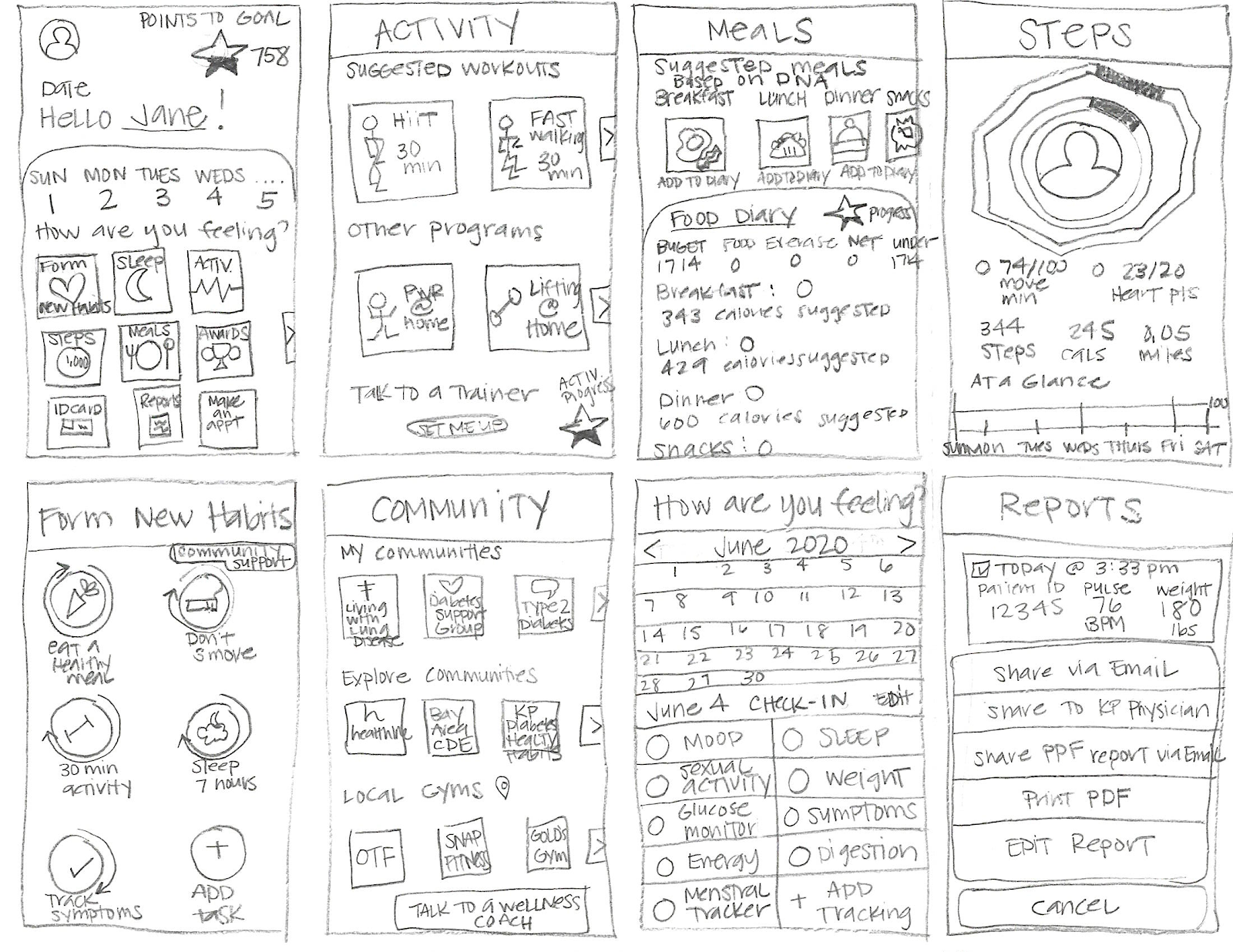 Crazy 8 Sketches
For this exercise, I decided to use the Crazy 8's method to quickly sketch out a lot of different ideas for the Strivita app on possible solutions to the discovered problems and gaps. The goal was to generate as many ideas as possible in a short period of time, without worrying about the quality of the sketch or whether it's a good or bad idea. I took out a piece of paper and folded it into 8 sections, used my phone as a timer on repeat for 1 min, and got sketching.
Solution Sketching
After the Crazy 8's exercise, I picked two ideas that I thought best aligned to user needs and the three epics I defined earlier in the project and sketched it out in more detail. My solution sketches helped me to better understand the specifics of my ideas by figuring out that some journeys may or may not work well. I also started to realize that there might be more steps or additions to the app required than what I originally thought. My main focus was to sketch out the main screens to get a general impression of the application which I eventually transitioned to a high-fidelity wireframe. My final decision was to focus on how to develop healthy habits while utilizing the social components of the app. The overall goal of this app for Kaiser members with any chronic condition is to reduce the disease burden, or even reverse the onset of the disease so developing a healthy habit would be imperative to that goal.


User Journey
I mapped out the users' steps through storyboarding to see how I could simplify their journey to help them reach their most important goals with the product. I created a story around a user persona named Jennifer, who is a young adult and who's mother, Jane, was just diagnosed with type 2 diabetes. This exercise allowed me to map out the problem facing Jennifer and the journey she would go through with Strivita to solve it. This storyboard served as the blueprint for my prototype.



Prototype
At a high-level overview, the Kaiser Permanente Strivita app is a one-stop-shop solution to manage all aspects of a healthier lifestyle. It combines personal support from Kaiser Permanente health professionals and tools from the top health & fitness applications to get you meaningful results. You can also connect with friends & family Kaiser members for additional support & accountability.
Assumptions made:
Everyone will want to earn the end of year rebate

People Will Track Continuously and Indefinitely

People Primarily Need Support for Self-Regulation--maybe with a Little Social Pressure

Action is the Goal
Tasks to complete in prototype:
Tap Log In Button 2x

Tap Chat Alert at bottom of screen to review Friend & Family Feed

Tap Back Arrows to return to Main Screen

Tap "Form a New Habit" to create a new workout habit

Tap "Add Task"

Tap "Done" on upper left of Screen

The overall idea is to then explore activities & workouts to start progress on the habit.
User Testing
Before launching the product, I did a testing round with 2 participants from my previous interviews in order to reveal possible usability problems. My research plan was conducted in person and recorded as I asked my participants to complete specific tasks within the app prototype. I went into testing with the following objectives:
Will this app drive daily action for its users?

Will this app be engaging enough to sustain user retention?
Will users cease or reduce the use of other health & fitness apps to use this app?
Will this app be beneficial/useful to a person's lifestyle change?
Will this app be successful for Kaiser Permanente's health initiatives & money savings?
Will this app drive excitement for acquiring new members with referrals?
Is this app unique to the market & solve a healthy lifestyle problem?
Methodology
Two 60-minute interview sessions. The participants were shown specific features of Strivita and prompted to discuss their perceptions. The interviews were audio recorded.
Tasks
Friends & Family Feed

Can you describe what you see?

Does being able to see what other Friends & Family members are doing, using, suggesting influence your decision to use the app & make healthier choices?

Would this be a beneficial feature for you & your health journey? Why or why not?

Is there anything you would change about this feature?
2. Create a new habit after seeing that all your friends and family have been so active on the app
Can you describe what you see?

Would this be a beneficial feature for you & your health journey? Why or why not?

Is there anything you would change about this feature?

Have you ever used a habit-like feature in a health & fitness app before?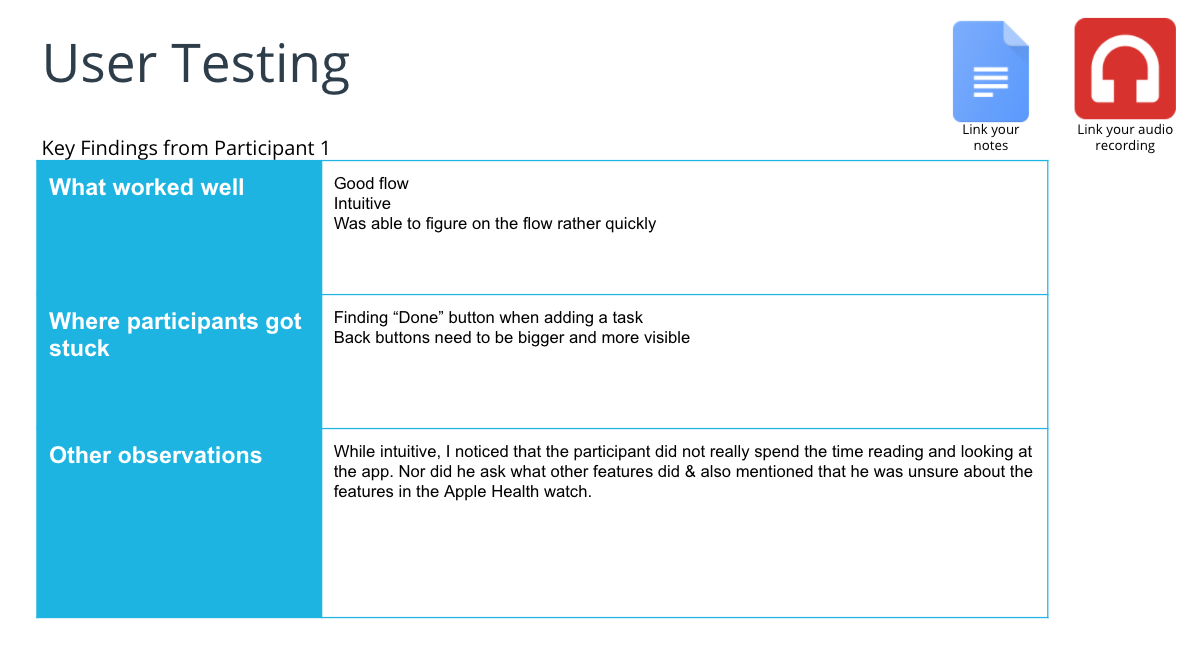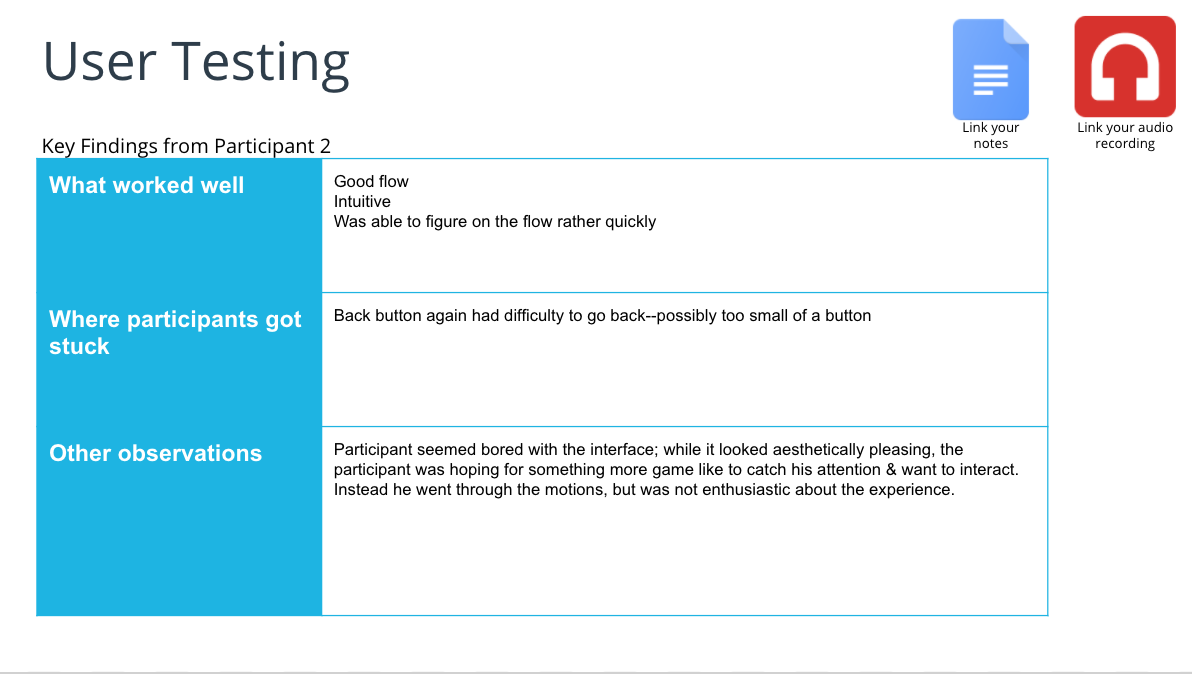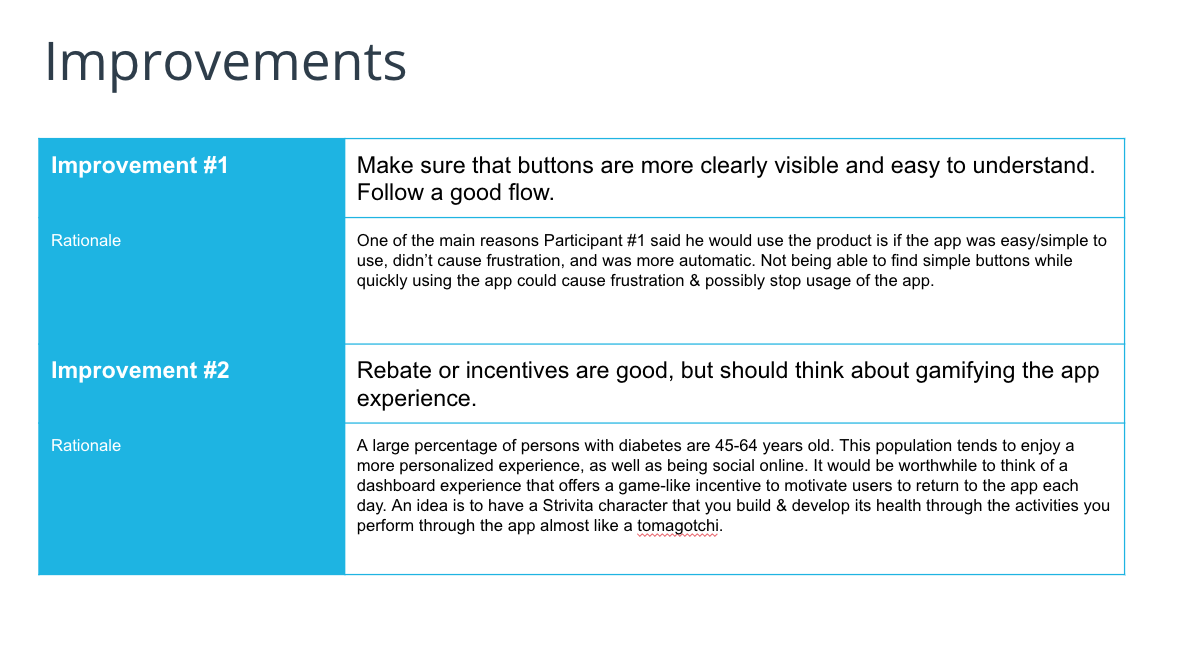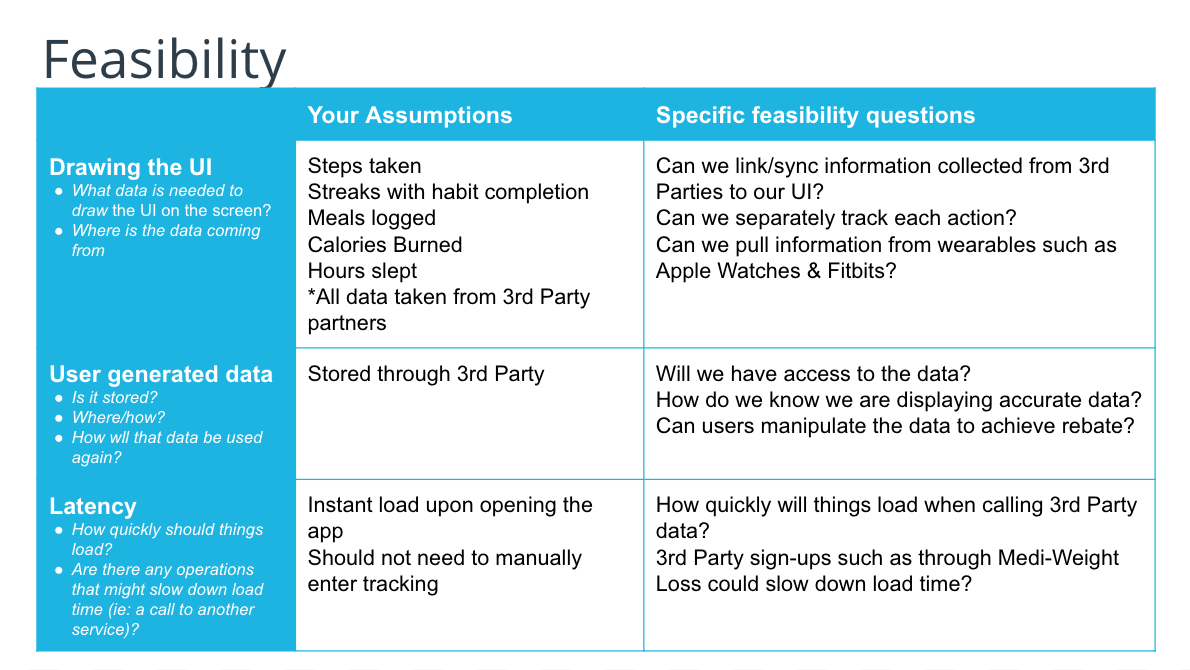 Anticipated Risks
In addition to improvements and feasibility, I wanted to think about the risks associated with this product on the backend. A few major ones loomed in the back of my mind while going through the design process. They included:
HIPPA & ADA Compliance: It is very important that in dealing with a health care application that we take the privacy & security of information very seriously. We must ensure the confidentiality, integrity, and availability of all electronically protected health information that is created, received, maintained, or transmitted within the app. We should protect against any reasonably anticipated threats or hazards to the security or integrity of this information. Protect against any reasonably anticipated uses or disclosures of patient information and ensure compliance by users of the information. Additionally, we should bring in consultants that help us think about how disabled users will be able to view and hear needed elements. We may need to incorporate video or audio, closed captioning, full-text transcripts, avoid certain colors, & think about layouts.
3rd Pary Data: We should make sure that all apps/wearables sync seamlessly with Strivita. We are combining data from multiple companies with their own API of data collection. We need to make sure that all users whether using Apple, Google, or Fitbit will have similar statistics in their dashboard for the same activities. We should anticipate averaging the data for point distribution.
Cheating the System: There may be people who will try to cheat their way to the rebate by manipulating the interface. We need to make sure that you cannot change the date and times in your phone to go back and double your achievement if you miss a day or just wave your apple watch around to simulate movement and various other cheats that defeat the goal of the app.
I believe that addressing these concerns as they are thought about during the beginning stages of the design process will help to avoid future delays for a more successful launch.
What have I learned from this project?
This was my first project and developed as a design mockup and I took the approach of thinking more like a Product Manager in this case. This was a great introduction to product management, as well as product design. I got to experience bite-sized pieces of the whole design process and product strategy. While I don't think my finished product is a game-changer as it stands now, I do think it has the potential to be an excellent solution with further iteration and research.
One size does not fit most. In hindsight, I would have liked to interview or even survey more people to get more information around people's pain points with health applications. I stress research because I learned the most from the participants I interviewed. It allowed for first-hand observation and also gave me a bit of a rude awakening in the sense that my ideas and the way I think is not universal. It was a great reminder to always think outside yourself and be able to put yourself in other users' shoes. There are really some surprising similarities between UX and occupational therapy! I also enjoyed using my medical background and recent grad student skills to research and creatively think about how I could solve problems.
Still need to develop my UI skills. In the future, I would love to focus more on UI design and get more exposure to that other side of the coin. In designing my wireframes in Figma, I was overwhelmed by the possibilities with no real structure on how to make effective design choices. Testing my prototype with users was the most helpful in validating my choices and exploring improvements. I found I really enjoyed user testing for these reasons.
Looking ahead. While this project addressed a couple of issues with health users' experience in managing their mHealth apps, I believe there are additional opportunities along the way that would be unique prompts for future iterations of this app design. This could include:
Game-like features like Nintendo's Animal Crossing to make it more appealing for all ages. You could create a virtual marathon with your character to reach certain flag points with activity for points to rewards

Live Zoom-style exercise groups with your friends and/or family with virtual classes

Incorporate calculation of meals and calories through pictures
"I am quite impressed with your hard work and all the effort you have put in to complete this project, it has been a glorious journey, and I encourage you to keep learning and apply all you have learned in order to perfect your skills. Keep up with the hardworking spirit and momentum!"