Serina Murphy
Product Designer | Digital Artist
Jia & PanCoco
Logo & Product Label Design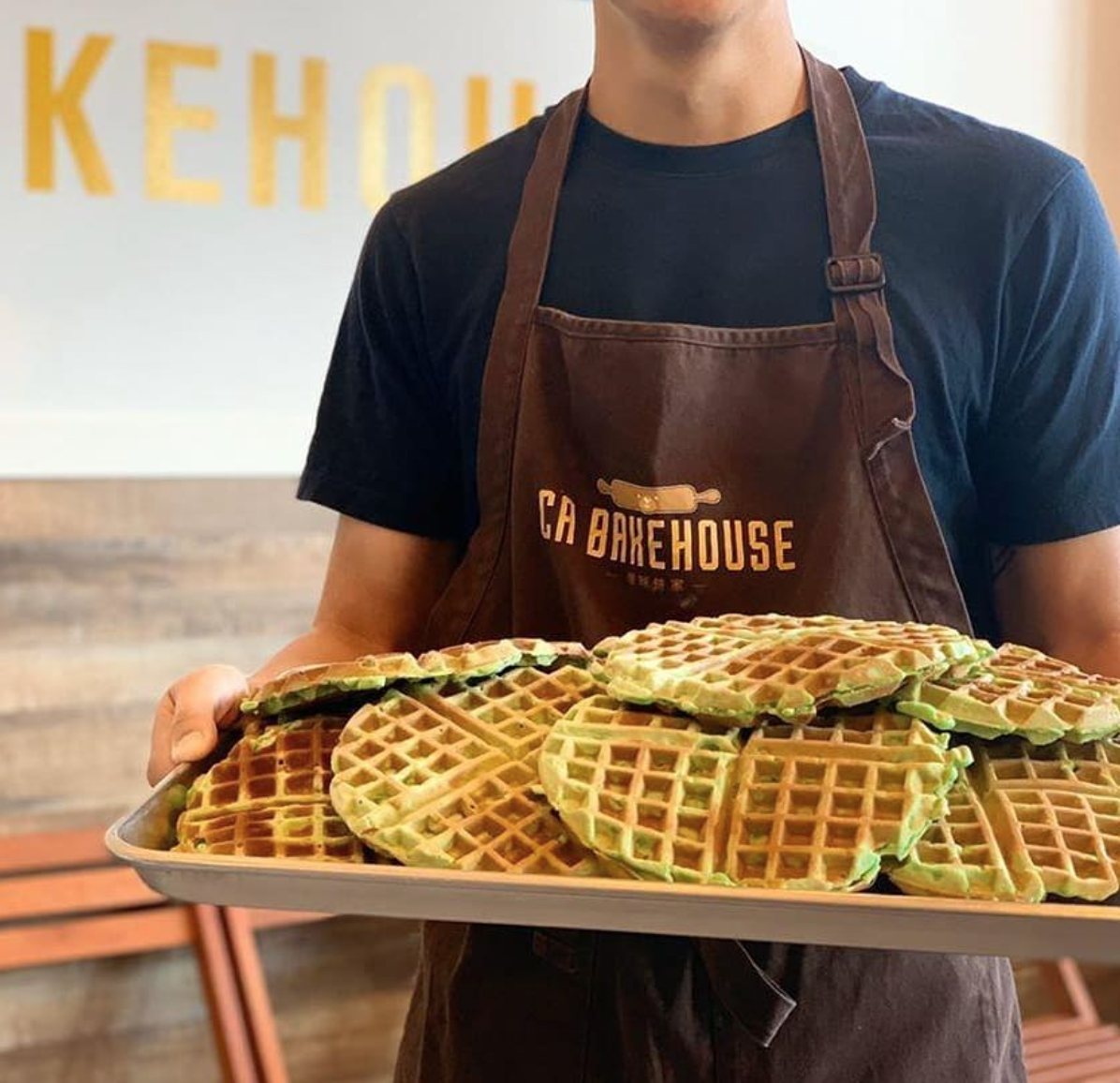 Overview
Jia is a small company founded by a couple who own local bakery in San Jose, CA and are dedicated to making delicious traditional products that are inspired by the innovative flavors of Southeast Asia.
I was commissioned by Jia during the conception phase of their products starting with their one-of-a-kind pandan + coconut flavored jam. As the owners of CA Bakehouse, they have been selling pastries with kaya cream filling (the pandan + coconut jam filled with cream) and noticed how receptive it has been with their customers. They could not yet describe their brand but they had a strong idea of it being family oriented and focused on innovative, but traditional flavors.
Through a client questionnaire, I learned about their customers, the competition, and their product's unique selling points. After working through several key words word mapping sessions that focused on words like "traditional", "modern" and "novel" I landed on the idea of their family-owned bakery & the pandan leaf as an important part of their product.
After researching their competition and examples of logos or logomarks that matched their expectations of style, I noticed first-hand the emphasis of the fruits or nuts in the jam or spread on the packaging over the power of logo. I wanted to explore the idea of the pandan leaf or jam jar in the logo as one of the first interactions one has when reading a jam jar.
Simplicity was going to have to be key in the branding in order to exhibit a modern feel. I felt that the identity should feel more like an extension of their bakery like a branch of a family tree; separate but compatible. I worked with Jia stakeholders to develop a logo that felt simple, creative, but that also delivers a traditional experience.
Role: Design & Research
Type: Logo & Label Design
Industry: Food
Timeline: 2 weeks
Tools: Procreate, Adobe Illustrator, Adobe Photoshop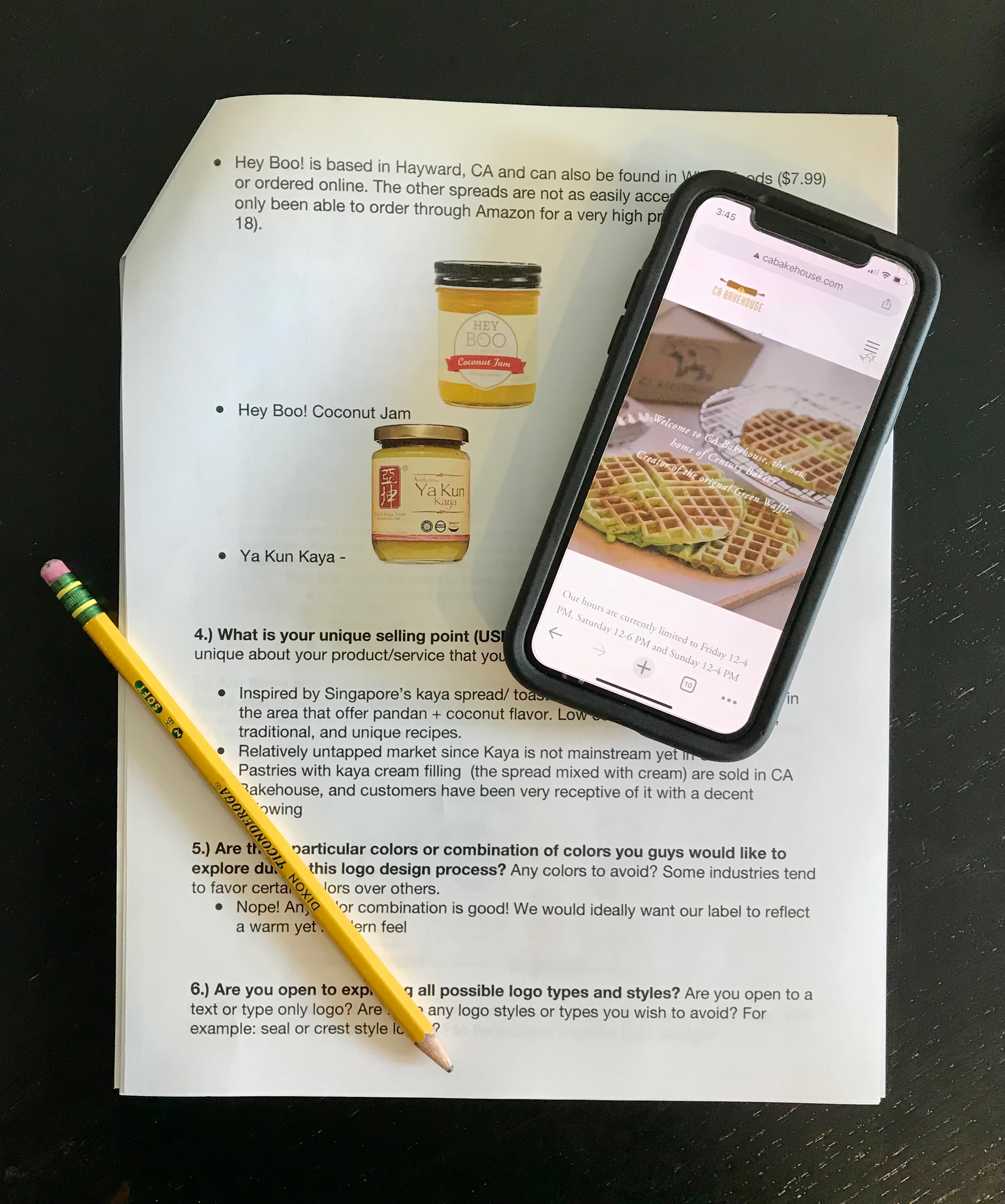 The Client Brief
In order to craft a logo and product label that best represented Jia and their company mission statement, goals, ideas, and desires, I sent them a client questionnaire to fill out.
This questionnaire consisted of 9 questions that assisted me in knowing more about the company and their expectations of design.
Secondary Research
I started my project by conducting an initial round of Secondary Research, sourcing background information about their competitors and looking around at similar products and how they package their products. I took a trip to 2 grocery stores and stood back in the aisle to see which jars captured my eye and why. I looked for a theme among bottle shapes, colors, if they used photos of the flavor or just text on the jar, and how big those photos and/or text was in relation to the jars. I also took some time to research more about pandan, kaya, and even sampled some of their pastries at their bakery with their signature kaya cream in order to experience what users could feel when taking a first bite. I also wanted to get a feel for the vibe upon walking into their bakery and how I could capture that same feeling with their Jia products.
Competitive Analysis
I analyzed 2 competitors who also sell a similar product. I also analyzed another brand that the client really liked the feel of for their product. I learned that there are other brands looking to make headway in the market, but competition is relatively low and these products are sold either online their their own website, at a high price through Amazon, or through specialty grocery stores like Whole Foods. I also saw that these brands kept a more traditional feel with packaging, used the color red with a short jar, and didn't feel necessarily innovative as to the approach my client was trying to sell. There seems to be a gap around accessibility in purchasing these products and a marketable product to the millennial population as focused upon by my client, Jia.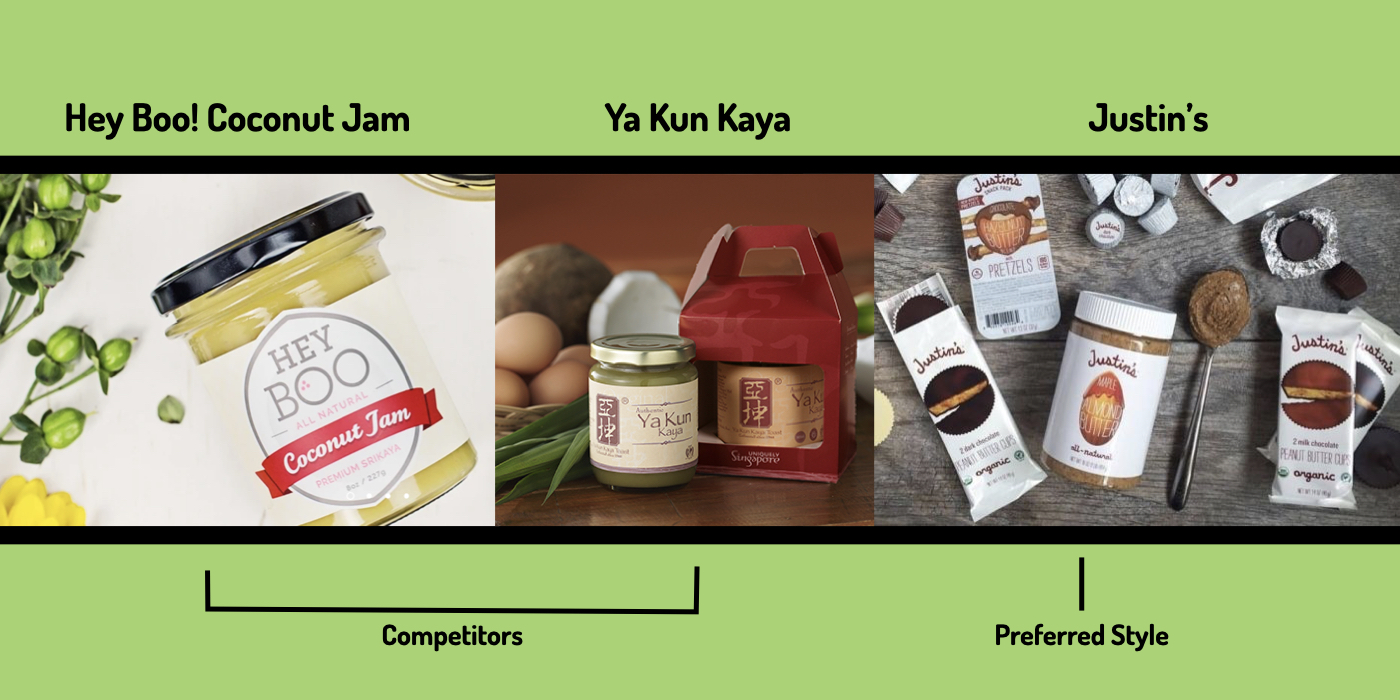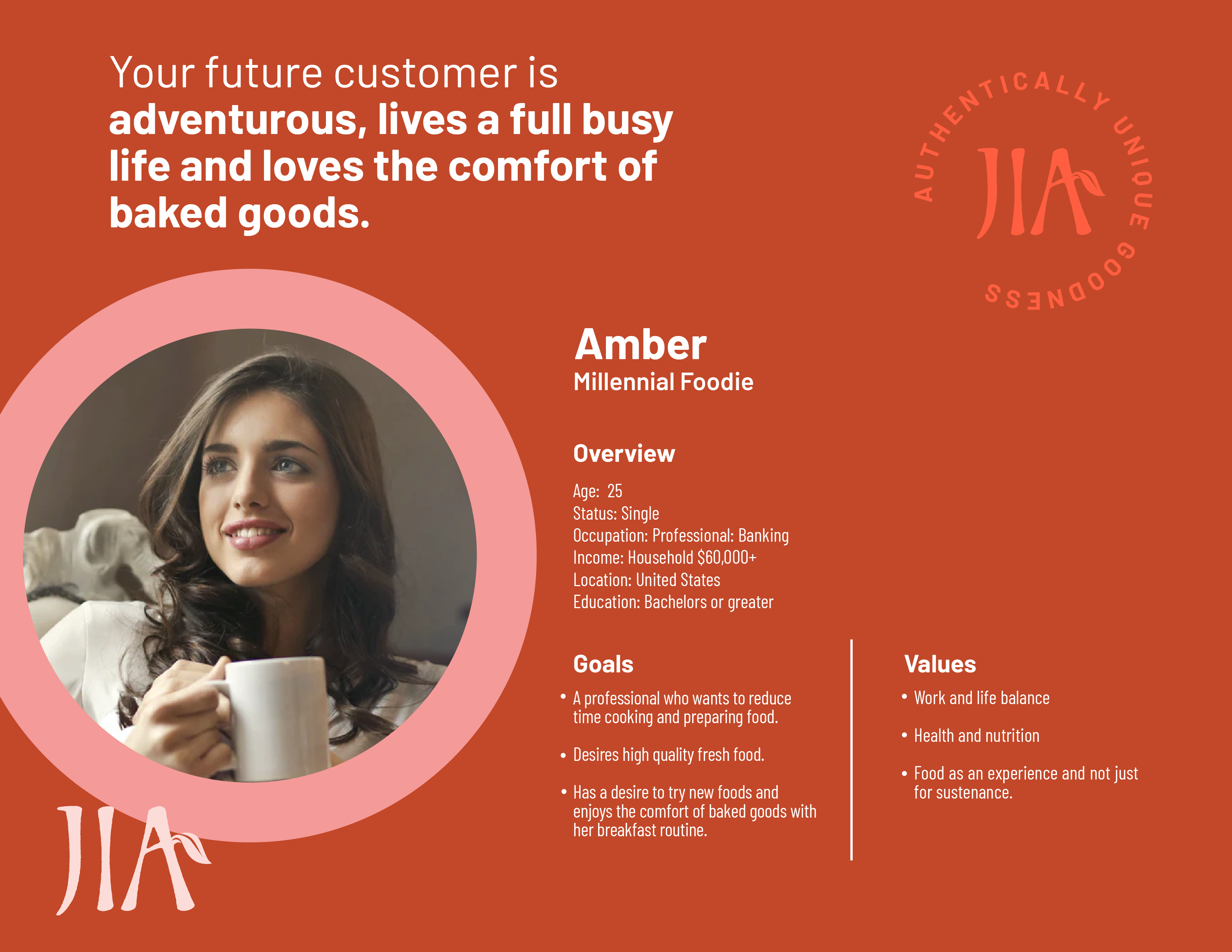 Personas
Based on the client brief, I was able to come up with a persona that best reflected the target audience that the client was looking to market. I referred to this persona throughout the entire product development process.
Guiding Question in Client Brief:
How would you best describe your target audience? Or those you wish to sell your product or service too?
Client's Response:
Millennials who are receptive to Asian food or willing to try to new things.

People who love toast or enjoy baked goods with cream/custard.

Small families.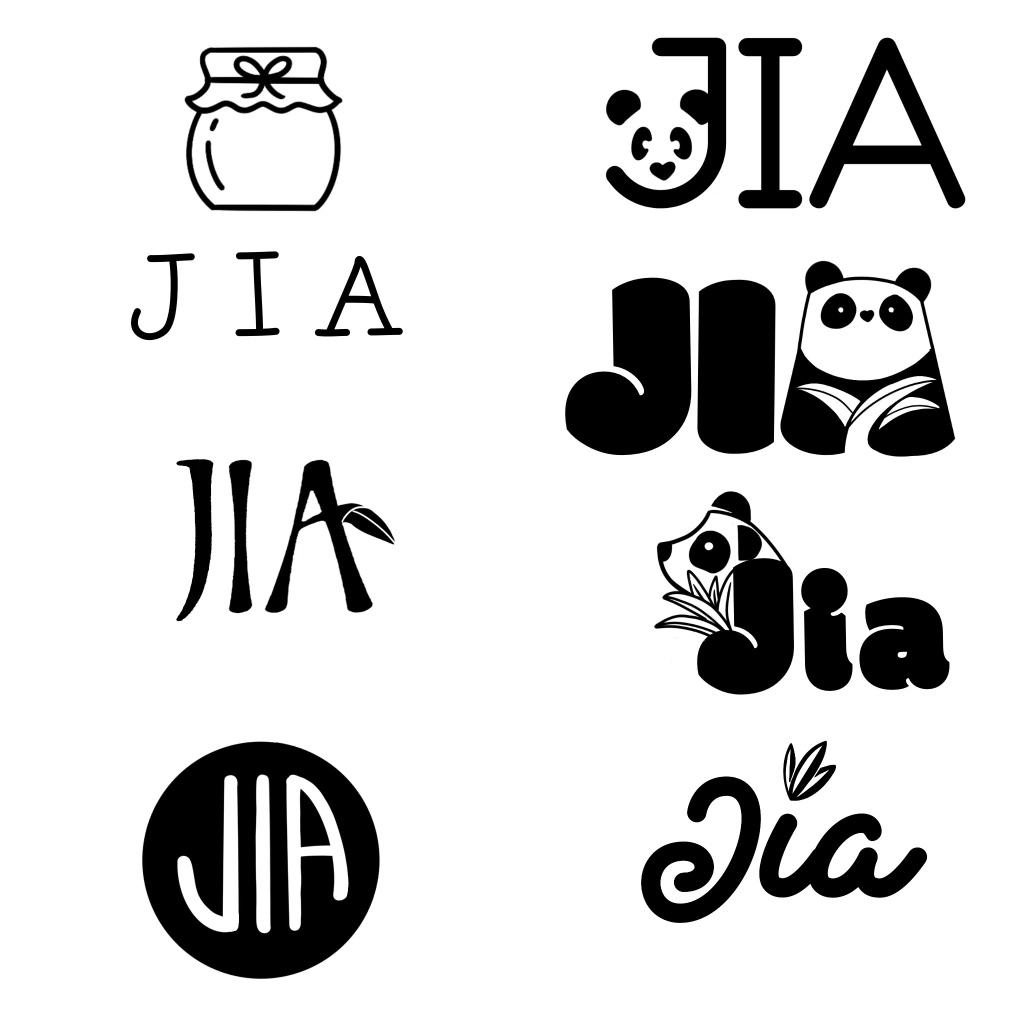 Logo Sketches
Starting the project, I first wanted to focus on the logo in order to incorporate a product label that flowed with idea of their brand. I typically start the sketching process by first researching ideas in Dribbble, Behance, Pinterest, Pexels, and other basic searches. Since my client wanted to focus more on the text of the name Jia, I started to think about the letters and how I could manipulate them into objects that reflect their brand. I then start putting things together in Procreate & letting my ideas flow.
I noticed that their bakery, CA Bakehouse, has a bear as part of their logo to represent the California bear & so I thought it could be an idea to incorporate a panda into the Jia brand as the panda bear native to China and thus incorporating a nod to their traditional flavor. Bears are also often associated as family-oriented.
Additionally, Jia is proud to be able to provide a unique spread to the public using the pandan leaf. I liked how this could portray an organic or all-natural emphasis, as well as, it can be thought of as a leaf on the family tree, separate but equally important to the growth of the tree (family/business).
Lastly, my client revealed that they wanted to sell this inside their bakery but it should hold as a separate product. With that in mind, I wanted to capture the fun, clean, and modern look of their local bakery. Therefore, I wanted to focus on the jam jar or a spot of jam feel so that it's clearly it's own thing but also meshes with the feel of the bakery.

Mood Boards
Now that I had an idea about the logo, it was time to consider the look and feel of their first product, PanCoco. To help visualize what the end goal was I created a couple mood boards that included color swatches, typography, and examples of other jams, spreads, and jar labels that achieved a similar style that I was striving for. These mood boards helped guide the design decisions that shaped the final product design.
The main influence on the style that I chose was the color palette. These colors were drawn from nature since PanCoco is an all-natural food product. I wanted to make sure that the product felt warm, organic, and friendly, but also bold and innovative. I made sure to keep the colors vivid with some neutral tones to give the product a clean, bold and fun look while keeping it soothing to match emotions that users may feel when they are enjoying their breakfast rituals.
Ultimately, the client leaned more towards the California Vibes mood board and asked to still incorporate some minimalism seen in the New Modern Feel mood board.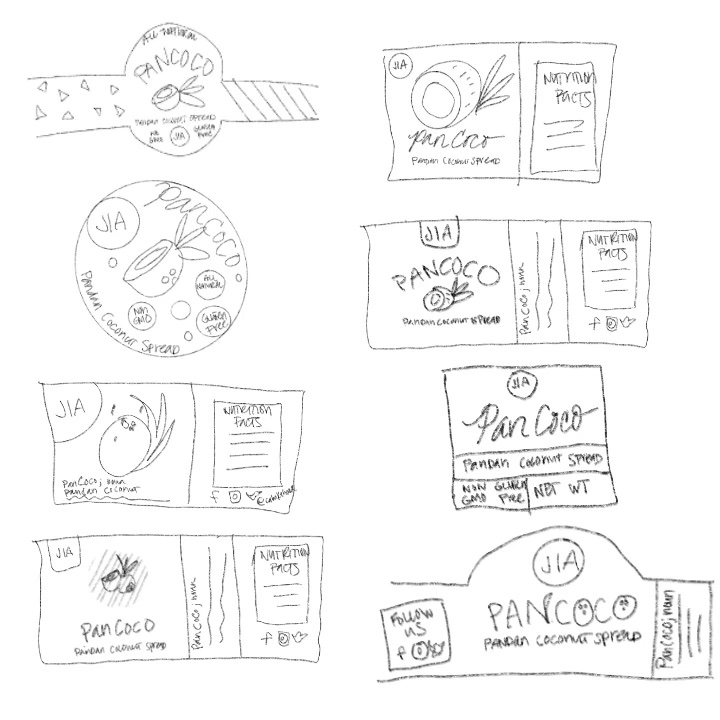 Crazy 8: Label Sketches
For this exercise, I decided to use the Crazy 8's method to quickly sketch out a lot of different ideas for the PanCoco product. The goal was to generate as many ideas as possible in a short period of time, without worrying about the quality of the sketch or whether it's a good or bad idea. I took out my iPad and used Procreate to sketch ideas and used my phone as a timer on repeat for 1 min, and got sketching. While I was drawing, I noticed that there was a fine line in design between food, hair, and skin products when it came to coconut.
Initial Concepts:
Something fun - I went for that 80's vibe which reminds me of that cool California feel plus the innovation of the time.

Playing with circles - The client liked the logo with a background and possibly with the circle, so I tried to play with the circle shapes.

Fruit focused - I noticed that a lot of food products (especially jam/jelly) have an emphasis on the fruit. I wanted to see how big I could take it.

New tech - Since this company is established in the bay area, I wanted to think about how to make it feel more innovative. I brought in the definition of PanCoco since this is a word that my client wants to make common name instead of kaya.

Comfy/Cozy - I wanted to think of an idea where you felt at home with the label and nothing does that more to me than a candle label. I tried to see how I could play with that in relation to a food.

Social Media - Since most things are social these days and my client is looking to spread the word about their product that is virtually untapped in the US market, I thought about bringing in a social component to the label.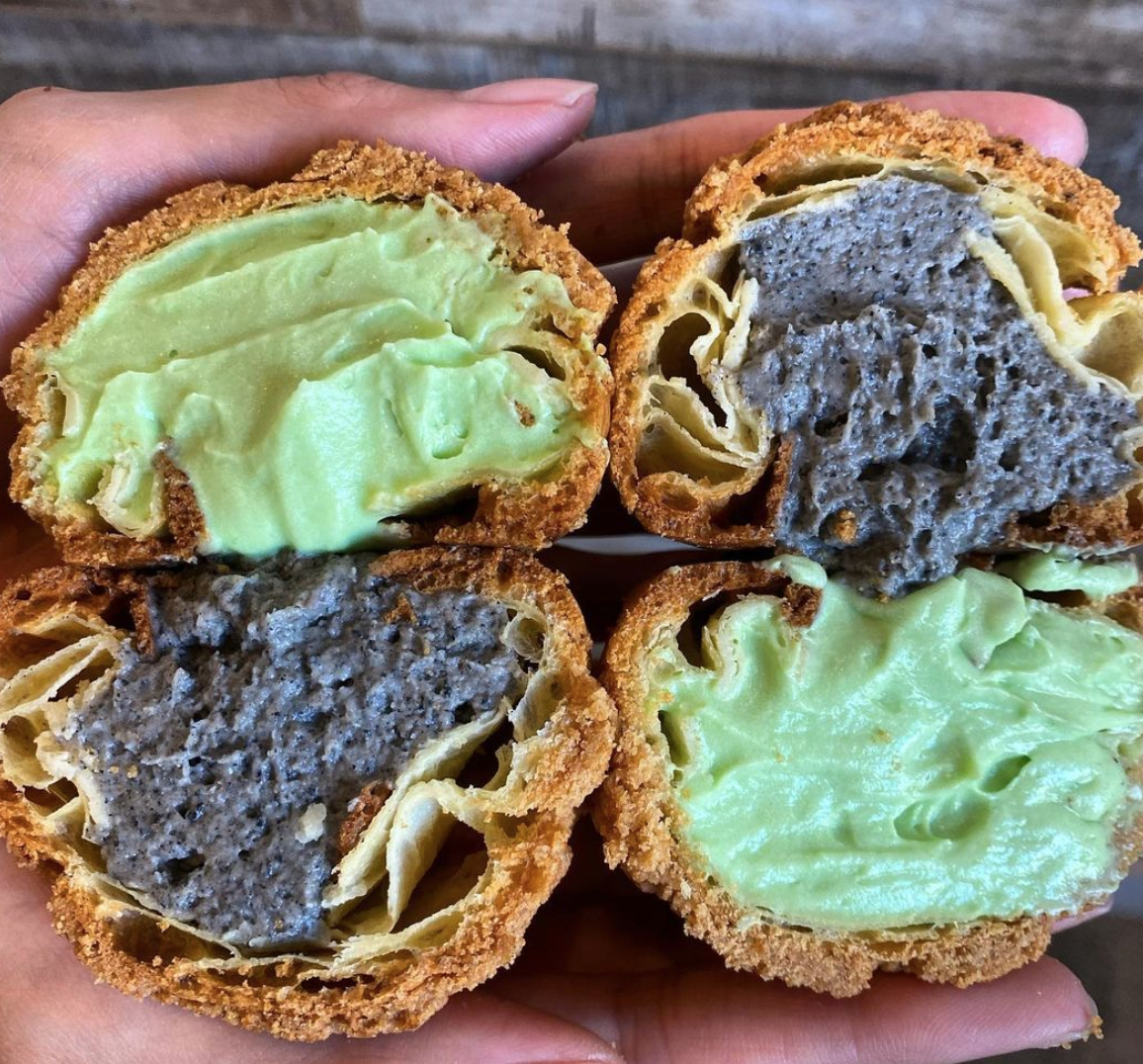 Early Iterations
After brainstorming new ideas and organizing the structure of the label, I decided to take a few ideas from my Crazy 8's and expand on the ideas with colored images and drawings. These early iteration images help flesh out ideas quickly allowing me to explore colors and layouts and to get a better feeling about the product through visual experience. I decided that I really liked the pop of red with the logo (which was a nod to the Golden Gate Bridge since Jia is a Bay Area based company) and thought it would look nice against the green color of the jam. It is bold, yet traditional. Next, I wanted to make sure to incorporate both my client's wants. One of them wanted a more minimal look, while the other wanted a homey feel. I explored different combinations of colors, font, and drawings to present these requests to the client. Moreover, I thought about the personas and how they would respond to seeing this product on a shelf with multiple options.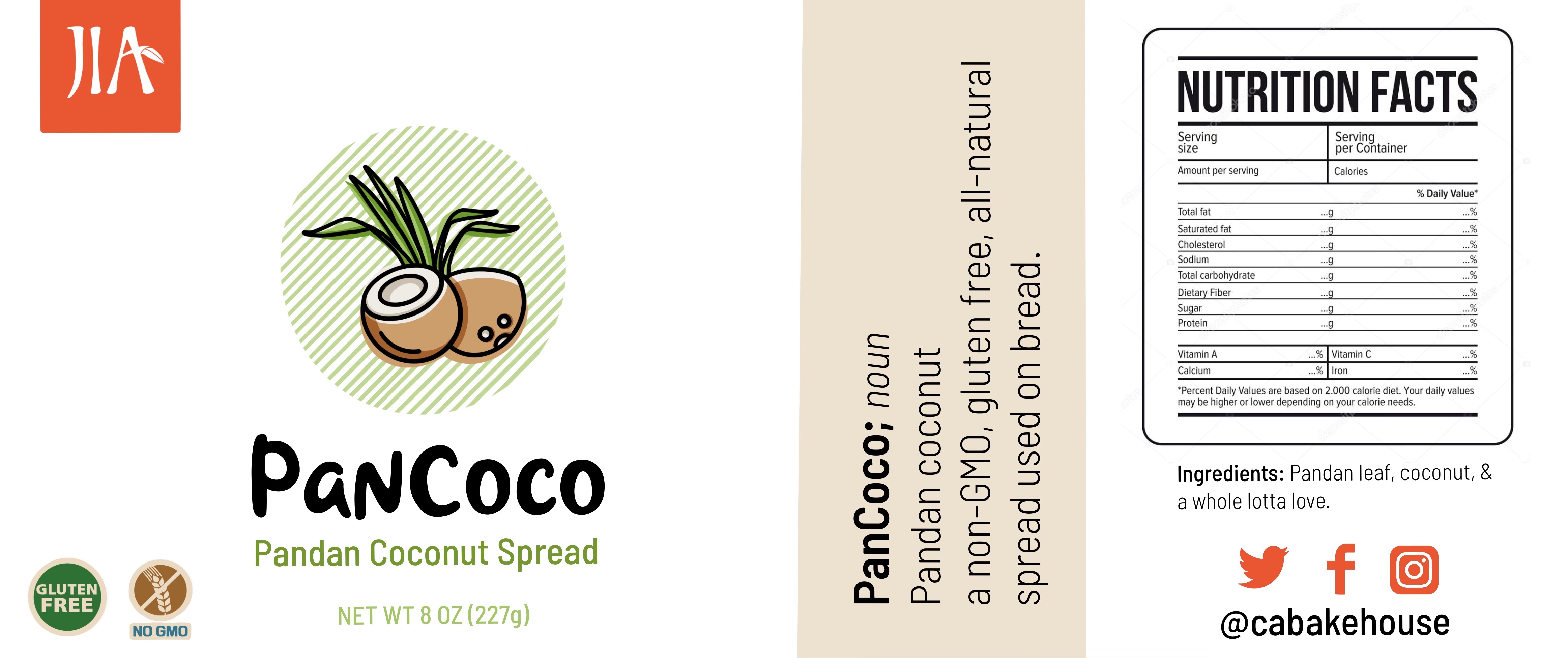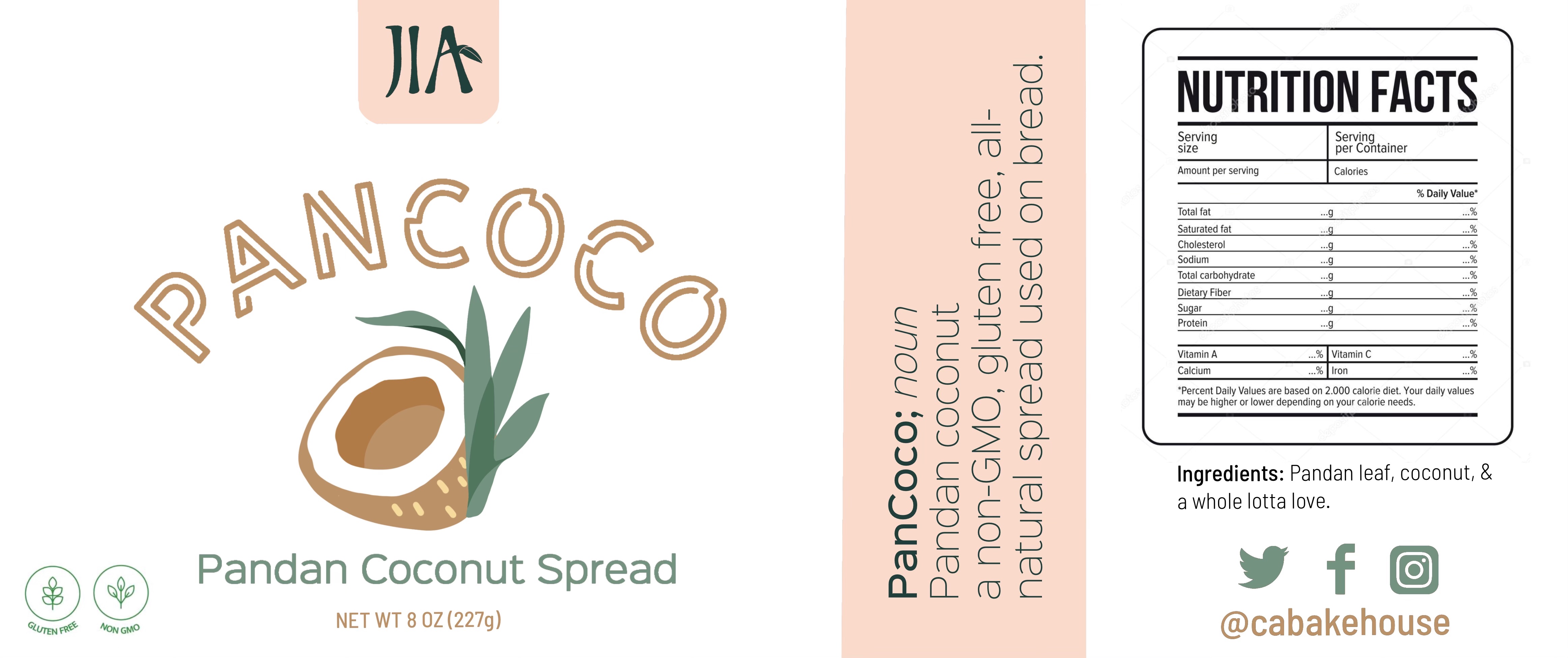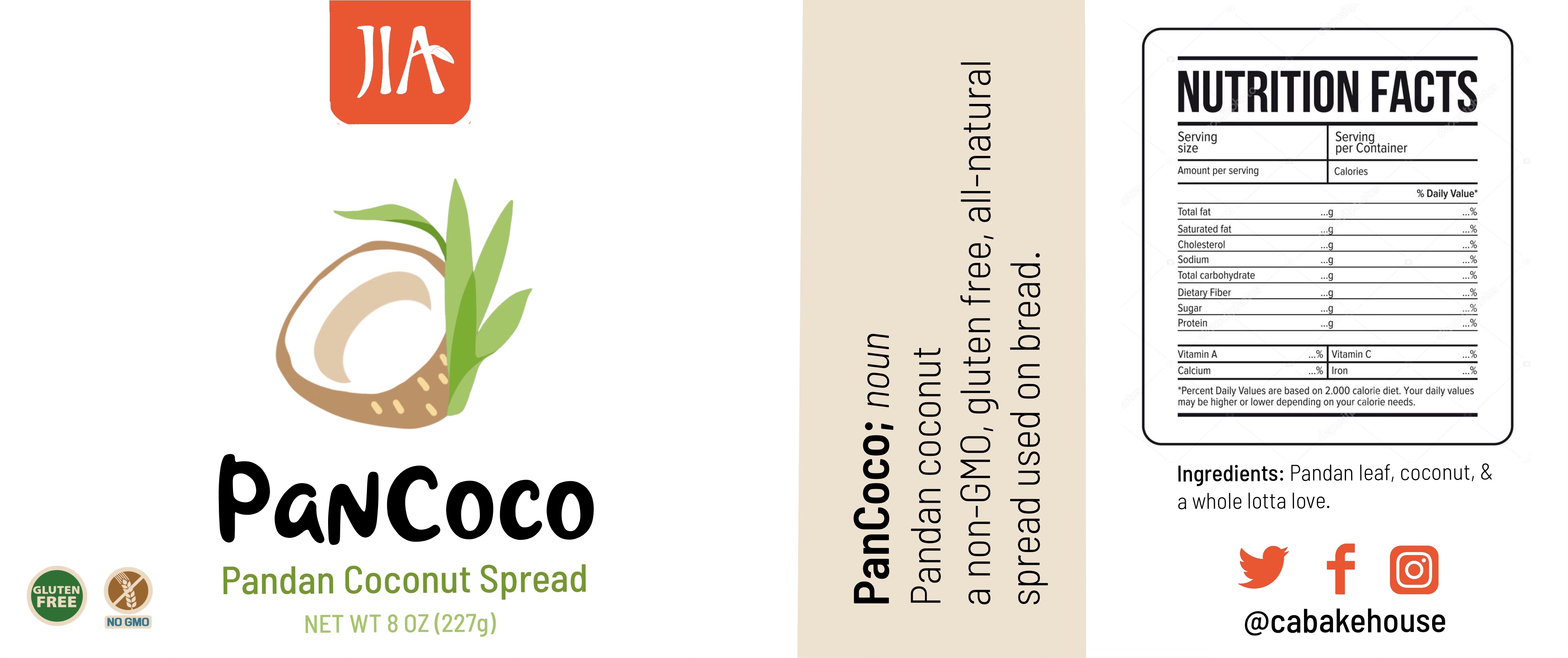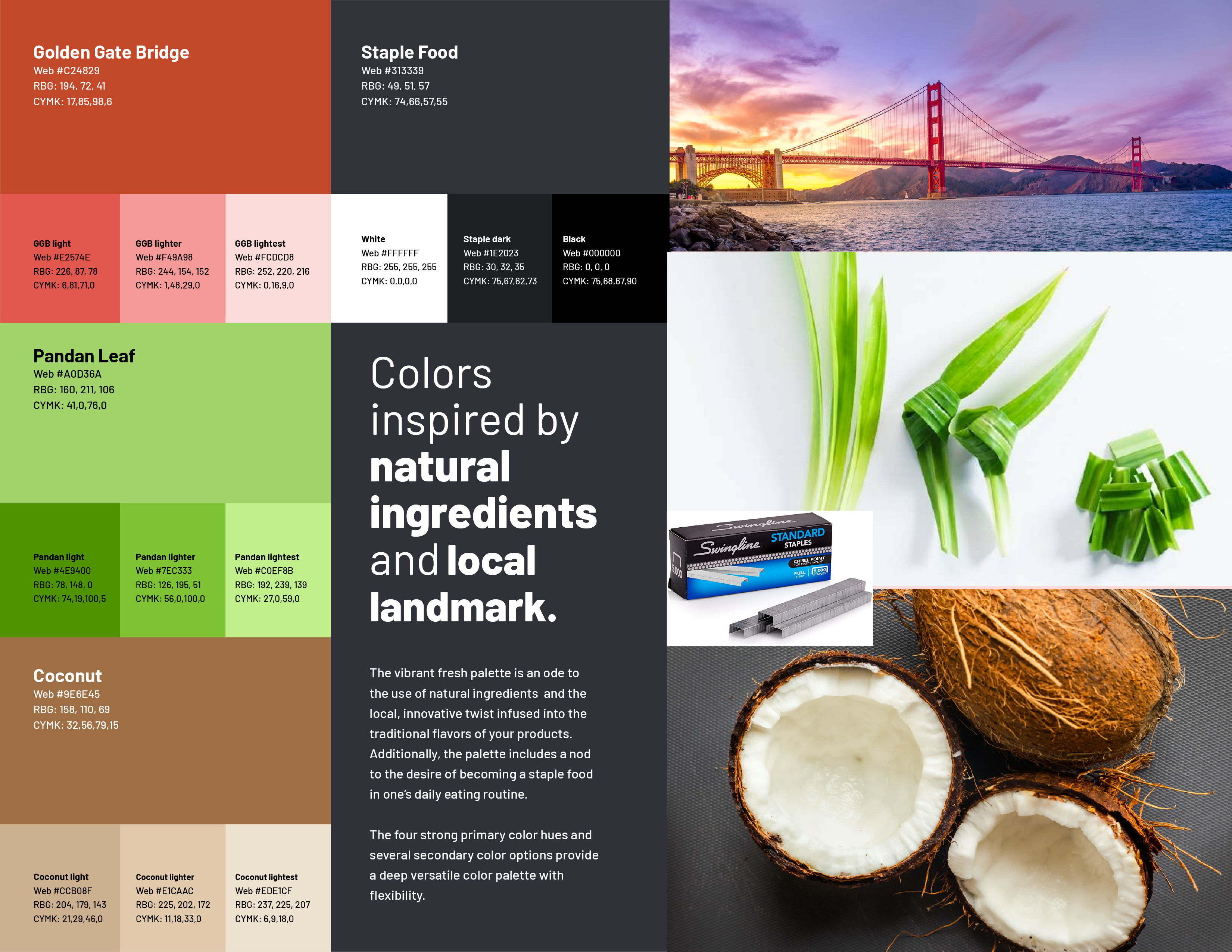 Style Guide
Drawing inspiration from my mood board, I started to create a style guide for the logo and PanCoco product. This guide would have all elements of the design defined so that in the instance multiple designers or a team were working on the app, everything would stay consistent between them. This also helps me make sure that as I move forward in refining the design that I keep elements cohesive. This style guide evolved over the course of testing to make sure it was updated to the latest design style.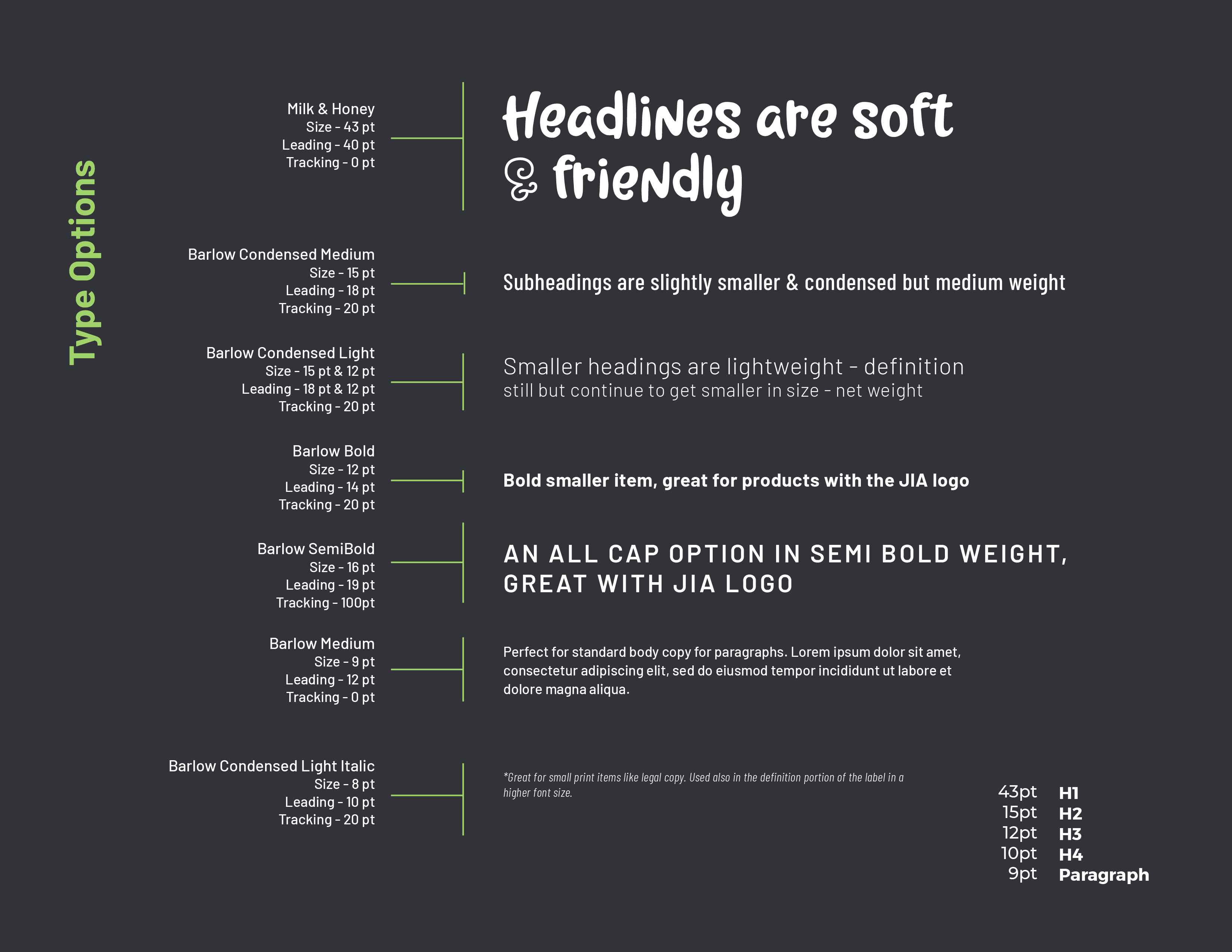 Using the colors and typography inspired from my mood boards, I expanded them into specific elements for the product, particularly keeping in mind the story behind the company. It was important for the look to be fresh, accessible, and yet pop out amongst competitors. To make it feel more friendly, I chose a main typography that was rounded to eliminate any sharp corners. I also coupled it with a modern font to marry the modern feel the client was going for. I also made sure to add in white space, so the label didn't feel too cluttered and overwhelming.
Client Presentation
To conclude my work, I presented the client with a presentation of my work and the creative direction I imagined on how they could expand their brand. I provided a 15 page PDF on the brand and their PanCoco product. This included the a mock of the label on a jam jar as well as presenting T-shirt and other merchandise to market their brand.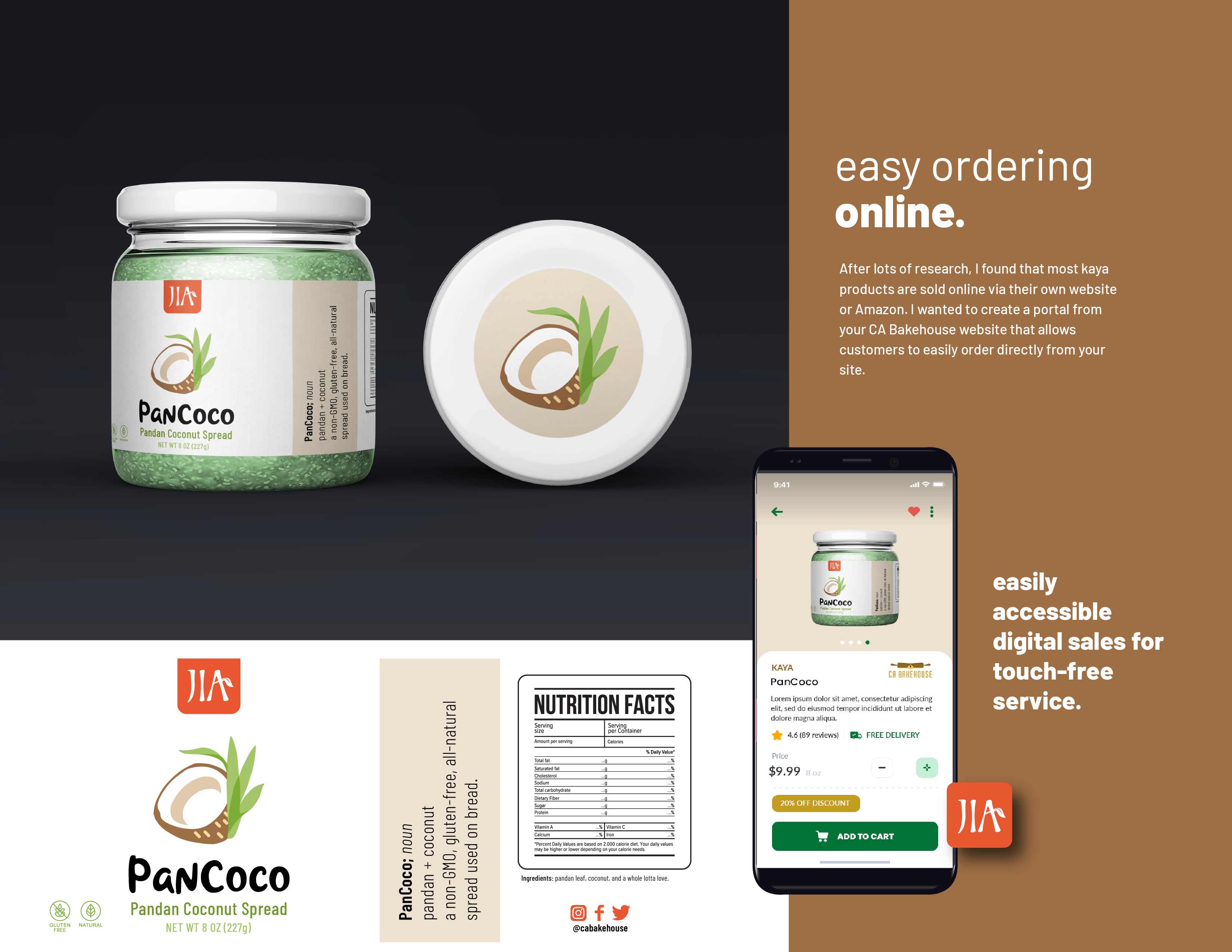 Easy Online Ordering
After lots of research, I found that most kaya spread products in California are sold online via their own websites or on Amazon. I wanted to think about how CA Bakehouse could expand on their website to allow customers to easily order directly from their site on the go or as a touch-free service as we are in a pandemic. I designed an app that would be connected to the CA Bakehouse where people could order Jia products or pre-order their baked goods similarly to how the Starbucks app currently works.
What have you learned from this project?
I really honed in on my empathy skills with this product design and did my best to stay true to the clients wants and needs.
Lessons I learned:
Throughout the process, I had many ideas for the overall product vision. I had to refer back to the the heart of the client's story to make sure that I tailored the product and logo to their desires.

Product and logo design is not that much different than UI/UX and it is important to experience competitor products and understand what makes people chose one brand over another. This can include yourself and how you make the choices you do.

What you want is probably not what the client wants. Again, I found myself liking one direction over another and I had to let it go in order to follow the client's wishes. In the end, although it's hard to let go of an idea when you are passionate about what you produce, you need to allow that to fall away and really understand the vision your client's have over your own personal preferences.
"This is amazing!!! More than I could have ever asked for. You even included merch ideas and broke everything down with the reasoning behind each detail of design. Thank you!"